L-SPARK Opens Applications for fall 2015 Accelerator Session under L-SPARK Ignite Program™
OTTAWA, CANADA – June 25, 2015 – L-SPARK, the only Canadian Incubator and Accelerator that focuses exclusively on Enterprise SaaS and Cloud startups announced today the launch of their Accelerator applications for the Fall 2015 Cohort under the newly developed 'L-SPARK Ignite Program™'.
The L-SPARK Ignite Program is a set of proprietary and proven methodologies developed for the unique challenges of accelerating Enterprise SaaS company revenue and investment. The program addresses each area of a SaaS business on the journey to scalability and growth while facilitating investment opportunities with leading Institutional, Venture Capital and Angel Investors.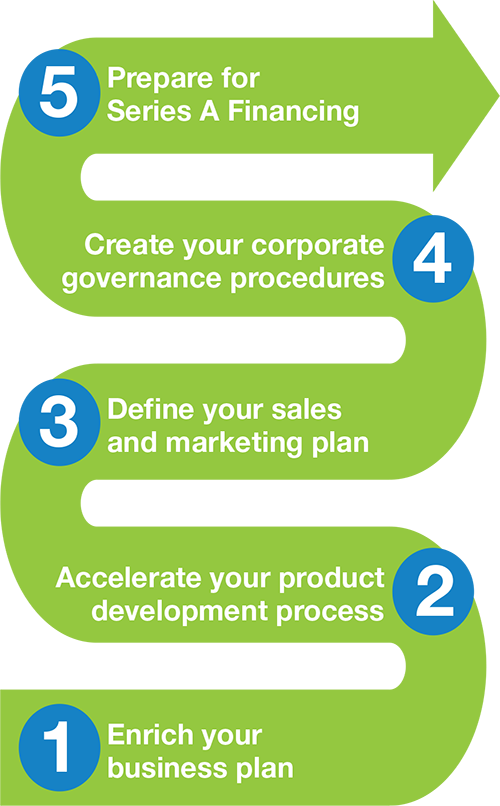 The L-SPARK Ignite Program™ for SaaS scalability and growth
"Unlike other Incubators and Accelerators, our program is unique because we focus solely on SaaS entrepreneurs and impose no pre-set valuation on the startup. We believe the market is the best determination of valuation. Our role at L-SPARK will be to support the company to the best possible outcome, this program enables us to further do so," said Leo Lax, Managing Director of L-
SPARK.
L-SPARK selects best of breed SaaS start-ups using a selection criteria and committee comprised of Investment and Corporate Champion Partner representatives from organizations such as; Google, Microsoft BizSpark, OpenText, Mitel, IBM and Amazon. Once selected, C-level executive mentors will work with the startup to plan their objectives for growth and funding.
L-SPARK is seeking the very best Enterprise SaaS and cloud startups. We look for SaaS companies with a commercial product, at least $10-30K MRR (Monthly Recurring Revenue) and disruptive technology in a rapidly growing market. Applicants can apply online or set up a time to discuss their business with a member of the L-SPARK team.
About L-SPARK
L-SPARK is the only Canadian Incubator and Accelerator that focuses exclusively on Enterprise SaaS and cloud start-ups. With established relationships with key venture capital firms, angel investors, and the investment community at large, the goal is to support a deal flow of fundable Enterprise SaaS startup companies in Canada. Visit us at www.l-spark.com, connect with us on linkedin.com/l-spark or follow us on Twitter @LSPARKGlobal.