The State of SaaS in 2022: Industry Growth & Trends
Average SaaS Industry Growth Rate
Despite the impact that the COVID-19 pandemic has had on businesses over the past two years, cloud growth has prevailed. According to Gartner, end-user spending on public cloud services is expected to reach $482 billion in 2022.
The future of SaaS is arguably the brightest above all cloud options, with overall SaaS industry growth remaining consistent as more companies adopt these solutions for uses above and beyond traditional sales applications.
Gartner estimates that this growth will continue to thrive well into 2022: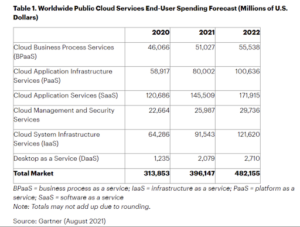 SaaS trends in 2022
Artificial Intelligence and Machine Learning
When we look at SaaS industry growth, artificial intelligence (AI) and machine learning (ML) are playing an integral role in the continuous evolution of SaaS solutions. When AI capabilities are weaved into the mix, businesses are able to draw meaningful data, increase security, create personalized, automated experiences for users, and more.
When it comes to data specifically, the use of AI in SaaS has allowed organizations to analyze and utilize data that is far too complex for traditional data processing software. Companies can leverage these capabilities to create personalized experiences for their customers. 
ML compliments these efforts as it compounds the ability to continuously improve this personalized experience that is tailored to customers' specific needs. By analyzing a user's actions, businesses can gain insight into customer preferences even before a purchase is made. 
Ultimately, this means that companies are now able to track user behaviour more accurately. This results in customer service and client retention strategies that are more proactive than reactive; ultimately impacting customer satisfaction, turnover rates, and loyalty.
Mobile-First
SaaS companies focused on mobile-first technology encounter a unique set of advantages. 2021 brought a rise in remote working, whereby app driven technology quickly became the standard in terms of communication amongst users. 
Including both apps and mobile responsive sites as part of the overall strategy is now considered standard practice. Research indicates that mobile usage accounts for approximately half of web traffic worldwide. In the fourth quarter of 2021, mobile devices (excluding tablets) generated 54.4 percent of global website traffic, consistently hovering around the 50 percent mark since the beginning of 2017 before consistently surpassing it in 2020.
As these numbers increase, more SaaS providers will look to embrace a mobile-first approach in the coming years, optimizing their offerings to suit a host of mobile devices. Meaning we're likely to see an even more exciting range of mobile features for these products in 2022.
Micro-SaaS & Vertical SaaS
Micro-SaaS merges two key trends. While the SaaS component enables the delivery of services through software, the micro factor suggests that the software or product is operated either by one individual, or a smaller scale company. 
The most notable features of these companies include a niche FOUs, lower costs, and a devoted user base. Micro-SaaS companies adopt a vertical approach by targeting a narrow market, and catering their product to the needs of a single industry. 
Rather than adopting a one-size-fits-all solution, these businesses can direct their focus towards underrepresented markets. This allows them to target clients within a specific industry niche, allowing micro-SaaS companies to provide industry-specific features and redefined solutions. 
With the increase in small business-oriented purchasing habits, in addition to a need for more specialized solutions, 2022 is bound to see more organizations like this entering the market.
Notable Deals & Exits in Canadian SaaS in the Past Year 
The world has changed drastically, and not just because of COVID-19, but more specifically due to the sheer number of opportunities in the Canadian SaaS market today. 2020 saw over $1.17B USD in total capital invested in Canadian SaaS companies, and 2021 has seen even more growth in  this country-wide landscape.
In 2021 alone,  total capital invested in these businesses was over $9.16B USD and showed no signs of slowing down. The largest deal of the year was just over $470M USD, and the largest exit came in at $2.75B USD. 
Here's a look at a few of this year's most notable exits and deals in Canadian SaaS:
Verafin acquired by tech giant Nasdaq for $2.75B USD
The St. John's based anti-fraud company was acquired in the largest exit of the year at $2.75B USD. 
"Verafin's cloud-based, consolidated Financial Crime Management platform provides financial institutions with a complete solution to detect, investigate and report financial crime" Learn more about Verafin here. 
This acquisition was one of many that took place throughout 2021, and continues to reinforce the importance of SaaS based solutions to issues like cybersecurity.
Read the full acquisition story here.
FreshBooks Acquires FastBill, boosting Canadian growth for the SaaS FinTech company
FreshBooks, a Canadian  Financial tech company focused on freelance + small service providers, has announced the acquisition of a FastBill, the German based financial tech company. 
Canada continues to see growth in the financial tech industry, with more FinTech companies launching and succeeding right here in Canada.
Read the full article here. 
Autodesk Acquires Upchain
L-SPARK Alumni, Upchain, has raised over 7 million in funding since they began their journey. Upchain was part of our SaaS Accelerator back in 2016. 
The Upchain platform was designed to address a number of issues that have long hindered communication and collaboration between all stakeholders involved in the product life cycle. 
The acquisition will allow Autodesk to integrate Upchains SaaS Solution into their platform.
Read the full story here.
Hootsuite Acquires HeyDay
Another acquisition that was big news around here! L-SPARK Alumni, HeyDay, was acquired by Hootsuite for $60M CAD. HeyDay is a conversational AI tool that allows brands to deliver personalized customer experiences through 1:1 messaging conversations. 
HeyDay was a part of our SaaS Accelerator program in 2017 and has had multiple successful fundraising rounds and has now been acquired. 
Read more about the acquisition here. 
ServiceNow closes $230 Million USD Acquisition of Montreal's Element AI Inc.
Silicon Valley based company, ServiceNow, acquired the Canadian AI company earlier this year as part of their strategy to accelerate their AI capabilities. It's another example of Canadian SaaS leading the way in the AI industry.
Read the full story here. 
---
For full access to this year's State of SaaS Report click here.