The Edge of Glory: Startup Edge Success
Innovation is the name of the game at L-SPARK, and that applies to our events too! This year, we launched Startup Edge – the next-gen variation of Cottage Pitchfest, an event that focused on bringing our startup community together out on the water and that served that community well for years – but it was time for a glow-up. 
Enter Startup Edge.
Startup Edge had the same goal but took it to the next level. We set sail from the Toronto Harbour on a 4,000 sq ft boat, with some of the best in the ecosystem along for the ride. The event kicked off a huge week in Toronto, as thousands came into the city for Collision 2023. Expecting close to 600 for the event, we wanted to make networking fun again, and I think it's safe to say that we delivered.
We couldn't have done it without our incredible sponsors, so a big thank you goes out to:
Dentons, National Bank, BDO, RBCx, Logan Katz, Boast, PwC, BDC, Cresa, Osler, Sampford Advisors, KRP Properties, VanHack, Desjardins, Wesley Clover, Alacrity Global, + Canada NRC CNRC!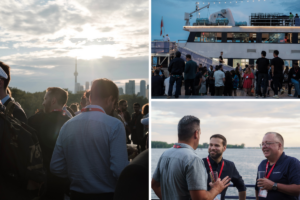 Now, for the lessons learned.
If you're a founder, here are our top three tips on how to make the most of an event like Startup Edge:
Stand out: Cheers to the attendee who wore a captain's hat! We noticed – and we're here for it. With big crowds, it can be hard to stand out, but you can have fun with it especially when it's a casual event! We saw some Hawaiian shirts and bright colours – but the captain's hat definitely took fist place. When in doubt, stand out!
Be bold: We had an investor zone blocked off to attendees beyond our alumni portfolio companies, but we loved the energy of bold founders trying to get down there every which way they could. We may not have actually let any down there as it was reserved for our alumni companies + investors, but in the words of the great Gretzky you miss 100% of the shots you don't take! We appreciated the boldness of those founders who made it their mission to get down to the investor zone. (If you're a founder and you're wondering how to get access to things like our investor zone, the key is hidden here)
Keep your eyes on the prize: Have fun, but make it work for you. It's easy to get carried away in the fun after parties that come along with big conferences, but don't forget your goals and targets – the reason you bought tickets in the first place! You are dedicating a lot of your time (and $$) to be at these events, and you want it to be worth your while.
Big thanks to everyone who joined us for Startup Edge, and we can't wait to see what next year holds for Collision! 👀
Are you a B2B SaaS Company? Think you could be a good fit for the L-SPARK SaaS Accelerator? You're in luck! We're currently recruiting for the 10th cohort of our SaaS Accelerator. Learn more + apply here.