State of SaaS 2019 Report & Industry Highlights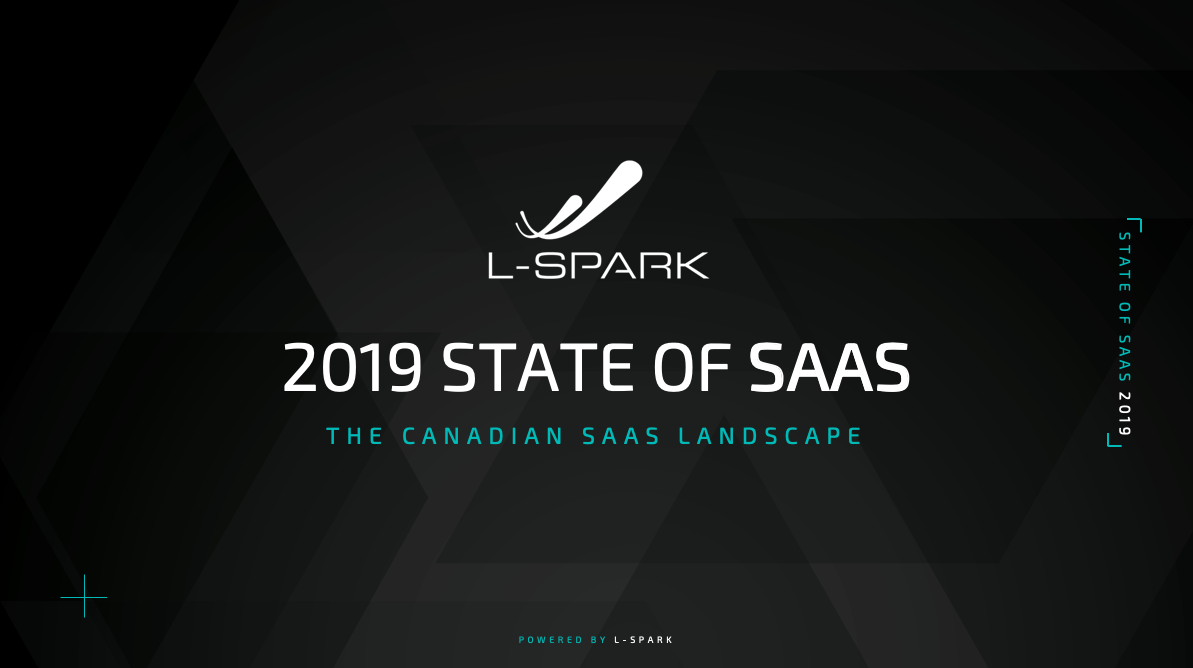 Gartner Inc. predicts "the worldwide SaaS market is forecasted to be worth $100B USD in 2020." 
The time is now for Canada to claim its stake; we are seemingly well on our way with Canada often recognized as being a rivalling destination for start-ups to Silicon Valley.
In the first half of 2019 alone, investments in Canadian tech startups reached nearly $3.3B. According to the Canadian Venture Capital Report (CPE Media Analytics), disbursements from Canadian VCs are on track to hit $5B for the first time since the new millennium.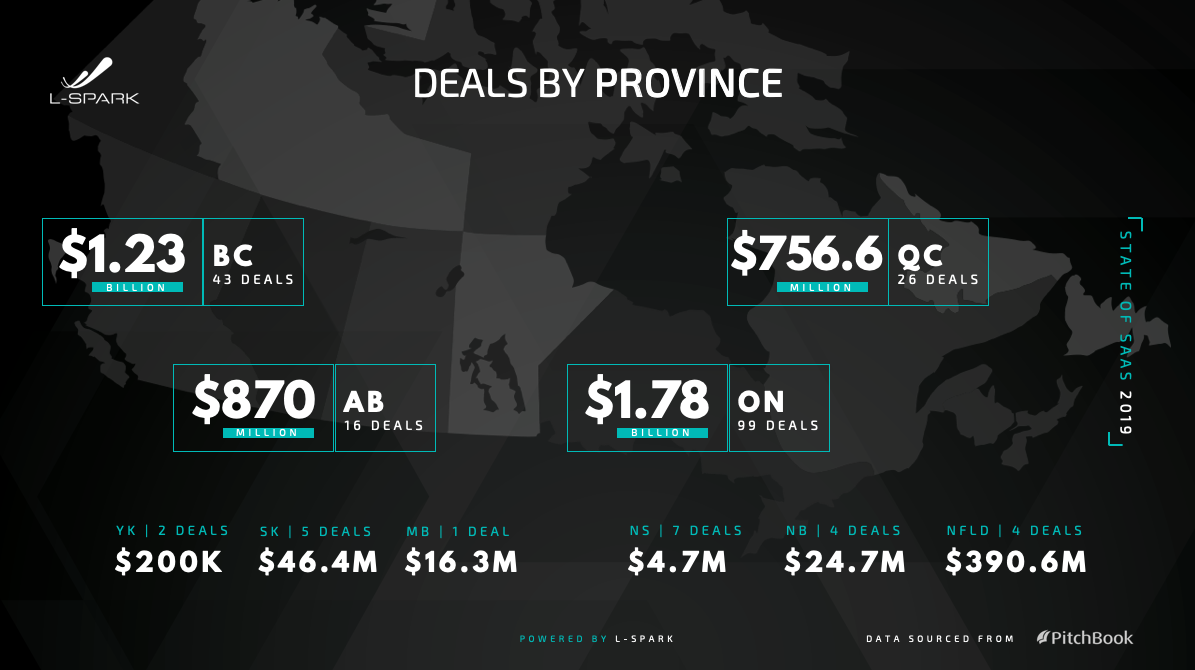 "In light of instability in other areas of the world, Canada finds itself in a unique position. With the current uncertain political climate and immigration ban upheaval in the US, Canada shines as a beacon of political, economic and social stability," says Ranstad.
It is for these reasons, and its lower costs and access to rich talent, that Canada is recognized as one of the most attractive places to build a company. TechTO estimates there are 2,500-4,100 active tech start-ups in Toronto alone.  Further to this, we are now seeing a presence from tech's largest players like Google and Amazon in major Canadian cities. 
According to MaRS, "in addition to drawing venture capital, cities like Toronto and Vancouver have been repeatedly recognized for their international rankings in areas like talent and diversity, as well as their entrepreneurs' focus on "tech for good," a key differentiator when compared to the traditional "move fast and break things" Silicon Valley model."
Many entrepreneurs also deem Canada's extensive network of incubators and accelerators a huge factor in what makes this country and exciting place for start-ups to grow.
…and grow they did – with $5.13B in total capital invested in Canadian SaaS, our tech ecosystem realized significant success.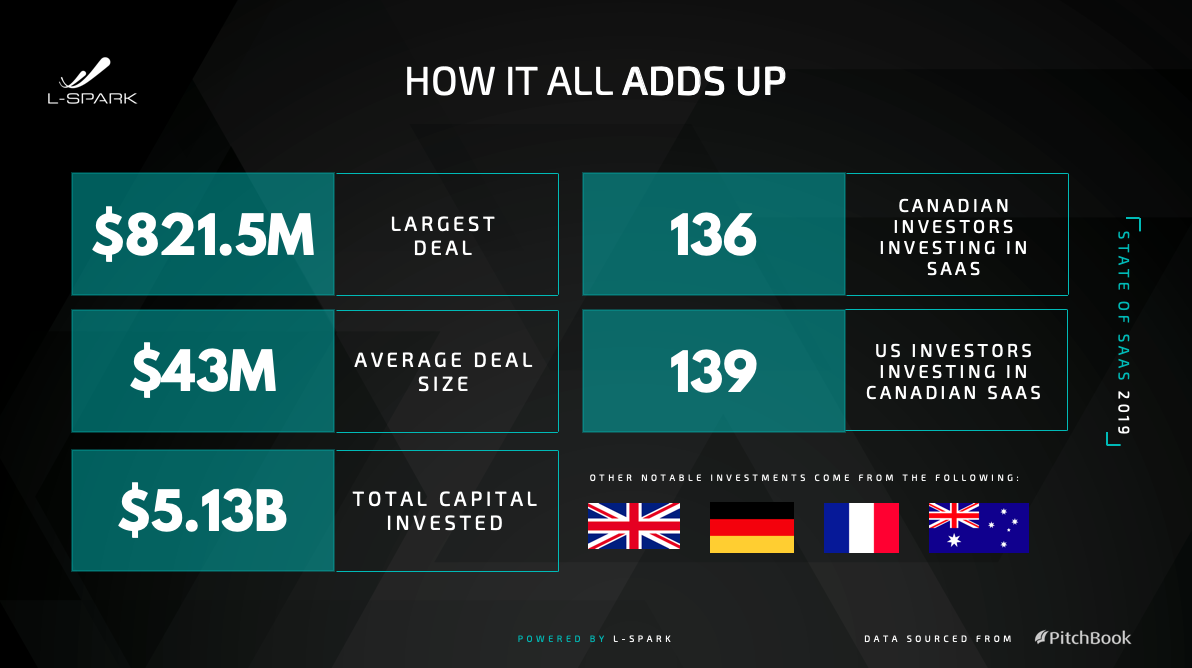 Here are some of the top SaaS announcements that came out of Canada in 2019. L-SPARK's 2019 State of SaaS Report follows.
Coveo raises $227M CAD to pursue growth in AI e-commerce market

Headquartered in Quebec, City, Coveo raised $227 million in a later stage investment round led by OMERS Growth Equity. The round also saw participation from existing investors, including Evergreen Coast Capital, Fonds de solidarité FTQ, and Investissement Québec (IQ), as well as other financial institutions.
Lightspeed surges after TSX IPO

Price shares in Lightspeed, which develops cloud-based POS and e-commerce software for small to medium-sized businesses, jumped by 18% on its first day of trading with shares rising as high as $20.22CAD. This came after the company closed a $207M Series D round in 2017.
1Password closes $265M in first round of institutional funding
After 14 years of organic growth, and attracting the attention of millions of users and more than 50,000 companies, Toronto-based password manager 1Password closed its first institutional funding round at a total of $265M.
This round was led by US venture capital firm Accel, which has previously invested in the likes of Facebook, Dropbox, Spotify, and Venmo
Canadian startup Clio Raises $250M for legal tech

Clio raised a whopping $250M Series D round from TCV and JMI Equity. Clio's platform offers law firms a cloud based legal practice management, client intake and legal CRM software. 
TouchBistro raises $158M in series E funding led by OMERS growth equity
Toronto based TouchBistro raised CDN$158M in Series E funding. The round was led by OMERS Growth Equity with participation from Barclays Bank, RBC Ventures, BMO Capital Partners, and existing investors.
16,000+ restaurants across 100 countries use the award-winning TouchBistro POS and payments solution.
Element AI raises $151M on a $600-700M valuation to help companies build and run AI solutions
Element AI, the very well-funded Canadian startup that has built an AI systems integrator of sorts to help other companies develop and implement artificial intelligence solutions raised $200M CAD in funding, money that it plans to use to commercialise more of its products, as well as to continue working on R&D, specifically working on new AI solutions.
Dream Maker Ventures launched diversity program for underrepresented entrepreneurs
Toronto-based Dream Maker Ventures is launching a new partnership model with the Dream Legacy Foundation, which will focus on entrepreneurial programming for founders in marginalized communities.

The Diversity Program initiative will see Dream Maker Ventures working with five partner organizations to offer new early-stage entrepreneurial programming tailored toward tech founders in five underrepresented communities: Indigenous people, persons with disabilities, members of the LGBTQA+ community, refugees, and newcomers to Canada.
Panache Ventures Closes Maiden Fund, at $58M
Panache Ventures, a Canadian venture capital firm, closed its inaugural fund, at $58m.
Backers included Alberta Enterprise Corporation, Fonds de solidarité FTQ, and Investissement Québec, National Bank of Canada, TELUS Ventures, BMO Bank of Montreal, and BC Tech Fund, managed by Kensington Capital, a consortium of Yukon First Nations, and the Government of Yukon.
Whitecap Venture Partners raises bulk of $125M fund IV
Whitecap Venture Partners initially closed its fourth early-stage tech fund, securing most of the $125 million target. In all, Whitecap IV raised $110M in commitments.. The money came in part from existing limited partners, including Kensington Capital Partners and Bank of Montreal. They were joined by several new institutional investors, such as Inuvialuit Investment Corp and family offices.
L-SPARK, BlackBerry, Telus, Solace launch accelerator to support Canadian IoT ventures
L-SPARK partnered with Telus, BlackBerry, and Solace to launch the Secure IoT Accelerator program. The program aims to support Canadian IoT ventures by offering them global reach capabilities and secure technologies.
The Secure IoT Accelerator aims to address the need for greater security and more complex applications, with the global IoT market expected to grow to $1 trillion USD by 2021.
Cybeats Announces $3M Investment for Cybersecurity and Lifecycle Management for IoT Devices

Cybeats, a rapidly growing cybersecurity company protecting Internet of Things (IoT) devices, raised $3M.

The round was led by early-stage venture capital fund Ripple Ventures, with investment from real estate technology venture capital fund GreenSoil Building Innovation Fund, and participation from MaRS IAF, MLA48, ScaleX and Inovia Capital. 
The funding will be used to expand sales, research and development, and Cybeats' enterprise capabilities with a focus on smart buildings, medical devices and critical infrastructure. 
Heyday.ai raises $2M in seed round
Heyday.ai, a Montreal-based conversational artificial intelligence (AI) platform, has secured $2M in a seed-stage financing.

The round was led by Innovobot, a Canadian innovation investment and advisory services firm. It was joined by Desjardins Capital and strategic investors.

Heyday's platform leverages conversational AI and messaging apps to help retailers improve the customer experience. 
ProcedureFlow raises $2.9M in series A funding
ProcedureFlow, a Saint John, New Brunswick-based SaaS provider focused on workplace training, secured a $2.9 million investment.
The round was led by Halifax-based venture capital Build Ventures. The round also saw participation from return investors, The New Brunswick Innovation Foundation (NBIF), which contributed $600,000 and Innovatia Inc., which contributed $300,000.
Morgan Stanley Completes Acquisition of Solium, Creating a Leading Provider of Stock Plan Administration and Financial Solutions for the Workplace
Morgan Stanley acquired Solium Capital Inc., a leading global provider of SaaS for equity administration, financial reporting and compliance. With this acquisition, Morgan Stanley is positioned to be an industry leader in providing financial solutions to the workplace, bringing together a major stock plan administration platform with its preeminent Wealth Management business.
Brokrete raises $500K in pre-seed round
Brokrete closed a $500,000 pre-seed round with angel investors Ronald Richardson of Ottawa and Avlok Kohli of San Francisco.

Brokrete's mission is to change and empower the concrete industry using technology. The company is looking to transform the way ready-mix concrete is ordered and offer the solutions suppliers and contractors need and crave.
DMZ launches 'Women Founders Accelerator Program' to Improve Gender Gap in Canada's Tech Sector

The DMZ at Ryerson University announced the launch of a Women Founders accelerator program to help early-stage women-led startups secure early revenue and find their product-market fit. The four-month accelerator program, launched in partnership with Scotiabank and Tangerine, will fuel the success of Canadian women innovators.
Canada's role in the SaaS industry is growing significantly. 2019 was a great year for startups, accelerators, and venture capitalists to push for global recognition. With these advancements, we look forward to seeing what 2020 will bring, and how Canada will continue to make a worldwide impact.
Want to learn more about the SaaS landscape in Canada? Download our 2019 State of SaaS Report here.