Say Hello to L-SPARK's 8th SaaS Accelerator Cohort
The L-SPARK accelerator is welcoming 7 new startups to its portfolio of over 90 companies with the announcement of its 2021 fall cohort. The companies are headquartered from Nova Scotia to Alberta, with three from the GTA/London region and two calling the National Capital home.
Over the past year, the Kanata-based accelerator has seen exciting activity come out of its alumni network. Most notably: Heyday, the ConversationalAI company, was acquired by Hootsuite in a $60M deal; Upchain announced its acquisition by Autodesk, Inc. and; LevelJump announced their acquisition by Salesforce.
Additionally, a number of significant alumni fundraising events has propelled L-SPARK's total follow-on funding number to over $100M.
L-SPARK interacted with  over 300 companies during this year's recruitment season from coast-to-coast. After a rigorous evaluation process and presentations to an extensive investor-based Selection Committee, 7 firms were selected to take part in the six-month program. 
L-SPARK and their partners have extremely high expectations for the future of this 8th cohort of incredible startups, a number of which have already started funding conversations with investors from the Selection Committee.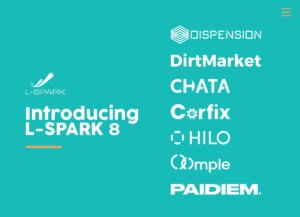 Meet the companies who make up L-SPARK's 8th cohort:  
DirtMarket is Canada's largest soil marketplace. Our platform is built for earthmovers looking to beneficially reuse their excess soil and, in turn, reduce tipping fees, reduce trucking fees and save time.
Dispension is transforming the distribution of restricted products with secure, trusted, intelligent self-service kiosks and smart lockers. Verified Convenience™
Chata delivers an end-to-end Dynamic Response ConversationalAI platform that enables seamless data access to structured and unstructured data in a business environment. 
Construction software designed for the workers. Corfix helps streamline jobsite paperwork at field level, increasing visibility, productivity, and compliance throughout the organization.
HILO is the Network powering the next generation of Tenant Experience to create the largest community of connected people in buildings, whether they are at work, at home, or anywhere in between.
Oomple is a marketplace that enables direct access for on-demand professionals and companies to easily find each other, connect and get work done.
Paidiem is a fintech enterprise SaaS solution for the future of work.  Our platform automates back office workflow and our data insights allow for modern workforce financing options like earned wage access and revenue based financing.