Mind your metrics + keep your KPIs in order
Late last year in 2020, we chatted all about KPI's + Metrics that you should be looking out for as we got ready to welcome 2021. Well, we're a few months into the year now and this is your friendly reminder to stick with it!
We held a #SaaSChats Twitter chat and a webinar both on the importance of metrics and KPIs for your startups – and we thought we'd look back for a little refresh on this hot topic and remind you what measuring success can do for you and your company!
So, hop into our blog time machine as we head back a few months (skipping over the not so fun parts of 2020, of course)…
First up, let's look back at the Webinar hosted by SaaS KPI experts Lauren Thibodeau, Founder at SaaSCan + Allan Wille, CO-Founder + CEO at Klipfolio!
Get Your SaaS KPIs in Order for 2021
This webinar covers everything you need to know when it comes to getting your KPIs in order – Lauren + Allan are no strangers when it comes to measuring success, but don't take our word for it check out the recording for yourself!
Lauren and Allan were also kind enough to share TONS of amazing resources for you! See that list below 👀
Resources:
The webinar was made possible by support from our friends at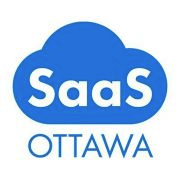 Don't get out of the time machine just yet, we're also looking back at a SaaSChats that we held that week – it was also all about metrics! Meet the panel behind the tweets: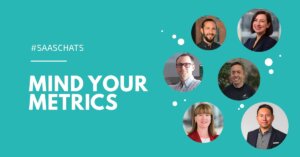 What did they have to say?
Find out by clicking on each question, they're linked directly to the thread of responses on Twitter so you can get the full scoop, but we included one highlight response for each question just to give you a taste of what you'll find over on Twitter!
Q1. In simple terms, how would you describe a metric versus a Key Performance Indicator (KPI)?

Q2. In the early days, when you're finding product-market fit, what are some key metrics it's important to track and why?

Q3. What are some of the most important metrics to track if you're bootstrapping a company and why?

Q4. What are some of the most common SaaS metrics that investors like to see in pitch decks of early stage companies and why?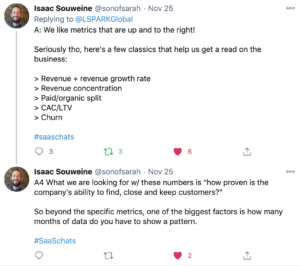 Q5. What are some best practices when you want to track a series of metrics or KPIs over time?

Q6. What are some pitfalls or common errors people can make with SaaS metrics?

Q7. What are some credible sources of SaaS metric benchmarks?

Q8. After you've found product-market fit and are in growth mode, what are some of the key metrics to track and why?

Q9. What's your favourite SaaS metric and why?

We seriously suggest clicking on the questions above to check out the full thread of answers -they are PACKED with amazing tips!
---
Did you enjoy this week's focus on metrics + KPIs? Do you have questions or want to be connected with any of our panelists from these events? Reach out to Community + Events Manager at natasha@l-spark.