entrepreneurship
:
Trulioo's Origin Story & Lessons Learned as a SaaS Startup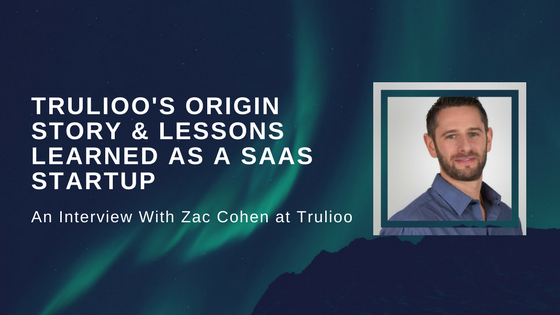 Trulioo, headquartered in Vancouver, B.C., is a leading global ID verification company providing advanced analytics based on traditional information such as public records, credit files and government data, as well as alternative sources including social login providers, ad networks, mobile applications, and e-commerce sites.
We sat down with General Manager, Zac Cohen, for a conversation about the company, the problem its solving in the marketplace and what it's been like growing a company in Canada.
Hi Zac, can you start by telling me a little bit more about Trulioo? How did the company go from idea to execution and what was the motivation?
It's actually a fantastic story.
The founders, Stephen Ufford and Tanis Jorge, of Trulioo were sitting around one night watching CNN. There was a touching story that came on about a woman in rural India who had just signed up for a Facebook account. She shed tears during the interview with Anderson Cooper because it was the first time in her life where she was recognized as a person outside of her immediate contacts.
It was in that moment that Stephen and Tanis realized the profound impact of a digital identity, especially in developing countries where most citizens don't even have a record of their existence. With a digital footprint, they no longer had to be invisible; they were finally included.
There are approximately 220 million children whose birth is not recorded and this doesn't include China, where the number is unknown. More than two billion people worldwide are unbanked and don't have access to financial services. After witnessing the emotional reaction experienced by the woman from India, Stephen and Tanis knew that they needed to solve this problem and thus, Trulioo was born.
Tell me a bit more about the problem that Trulioo solves and why it's so important for consumers and clients.
Trulioo's disruptive technology leverages the strengths of traditional ID verification alongside the latest capabilities in online tech today. Trulioo has developed a global ID verification solution, GlobalGateway, that is not constrained by geography, economic status, age or gender, and available to any business or organization around the world at a low cost and frictionless manner all with consumer privacy at the forefront.
In layman's terms? It's an identity verification service for businesses and organizations worldwide using government and private databases.
The product is a platform that verifies identities online – it's simple, effective and scalable. The company is growing every day and has connected hundreds of data partners across 65 countries, covering over four billion individuals worldwide. The problem, at its core, really focuses in on two key aspects:
For consumers – the main goal is access. Consumers want access to various services but they also don't want to have to be face-to-face or leave their home to use them. Convenience and security.
For businesses – the main goal is regulatory adherence and combating fraud. Companies want to protect themselves from unsavory characters and money laundering. Also, every time money changes hands, there are a number of regulations that need to be considered. These regulations differ from country to country and they are always changing. Further, a lot of startups are either bootstrapping or are financially conscious so we allow them to get plugged into the type of tech they want to use in their business but may not have the resources to deploy themselves – particularly if they are expanding into various markets simultaneously.
Trulioo has raised approximately $26.6 million in funding since 2012, can you walk us through the fundraising process and tell us how it helped the company grow?
Our founder and CEO, Stephen Ufford, loves to tell the story of a hundred no's.
The story begins with a move to San Francisco. Stephen hit the pavement as soon as he landed there. He did over a hundred pitches, received a ton of "no" responses from investors and VCs, but still made a powerful impression. A lot of startup stories sensationalize and glorify the process but the truth is, it's never as easy as it looks or sounds. Stephen had a vision, and he truly wanted to change the world, but he had to work hard to get others on board.
Once they found the right partners and the right fit, everything came together perfectly. The company proved its model and didn't give up on its core mission. With hard work and perseverance, Trulioo doubled their revenue growth every year for the past three years. The company is constantly innovating and finding new ways to demonstrate leadership and innovation in the digital identity space.
A lot of the funding we received helped us scale. Trulioo solves a global problem so we needed to create a global product. Raises have gone into ensuring that customers could solve their problems effectively across many industries and to ensure that we could launch and expand quickly to meet our customer's needs.
Trulioo could have been bootstrapped but outside capital has allowed us to be more aggressive in meeting our goals.
What has it been like to grow a business in Canada and how has that helped Trulioo get to where it is today?
The landscape has changed so much – it's a burgeoning tech community now. Canada truly has talented individuals and great ideas. The environment itself has been positioned in a way to make it opportunistic to succeed.
For Trulioo, we've been very well served by diversity. Our customers are all over the world – Australia, Asia, Africa, Middle East – and often the cultural gap can create issues for businesses looking to succeed. So our team is from all over the world as well. When you have a diverse team, team members that can provide insight and perspective and topical problem-solving, it helps enormously. When you have homogenized opinions and points of view, you limit your ability to think on a more global scale.
Finally, Canada is an incredibly beautiful place to be. I was born and raised in Vancouver and although I travel a lot, it always feels great to come home. Canada has a phenomenal reputation so being positioned here allows us to attract talent easily. And, you're of course only as great as your team.
What have you, and the company, learned from failure?
The truth about failure, for us, is that failure helps make you that much more motivated to succeed the next time.
Failures can prepare you and set the stage for opportunities. It's wonderful being in a startup that is in hyper growth mode, but it is unique and has its own set of challenges. The bumps along the way, that we have experienced individually and together, have allowed us to take full advantage of what we have today as a company. We're each bringing our unique perspectives and way of looking at the world into the day-to-day operations.
Startup life is not for everyone but it's incredible if you embrace it and leverage your strengths and use the lessons you've learned.
For those people who may be in a SaaS start-up (or other start-up), what advice would you have for them to help keep them motivated and inspired to continue?
You have to love what you do. You need to chase the vision of something bigger than your day-to-day role. You have to love tech, the mission, the people… you know pretty quickly if you love it or hate it. You need the passion to make things work. You can't teach that – it's just something that comes from within. That's how you know you can survive the battles and the ups and downs. Some people are really talented but the environment isn't for them. You need purpose and a desire to change the world.
As leaders in the company, we need to provide that from the top down, too.
The reality about startups is that everyone from the CEO to our co-op students, has the opportunity to make an impact on the company. You wear a lot of hats, you get exposed to a lot of knowledge and training, and you get put into uncomfortable situations a lot of the time. In addition, it's truly the best learning opportunity you can ever undertake. Being flexible, adaptable, and able to prioritize well are crucial skills that stay with you for your entire career.
Any final parting words of wisdom?
We're living in an age that is unlike any other. Where an idea can change the world in the blink of an eye. The difference is that we now have all of these tools at our disposal that make the attempt to do that so much more possible than ever before.
If you're in SaaS/tech/ startup – be smart but never be afraid to give your dream the chance of becoming a reality. You can do that so readily today. Some will fail, some will succeed – be smart with resources and risk, and if the opportunity for you to make a real impact is there staring you in the face, you should take it.
entrepreneurship, failure, L-SPARK, lessons learned, origin story, SaaS, startup, startups, Trulioo, Zac Cohen