IPO
:
Susan Liu, Principal at Scale Venture Partners, on the Metrics that Matter When Headed Toward an IPO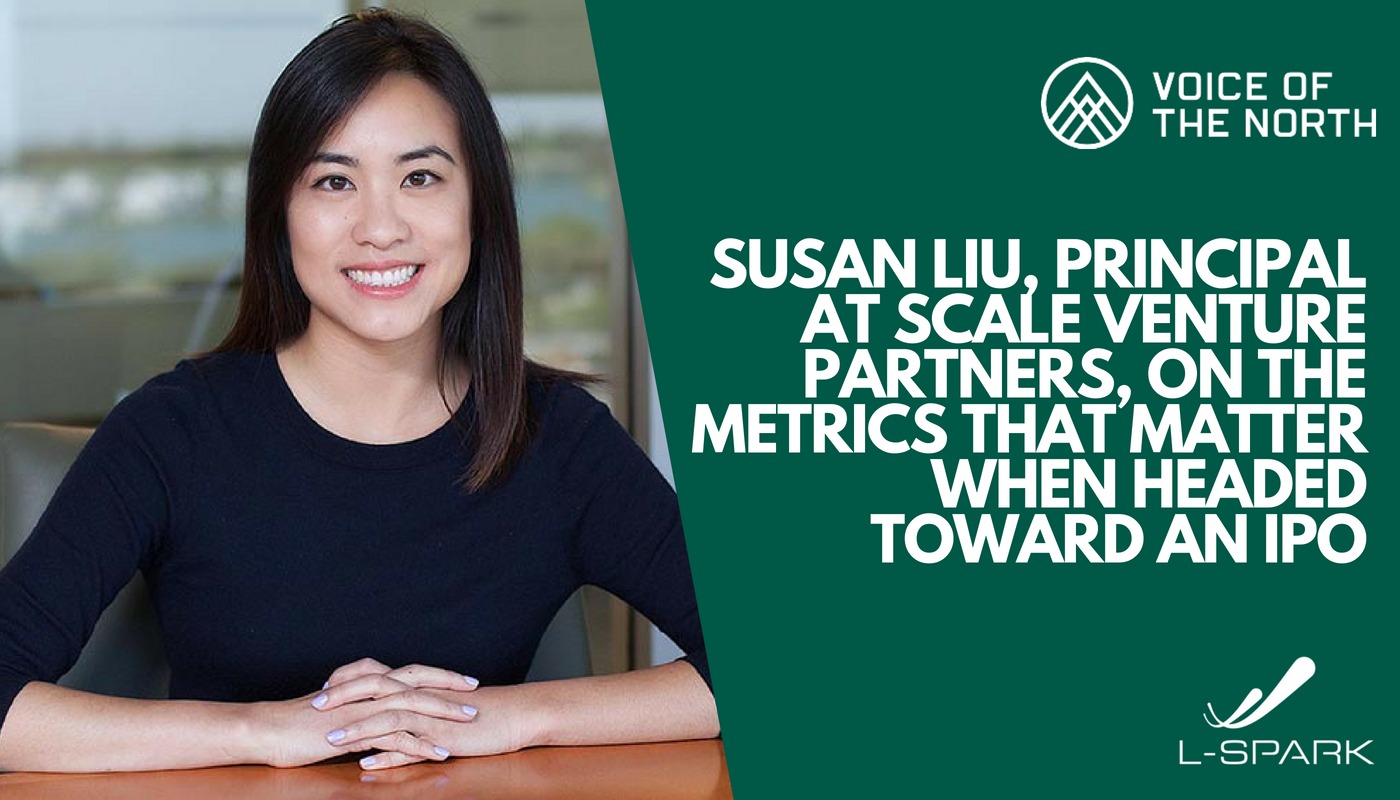 This interview is part of our feature on SAAS NORTH 2018 speakers.
Susan Liu has been at Scale Venture Partners for the past six years and is focused primarily on application software. When speaking to Susan, two things come through immediately – (1) she's extremely passionate about what she does and (2) she's got an eye for picking out interesting verticals to invest in.
Before Scale, Susan spent a few years in technology investment banking and while the experience was interesting and useful, she was looking for a bit more flexibility and the ability to make investments. It was this desire that led her to Scale VP and from the conversation we had with Susan, it sounds like it was an incredible decision.
Susan will be speaking at SAAS NORTH this year on IPOs so we grabbed some time with her to ask a few questions about her experience in VC and the metrics that matter when heading toward an IPO.
L-SPARK: What do you love most about what you do?
SUSAN: I love the work that I do and I find it incredibly interesting. It's not easy to build a startup and it takes a lot of grit and perseverance. In this line of work, I get to meet entrepreneurs every single day who motivate me. There are so many moments, in the entrepreneurial journey, where you might want to give up but these hardworking founders don't give up.
The investment piece is like solving a puzzle – you need to be able to see how things fit together. You're also learning every single day because there are so many industries that touch tech. Given the fact that VC is fairly flexible, I get to choose where I focus and this can change over time.
L-SPARK: It seems that you invest mostly in digital marketing and SaaS, what drives your interest in these two areas and what other areas do you invest in?
SUSAN: I'm interested in a lot of things – HR tech, collaboration, broadly horizontal SaaS… the markets that are the most interesting to me are those where there has been little to no innovation. Big, stodgy, old markets with companies who have A LOT of revenue but that haven't been focused on by startups.
For example, I've been spending some time looking at the auto vertical but unlike most, not the autonomous vehicle track. Instead, I'm interested in the companies in the space that are revamping old processes.
Let's take getting into a car accident, for example. After you get into a car accident, you need to get your car fixed and right now, insurance companies are using old software and, generally speaking, the process is long and complicated. I like looking at the opportunities that exist in spaces like that and exploring the startups that are solving those kinds of problems.
To boil it all down: big markets, very little innovation and markets that focus on interesting problems.
L-SPARK: Tell me about one of the companies you've invested in to-date and what led you to choosing them.
SUSAN: WalkMe was the first deal I sourced and I found them while wandering the floor at DreamForce. WalkMe was interesting because they were tackling something that hadn't been done before.
The premise of WalkMe is that they walk users through the onboarding process every step of the way. The tool reduces churn and increases adoption, which is game-changing for a lot of SaaS companies. To sum it up, they were solving a really interesting problem in a big market with very little competitors.
L-SPARK: As a woman in VC, what advice would you give other women who may be looking at VC or investing as a career path?
SUSAN: Now would be a great time to get into VC because many funds are looking to hire women.
My simple advice would be to never give up. The honest truth is that sometimes it can be challenging to work at a firm that is mostly all-men. You need to shift perspectives a bit and you need to cut through the hard parts and know that at some point, people will view you as a good investor, even if your approach may be different.
When I first started in VC, I felt like I had to imitate men to be successful but I realized that's not me – I just need to be myself. We also have an amazing female General Partner at Scale, which is a fantastic example of how the tide is turning.
L-SPARK: Let's chat a little about IPOs – your panel topic at SAAS NORTH. What are the main metrics that matter when aiming toward an IPO?
SUSAN: There are many metrics that matter when headed toward an IPO but let's look at a few of them in detail.
The first is good growth. You want to be able to illustrate your current growth rate, your benchmark relative to your peers, what your net new ARR looks like and how it's growing over time and your sales efficiency data.
We have a helpful tool at Scale called Scale Studio, which pulls together the metrics for the 60~ companies that we've invested in. This allows us to benchmark startups to other companies who may be in a similar position.
We also use a magic number formula, which we go into detail here. Finally, we look closely at the Mendoza Line, which looks forward to determine what growth rate you need to be at to go public. We've written about that concept here.
The second is retention metrics. You want to be showing more new inbound customers and more upsells while minimizing your churn as much as possible. To gain the trust of the public, they want to know that you aren't just a "flash in the pan" but rather sticking around for the long-term. Retention metrics will help get them there.
L-SPARK: What are some of the primary team considerations that a company should look at if an IPO is something that they want to achieve? Does this mean stacking your board or hiring out specific roles?
SUSAN: When you first start a company, being a scrappy entrepreneur with a scrappy team is common but as you grow, you want to build out your team with people who have been there before you and have experience in specific domains.
We evaluate the team as a whole to see what their needs are and fill that out accordingly. Some funds look for a specific profile in the team but at Scale VP, we're pretty open and flexible. As long as you have the drive and persistence to carry on, we support you.
IPO, L-SPARK, metrics, SaaS North, Scale Venture Partners, Scale VP, Susan Liu