#SaaSChats Recap - Virtual Events: Keeping Connected
The show must go on! (virtually, of course).
This month we chatted with event enthusiasts + experts to hear all about their experience navigating the pivot from in-person to virtual events. They shared their experience with the challenges, changes, and trends they've seen as a result of COVID-19. We also talked about what the future of events might look like as a result of the recent changes.
Meet the panel: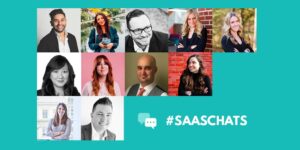 Haseeb Khawaja – Digital Marketing + Communications Lead The DMZ
Katherine Johnsen – Strategic Partnerships + Marketing Startupfest
David Tyldesley – Co-founder + Producer: SAAS NORTH Conference
Sonya Shorey – Vice President, Strategy, Marketing, + Communications Invest Ottawa
Stef Reid – Director of Marketing L-SPARK
Christine Ho – Business, Legal, + Community Affairs Dentons
Alycia Douglass – Digital Media + Community Manager Kanata North Business Association
Mike Greenwood – Co-Founder + Director Oxygen Events Ltd.
Natasha Tardioli – Community Manager L-SPARK
Kathleen Kemp – Manager University of Ottawa eHub
Kris McGlone – Head of Demand Generation Salesforce.
A big thank you to our panelists for showing up with so much energy, we'd expect nothing less from a crew of event champions.
We'll highlight some of the responses below, but for anyone looking for event tips + tricks, both with virtual events AND with the eventual return to in-person, we HIGHLY recommend that you check out the full chat over on @LSPARKGlobal.
(Pro tip: click on the questions below to be taken directly to the thread of responses over on Twitter).
Shall we?