#SaaSChats recap: understanding what drives value in a digital economy
What does 2021 hold for startups + founders everywhere? No one knows, but we do know that Digital Transformation is a going to be a part of it – and if it's not a focus of yours so far this year it probably should be! You don't have to take our word for it.
We had a panel of 6 experts tackle a series of 9 questions over on Twitter (@LSPARKGlobal) to hopefully help fellow founders, entrepreneurs understand just how critical digital transformation is going to be – now more than ever before! Meet the panel behind the stellar advice during yesterday's chat: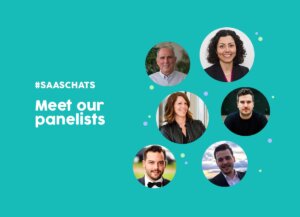 PS, yesterday was also #BellLetsTalk day, so you'll notice that we did our best to sneak in the hashtag any chance we got! For every tweet using that hashtag, 5 cents was donated to Canadian Mental Health Programs.. just by chatting SaaS, we added $3 to the
$7,958,671.75
that was raised yesterday. Every little bit counts. Thanks to our panelists and our participants for using the hashtag, we ❤️ this community!
We've highlighted a few answers for you below, but we didn't include the entire chat because, what's the fun in that? You have to check it out over on Twitter to get the full gif/hashtag/tweet experience.
Let's dive in! Click on the images below to be taken directly to the thread on twitter to get the full chat experience (we highly recommend it!)
A1 Companies can become a partner in customer's digital transformation journey by better understanding customers' including challenges & goals. If they have their own customer's understand their customer's and how to make their lives better. #SaasChats #BellLetsTalk

— Nilufer Erdebil (@digitalNil) January 28, 2021
A2: 2/2 In plain speak though. The value is that you can do something that you could not do before. Or you can do more for the same cost. Or do the same process for less. How you answer those three questions will determine your pricing model and G2M strategy.

— Jeffrey Doucet (@jeffrey_doucet) January 28, 2021
A3. Talk to prospects. Test your assumptions. Change the narrative. Size the opportunity. Run with the ones that gain traction. #SaasChats

— mike laginski (@MikeLaginski) January 28, 2021
A4 Biggest sign that you might need to pivot: there is little response from the market place. Meaning you have not found the right product-market fit. Or ONE piece of your product/service gains traction & you double down on that vs. the whole! #SaaSChats

— Isabelle Perreault (@CEODifferly) January 28, 2021
A5: When it comes to retaining customers, companies that truly strive to delight their customers will stand the test of time. By delivering on your word and providing great customer service, the customer relationship will be strong and understanding. #SaaSChats #BellLetsTalk

— Dispension Industries (@DispensionInc) January 28, 2021
A6 You need to be honest, care for real about the person behind the digital interface and listen well to their needs 🙂 #SaaSChats #BellLetsTalk

— Jean-Maxime Larouche (@jml_hippoc) January 28, 2021
A7 customers. #SaaSChats. And agree with @digitalNil -everyone must own this from all stages of customer journey #SaaSChats pic.twitter.com/82l9ASoHYO

— Isabelle Perreault (@CEODifferly) January 28, 2021
A 7 Don't forget about employee experience – happy employees leads to happy customers. #sasschats #BellLetsTalk

— Nilufer Erdebil (@digitalNil) January 28, 2021
A8. 1. Create a plan to make the product low touch/no touch. 2. Zoom "presentation and behaviour" training for all customer facing employees. 3. Double down on customer outreach communication efforts. #SaasChats

— mike laginski (@MikeLaginski) January 28, 2021
A9. Essentials for Startups: Go to Market Masterclass launching March 1! 💪💪https://t.co/7D8QRizpi1 #SaaSChats pic.twitter.com/0c1a1yolzQ

— Isabelle Perreault (@CEODifferly) January 28, 2021