#SaaSChats Recap: Marketing Through a Global Pandemic
Leave it to a group of marketing fanatics to bring serious ENERGY and INSPIRATION to #SaaSChats. This might go down in the #SaaSChats hall of fame as an all-time-fave chat. No, we don't actually have a hall of fame… but OH if we did, this month's chat would be there!
The unofficial word of the chat was, without a doubt: empathy. It's a key piece in marketing through a global pandemic, but we won't spoil the highlights for you. Check out the endless nuggets of advice in the threads below!
Meet the panel: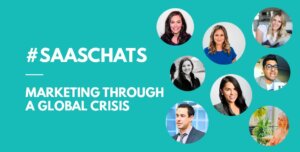 Also, a special shoutout to our panelist Riaz Sidi over at Sidi.io for sparking some serious #SaaSChats inspo with his Sidi.io Playlist – throw it on in the background for some uplifting tunes. We're totally inspired and we'll be launching a #SaaSChats playlist that we hope will become the official soundtrack for #SaaSChatters everywhere!
Enough about us, let's see what the panelists had to say!
(Pro tip: click on the questions below to be taken directly to the thread of responses over on Twitter).