#SaaSChats Recap - Black Founders: Conversations Continued
On July 30th we held our monthly #SaaSChats. This month's chat was a continuation of our July 23rd conversation.
Black Founders: Conversations Continued, was a chance for different founders to address the same questions + issues we touched on during our July 23rd panel discussion (We HIGHLY suggest you check that out!).
Meet the panel behind this #SaaSChats: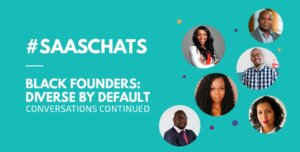 Uriel BIGOT (@BigotUriel) – CEO of UpKy Solutions
Nathan J.D. Hall (@MrNathanHall) – CEO of Simple Story
Solange Tuyishime  (@MissSolange) – CEO + President Elevate International
Chivon John   (@ChivonJohn) – Global Wellness Specialist Shopify
Russell Coltess  (@rcoltess) – CEO/Co-Founder sweatcrew
We'll highlight some of their responses below, but we HIGHLY recommend that you check out the full chat over on @LSPARKGlobal.
(Pro tip: click on the questions below to be taken directly to the thread of responses over on Twitter).