SaaS Showcase Remote Recap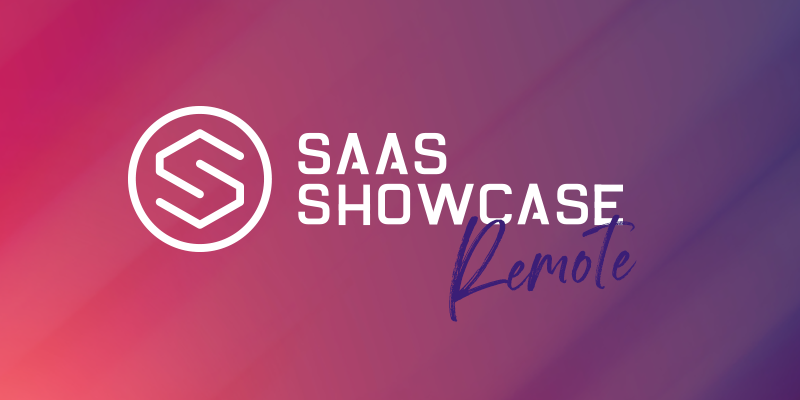 In light of the current pandemic, we've had to take the 'bend or break' approach to some of our events. This meant taking our 500+ attendee event from an in-person evening of networking and connecting, to an online virtual experience. Our aim was to accomplish the same mission: highlight our companies and let our community see what they've worked so hard to build.
We are so proud of our founders, sponsors, and teammates for coming together and putting so much time and focus into this event. It's never easy to make last minute adjustments, especially in the middle of uncertain times. Everyone has worked so hard to make this a reality – a virtual reality! 
Were you able to tune in for the premiere of the event? If not, you can still view it here. 
Below are a few of our favourite moments:
It's no surprise that one of our favourite elements of this event are the amazing companies who made it all possible. They were all ready to record and submit their pitch as soon as they heard the news.
[4:48] Neurovine
Neurovine is changing the way concussion patients recover using real-time data and machine learning to personalize your path to recovery. Our proprietary technology lets you return to life without the fear of regression in your recovery process.
[12:26] Reshift
Reshift helps small software development teams write secure code together. Created for busy development teams who want to be proactive in finding and fixing security vulnerabilities in their custom code.
[18:40] MyPitboard
MyPitboard is a newly developed racing performance and training application designed and built to enhance training of motocross athletes.

The product provides the ability to combine previous lap time statistics and visual cues, through our novel onboard system, to inform athletes whether they are maintaining a good pace, or falling behind.
[26:20] Nugget.ai
Nugget.ai is a people analytics platform that connects talent to opportunity through real company challenges. Candidates receive a soft skills profile and role recommendations based on industry and company-fit, and employers receive a shortlist of top talent after creating personalized benchmarks that objectively measure success for their team. We're helping employers discover their best-fit talent the first time, while nudging candidates to different career opportunities. Our vision is to create powerful models that consume, understand, and process people data from a variety of different sources to power the skills database for the future of work.
[33:46] Clickarmor 
Click Armor provides an innovative online learning platform that reduces cybersecurity risks to businesses by improving employees' resistance to attacks. With escalating security threats targeting employees as the weakest link, CIO's need to effectively change employees' risk management behaviour when accessing information and systems.
Click Armor uses proven "game-based learning" techniques to motivate employees to learn about cybersecurity threats. Our "deep gamified learning" approach uses engaging, interactive learning games and simulations to reduce employee vulnerabilities. We provide rich metrics to management about its staff's proficiency across multiple threat areas, which has never been available before with traditional compliance-based training programs.
[40:07] SAGA
We were thrilled to have Technovation challenge winners pitching at our event! 
Technovation Canada equips young women (ages 10-18) to become tech entrepreneurs and leaders. With the support of volunteer mentors, girls work in teams to code mobile apps that address real-world problems.
[44:02] Relomigo
Relomigo simplifies employee relocation by using tech and local expertise to set-up employees before they arrive, so they can focus on what matters most.
[50:26] Freightpath
FreightPath was founded to deliver an interconnected trucking and shipping industry – powered by tech to provide services with advanced visibility and exceptional customer service.
Partner at Dentons, Chase Irwin, makes an appearance to introduce our keynote speaker.
[58:15] SaaS Showcase would not be possible without the support of our incredible sponsors. I special thank you to Chase Irwin, Partner at Dentons, who made a special appearance to introduce our keynote speaker!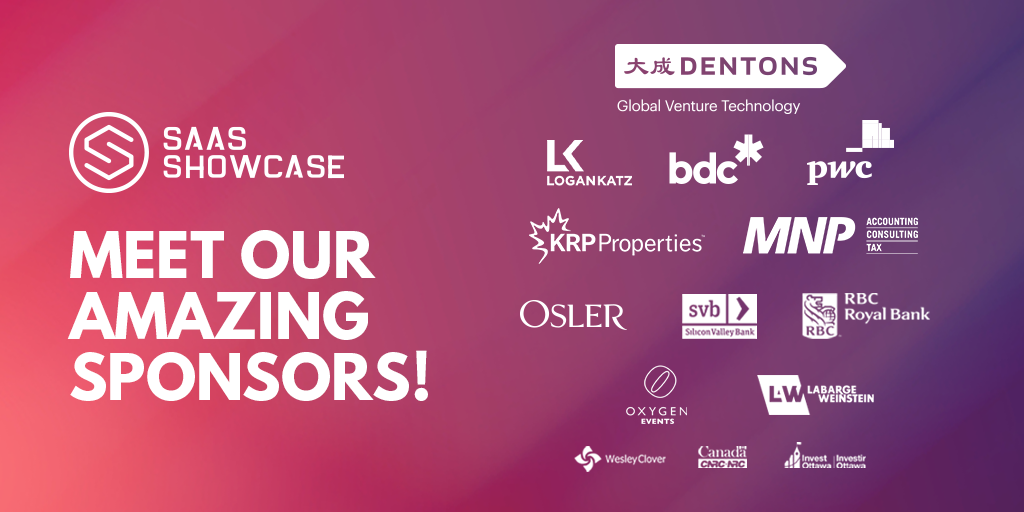 Keynote speaker, Carol Leaman, CEO of Axonify Inc.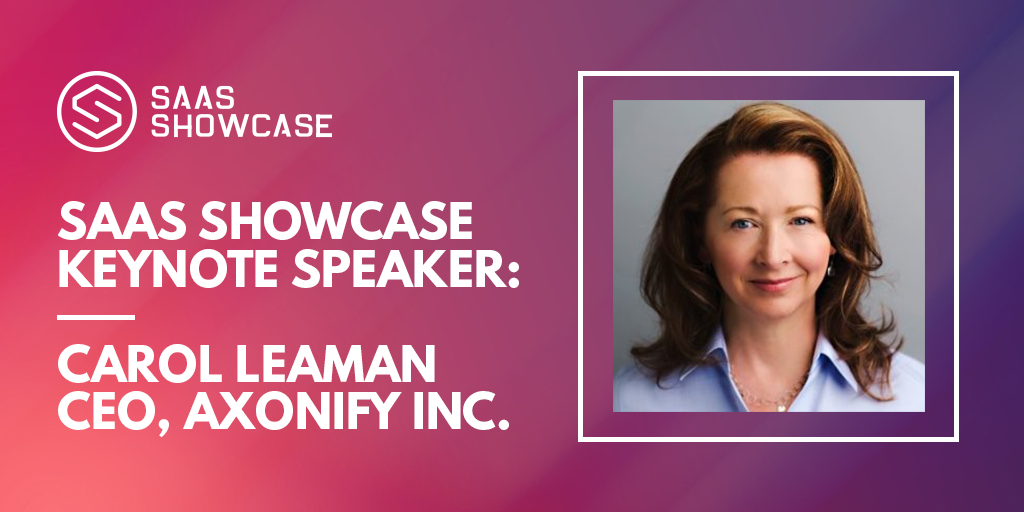 Carol so quickly adjusted to this major change, and willingly filmed her keynote address for us to include in the event.
Carol shared her amazing journey with us, and all of the lessons she's learned along the way. Hearing from someone as knowledgeable and inspiring as Carol is always an amazing way to stay motivated while you're on your OWN journey!
[1:17:33] "Cash matters. In this crisis we are in… I know many of you are experiencing panic around your cash situation.
Always make sure you're not getting way ahead of your skis – know precisely when you are going to be cash out. Manage your business, your product, and your sales, or at least get some traction with that in mind. 
Cash runs out way faster than anybody expects. So you need to understand where it's going and where it's coming from. Do not manage your business right up to the line."
[1:31:43] "Don't mistake kindness for weakness.

Women tend to be very self critical, afraid that their softness or kindness will be interpreted for weakness.

I am kind, I am a human, I appreciate everything about people and their lives and the challenges they have, and I don't feel the need to anybody but who I am, which is a woman. 
I am also not weak, I do not lack confidence, I do not lack the fortitude to make the decisions that I make. But I do everything as just a kind. Normal person, and you can too.
You can get what you want by gentle pressure, applied calmly, and firmly."

[1:33:12] "I never in my career, sought out a title, asked for a raise, asked for recognition for anything. All I have ever done is worked as hard as I could, exercised the best judgement that I could, treated the people that I worked with with humour, with humility, with just being myself.
Every single time, I had an opportunity come to me, it was because people knew they could rely on me to do the best I could do. Not necessarily the right thing every time, I make mistakes all the time, but they trusted that I would do the best that I could do.

I never needed to shout that.
You will get far as a leader in your company by just doing that. Don't worry about you. Worry about the work that you do, and how you present to other people. That's all that matters."
Carol being a part of this event was certainly a highlight for us – thank you, Carol!
The Viewers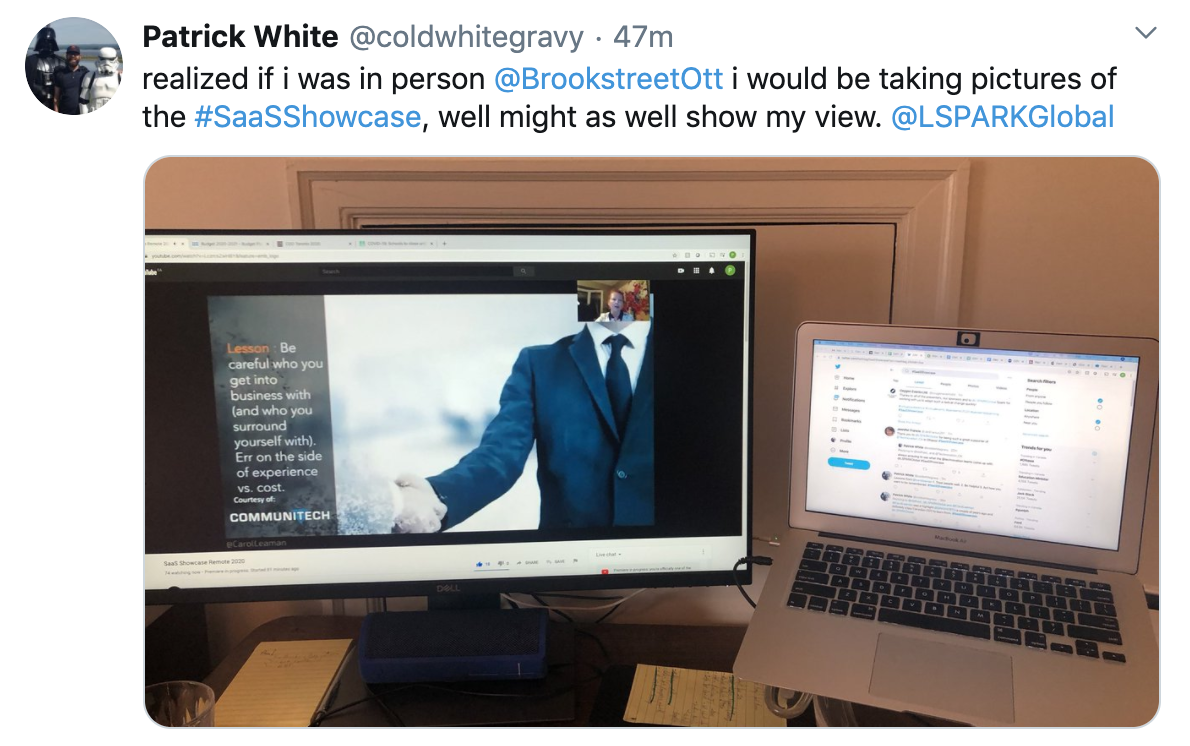 Last, but certainly not least, thank you to everyone who supported us as we made this transition and experimented with our first ever SaaS Showcase Remote. We're sure that your viewing setup resembled something similar to Patrick White's, Managing Director at L-SPARK, photo above. 
The overwhelming amount of community support has made this all worthwhile, and it's given the opportunity for us to reflect and congratulate ourselves for sticking to our mission and giving the companies the spotlight they deserve! 
We look forward to all of the other virtual events that are just around the corner, and who knows, maybe this is a new era of environmentally-friendly, wear-your-PJ's-while-you-attend, kind of events?! We're here for it.