Our SaaS Showcase Ottawa event marks the final community pitch event for our L-SPARK Accelerator cohort and this year, we opened it up to startups from our friends at Algonquin College, Holt Accelerator, Invest Ottawa, Queen's University, Technovation and the University of Ottawa.
The evening started out with networking and our exhibitor alley was packed with companies — 35 to be exact! — who were eager to connect with the community. We saw many familiar faces during the event but we were also thrilled to see a lot of new faces, too. We were also pleased to see many of the post-secondary institutions bring their students out for the event and kudos to Professor Dowell from Algonquin College for renting a bus and bringing your entire class!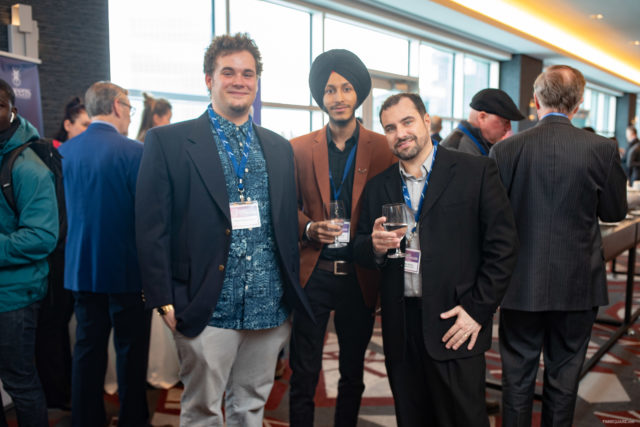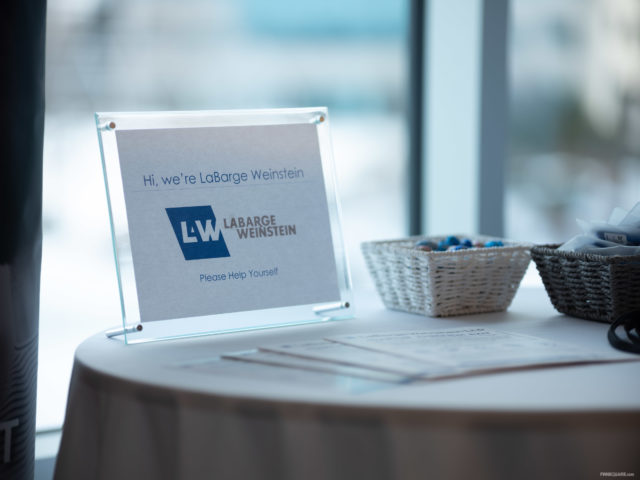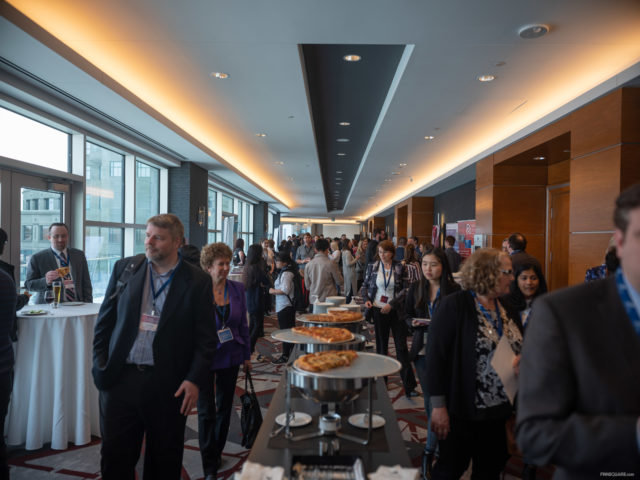 At 6pm, we brought everyone inside the Newbridge Ballroom to hear from each of the nine pitching companies that participated in the event. Up first though were our wonderful MCs — Sean Stanleigh (Globe and Mail) and Karla Briones (serial entrepreneur and startup mentor) — who greeted the crowd and brought the energy to the room.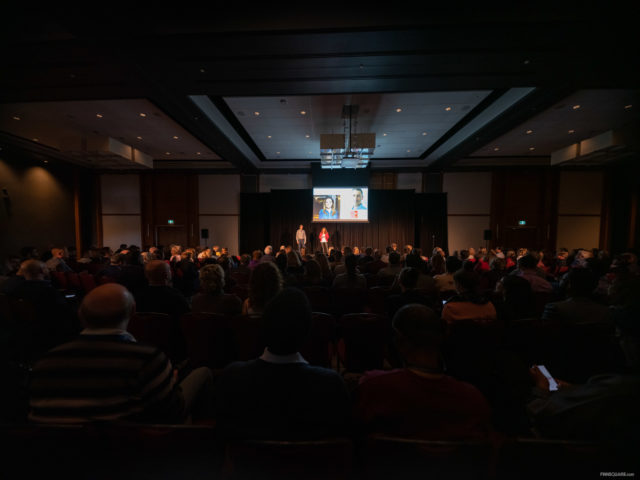 Leo took the stage next to give the crowd an overview of where L-SPARK's been and where we're headed. L-SPARK is turning five this year so it was a perfect opportunity to reflect back on our successes and look ahead to the future.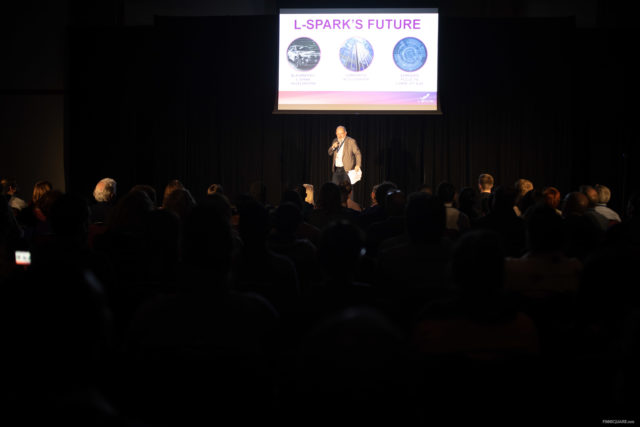 Once Leo finished, it was then time to move into the main event — the startup pitches. We had nine six-minute pitches so what followed was rapid fire and concise but incredibly inspirational. Each of the founders knocked it out of the park and left the crowd curious to learn more about what they were building.
Every founder also walked on-stage to a song of their choice so we thought it would be fun to put that into a Spotify playlist that you can listen to whenever you wish! Call it your startup inspiration playlist. Tune into that here.
Up first? Adam Allore of Wavve Boating. Wavve Boating is designed to make navigating on the water as simple and intuitive as Google maps made navigating on land.
Although the product could grow in many directions, Wavve believes the greatest value lies in the data they collect from users. With this wealth of data, Wavve could one day (hopefully soon!) determine the fastest and safest routes across the water. These routes would be customized based on a user's vessel draft and type, as well as their personal driving preferences.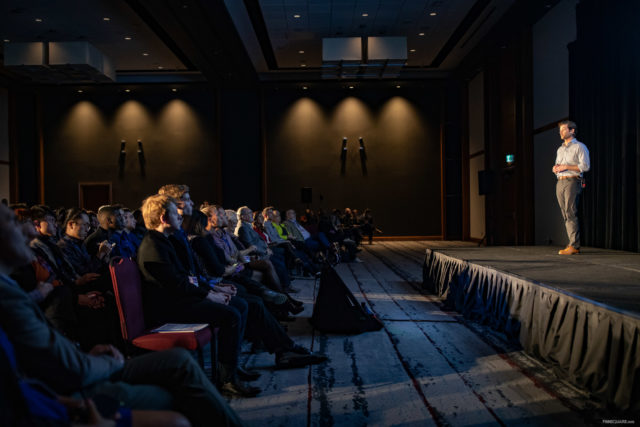 Following Adam was Richard Mercier of AideXpress. AideXpress is an online economy sharing company that connects self-employed workers/caregivers to potential customers. Through AideXpress, self-employed people offer their services and clients find the assistance they need.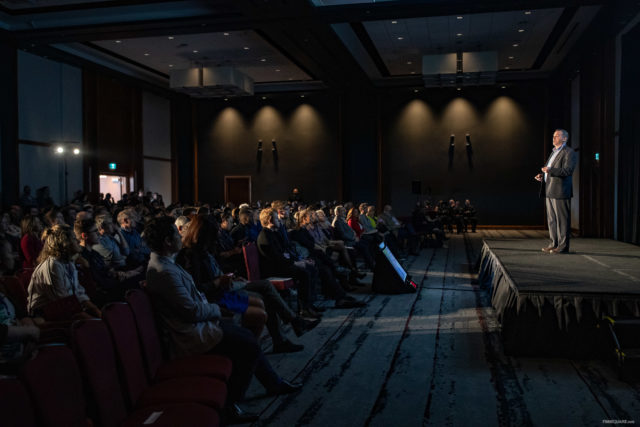 Next up was Jordan Latourelle from Brokrete. Brokrete wants to offer a platform that will improve and empower the actors of the concrete industry, from the clients and contractors to the ready-mix suppliers. Brokrete facilitates the overall ordering process, reduces risks of catastrophic human errors and reduces the time spent managing concrete orders.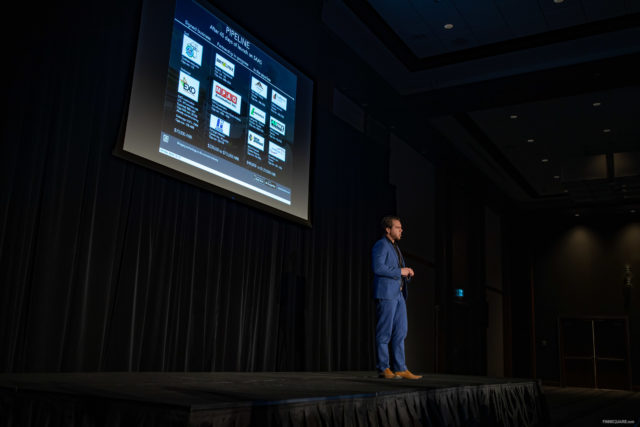 Then, we heard from Elizabeth Audette-Bourdeau of Welbi. Welbi is a recreation platform revolutionizing retirement communities. Welbi's assessment tools and real-time analytics help recreation teams gain a deep and holistic understanding of their residents. Combined with our powerful planning tools, our solution allows teams to effectively deliver and evaluate their programming which leads to a more engaged community.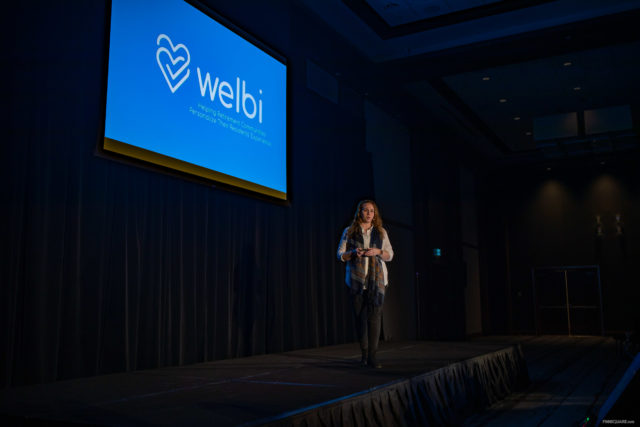 Following Elizabeth was Armel Beaudry of Trebble.fm. Trebble is an online ecosystem that makes it easy for media organizations as well as individuals to be able to create and distribute their shortcasts on voice-activated speakers like Amazon Echo or Google Home.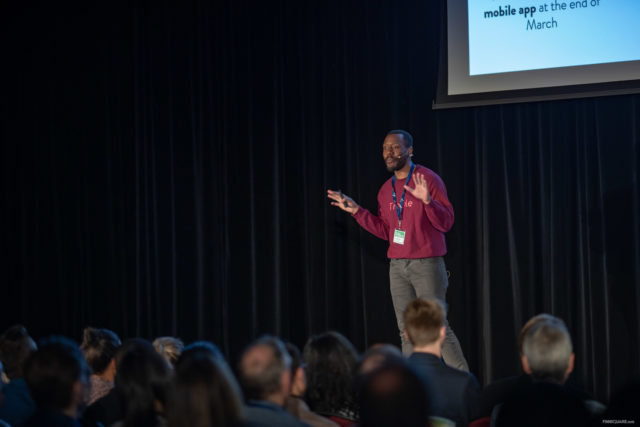 Next up was Austin Hubbell from Consilium Crypto. Consilium Crypto is a big data company that provides quantitative and qualitative insights to market participants in the cryptoasset space, including funds, family offices and exchanges. Consilium has built large-scale global data pipelines that connect to various channels of information, directly at the source, capturing over 90% of the total trade volume of cryptoassets around the world.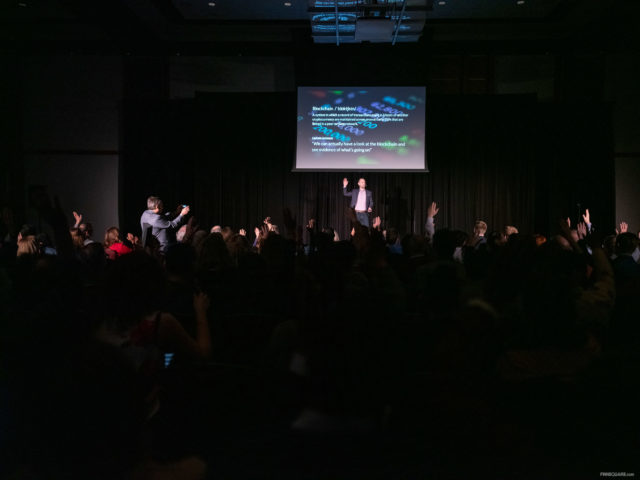 Then, we heard from Doof, the winning team from Technovation. It's time to change the way we see food, starting with our buying habits at the grocery store.
Doof is a free app that provides a smart and collaborative platform to manage your groceries, essentially an upgrade of your basic shopping list. Its features include digital lists of items you have at home and items you need to buy, all which can be edited by other members of your household. With personalized recipes, helpful reminders, and exclusive grocery discounts; our app is designed to reduce waste and make your life easier.
We're also thrilled to be able to provide Technovation with a $2,000 donation this year!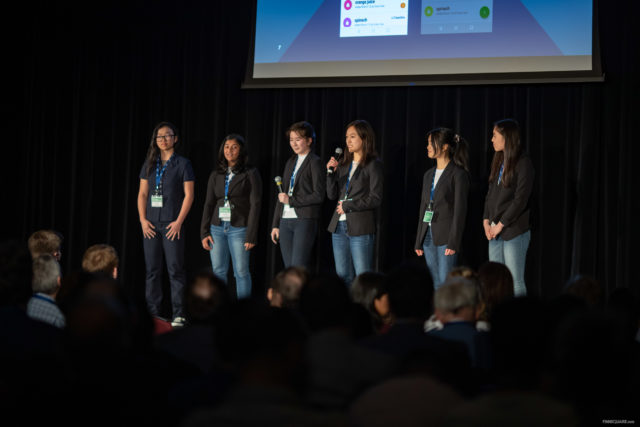 Following Doof was Nathan Mah of Mero Technologies. Mero Technologies' solution offers intelligent management of labour through smart sensor technology. By installing a suite of sensors throughout the building – primarily through retrofits of the existing commercial washroom dispensers – Mero is able to measure traffic and track usage patterns to provide actionable insights to property managers.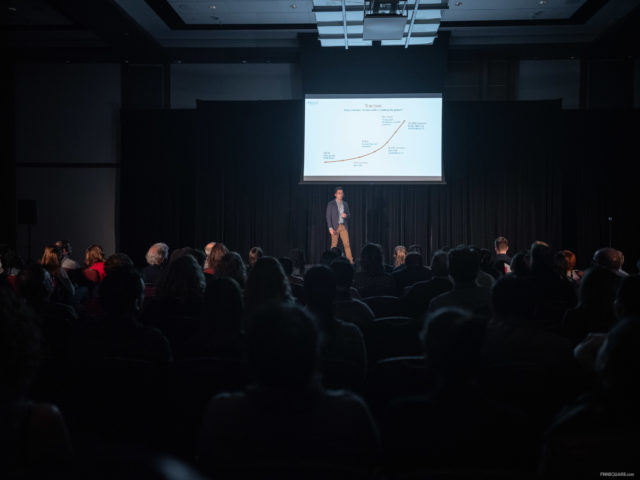 Finally, we heard from Mike Potter from Rewind. An online backup service for SaaS applications, starting with e-commerce platforms Shopify and BigCommerce, and also supporting QuickBooks Online. Thousands of people use Rewind to safely backup millions of items and secure their online stores.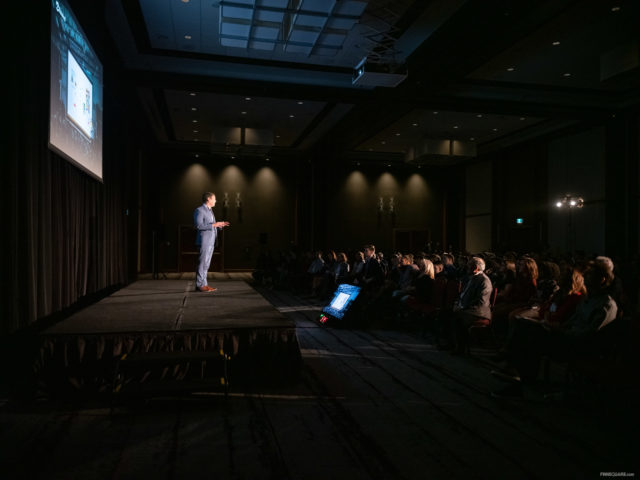 Following the pitches, we then had Mark MacLeod of SurePath Capital come to the stage to deliver his insights on the current state of Canadian SaaS and what he thought the ecosystem looked like from a numbers perspective. Mark's slide deck can be downloaded here and he also did a write-up in BetaKit, about his presentation, here.
Thank You for Supporting the Showcase
Now, a few notes of thanks for this incredible event.
First, we'd like to extend a huge thank you to all of our sponsors, partners and exhibitors as we couldn't do what we do without your continued support. Thank you also to the media for covering the event, too! We had an excellent write-up appear in the Ottawa Business Journal if you'd like to give that a read.
Thank you also to Oxygen Events, the Brookstreet Hotel and FMAV for pulling together the event logistics. Thank you to Levy Marquis and John Finnigan Linn for capturing the event! Huge thanks to Sean Stanleigh and Karla Briones for being incredible MCs and to Mark MacLeod for that informative look at the state of Canadian SaaS.
We also need to thank our amazing volunteers. There are so many people behind-the-scenes that contribute to the success of a show like this and we appreciate the support. Thank you to Amanda Foget for running social during the show and for everyone who Tweeted on the hashtag — we trended across Canada, which is great news for the Ottawa startup and tech ecosystem!
Last but not least, thank you to the founders who put their startups in our care for the last six months and worked tirelessly with us day after day. We recognize your efforts and are so incredibly proud of all that you've accomplished and all that you will accomplish as you move forward from here.
See you next year!