NSQ Recap: Preparing your Startup for the Impact of Economic Downturn
This week we launched the very first virtual edition of our No Stupid Questions workshop. No Stupid Questions is a workshop series that provides founders with a space to learn about key issues and considerations affecting startups and get their questions answered by subject matter experts. The webinar was facilitated by our incredible partners at Silicon Valley Bank and saw over 75 participants from across the world!
This workshop provided founders with tools to understand and navigate the impact of an economic downturn on their startup. We explored the controllable and uncontrollable elements at play and how to take meaningful action to strengthen your balance sheet, cash flow model, and gross margin integrity.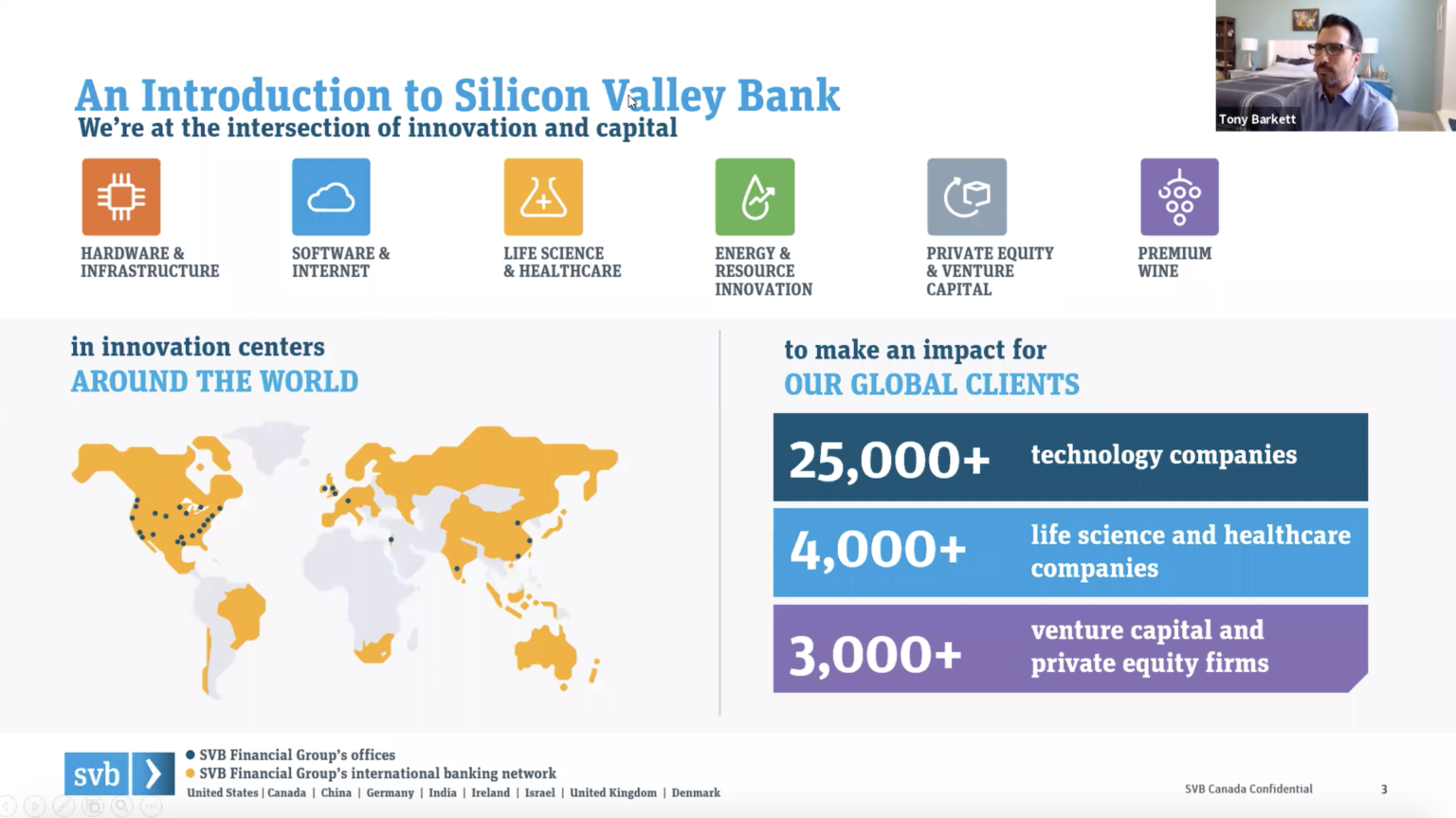 An event is only as good as its host(s)
Lucky for us, we had the very best hosting this webinar! Our facilitators from Silicon Valley Bank, Tony Barkett, Managing Director at SVB, and Laith Shukri, Senior Market Development Manager at SVB, were extremely knowledgeable and helpful in providing our listeners with expert advice on how to navigate these uncertain times.
Silicon Valley Bank has been supporting founders, entrepreneurs, and investors for over 35 years. SVB provides a full range of financial services and expertise to companies of all sizes in innovation centers around the world.
Meet the facilitators:
Tony Barkett, Managing Director for SVB, focuses on helping technology companies in Canada's growing innovation economy. Previously, Tony managed SVB's Eastern Cleantech practice and worked with technology companies under $100M. Prior to this role, Tony managed SVB's Southeast Asset Based Lending Group. Over the course of his 13 years at SVB, he has provided a variety of financing solutions to technology companies at every stage.
Laith Shukri, Senior Market Development Manager for SVB in Toronto, focuses on building and strengthening relationships between the bank and early-stage companies in Canada. To this end, he consults with innovators to identify ways that SVB can best serve their needs as they scale. Laith is particularly passionate about using his background and talents to help founders move to the next opportunity; his services include providing feedback on pitches and business models as well as fostering connections between Canada's upcoming game-changers and the most influential peers, organizations and programs in Canada's innovation ecosystem that can help set new ideas in motion.
Prior to joining SVB, Laith served as a senior analyst for ScaleUP Ventures, a Toronto-based VC fund. In this capacity, he was responsible for deal-flow management, coaching founders and cultivating partnerships with significant programs and conferences.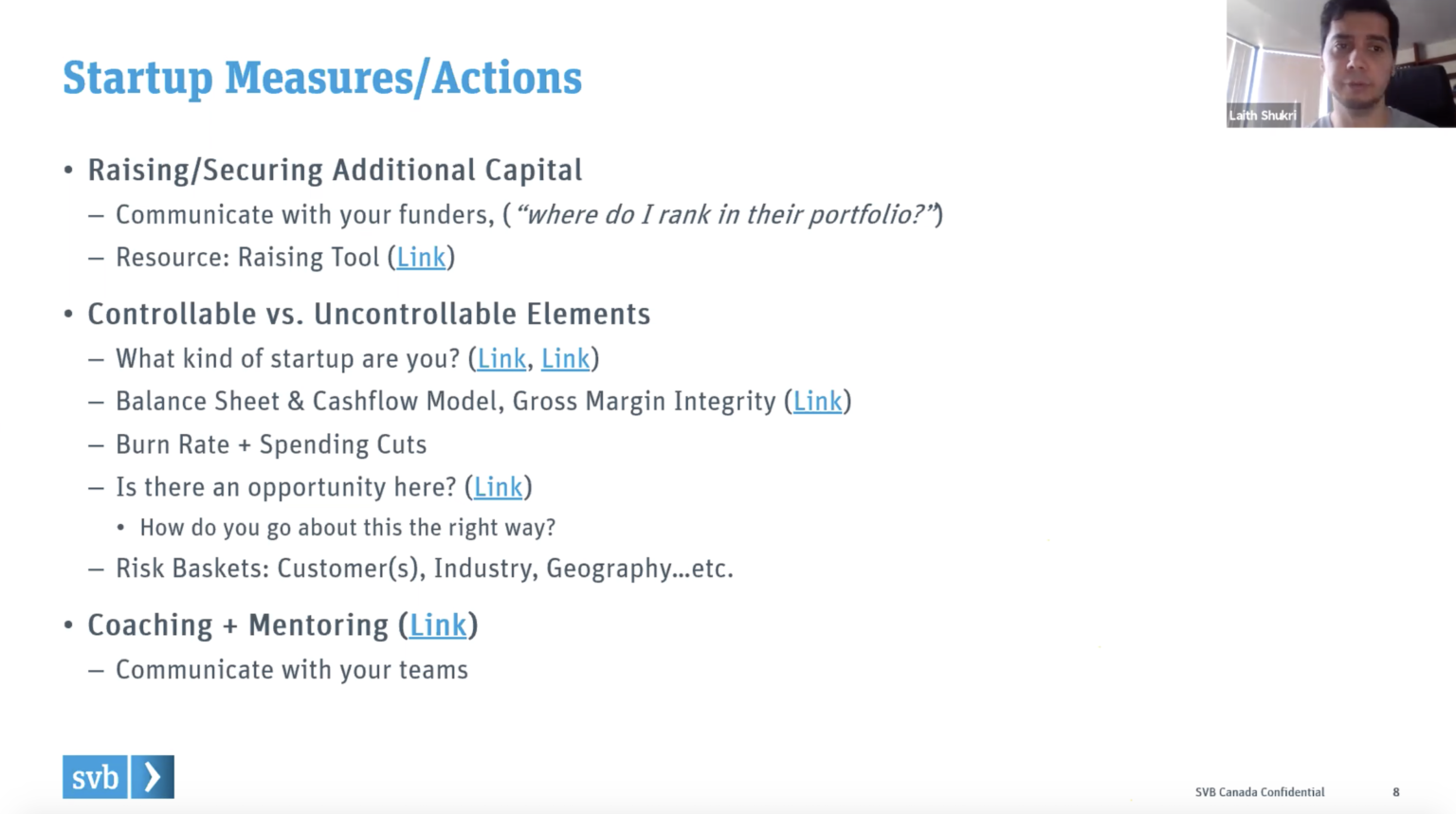 The Million Dollar Question: What can you do as a startup/founder during this economic downturn?
It's all about what you can do to help soften the impact of this crisis on your startup.
There is no way any of us could have seen these events unfolding as they are now, but one positive takeaway is that there might be a major shift in the mindset of founders; which will help and change the way they prepare and plan for their business moving forward.
Tony and Laith narrow down the actions founders can take into three buckets:
Raising/Securing Additional Capital

Controllable vs Uncontrollable Elements

Coaching + Mentoring
"This isn't an easy situation, and it's a very unique circumstance. It's a pandemic coupled with a downturn." Tony advises startups to be transparent with their board, funders, and key stakeholders. "In this time it helps to be transparent and to try and understand the situation from different perspectives. This can avoid someone pulling the trigger on something that could have been dealt with differently."
When it comes to tackling the items outlined above, Tony and Laith provided our listeners with advice on how they can put these items into action to ensure founders are doing everything they can for their startup.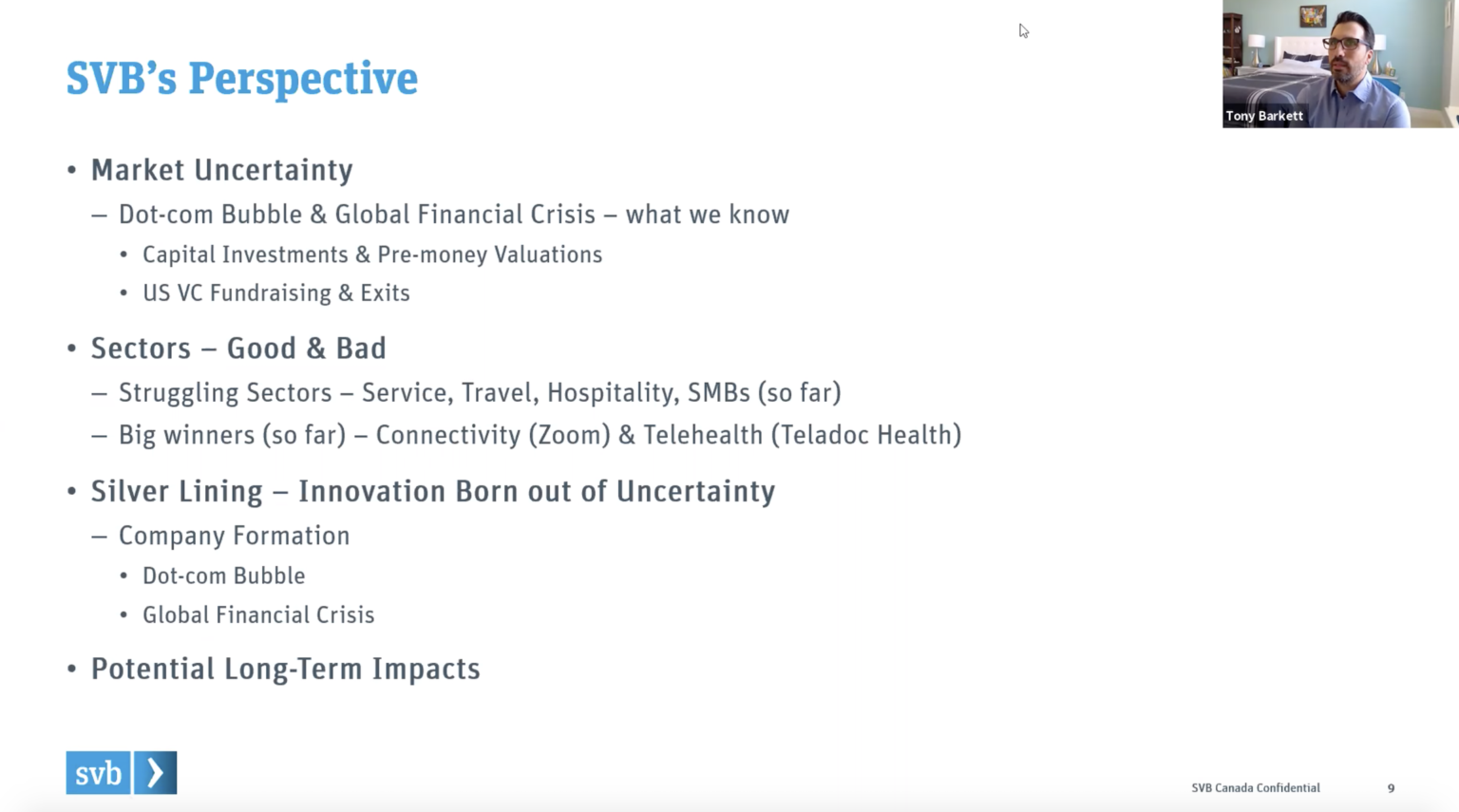 Expert Perspectives
"With the current market uncertainty, one can only speculate on how it will progress based on previous experiences."
During the dot-com bubble, the world saw a major decline in capital investments and pre-money valuations. These previous situations could be a sign of what to expect when we come out of all of this.
"In any situation such as this, there will be some good and bad. Some companies will flourish, and some will not. We're seeing companies trying to work to the best of their ability, and sometimes the worst case scenario actually becomes the day-to-day scenario for these companies.
Then there are those who are flourishing. Connectivity and Telehealth are seeing some serious growth right now. In this time of uncertainty, you'll see these companies grow based on the needs of the world around them, especially with the current 'stay home' advisories in place.
This leads us into the silver lining: what good comes out of the uncertainty?
These economic downturns can provide a great opportunity for founders and entrepreneurs who can take advantage of this situation. There's potential for riding the next economic growth that will follow this downturn.
In the aftermath of the dot-com bubble, for example, companies like Facebook, Tesla, Wayfair, and Docusign are all examples of companies that were formed in the aftermath. The Global Financial Crisis saw companies like Square, Airbnb, Pinterest, and Uber.
There's a potential upside if you can take advantage of this. If this is a successful transition to more companies working from home, that will leave us with another area of growth and opportunity for entrepreneurs."
I guess that leaves us with some questions of what amazing household companies we might see born from this pandemic.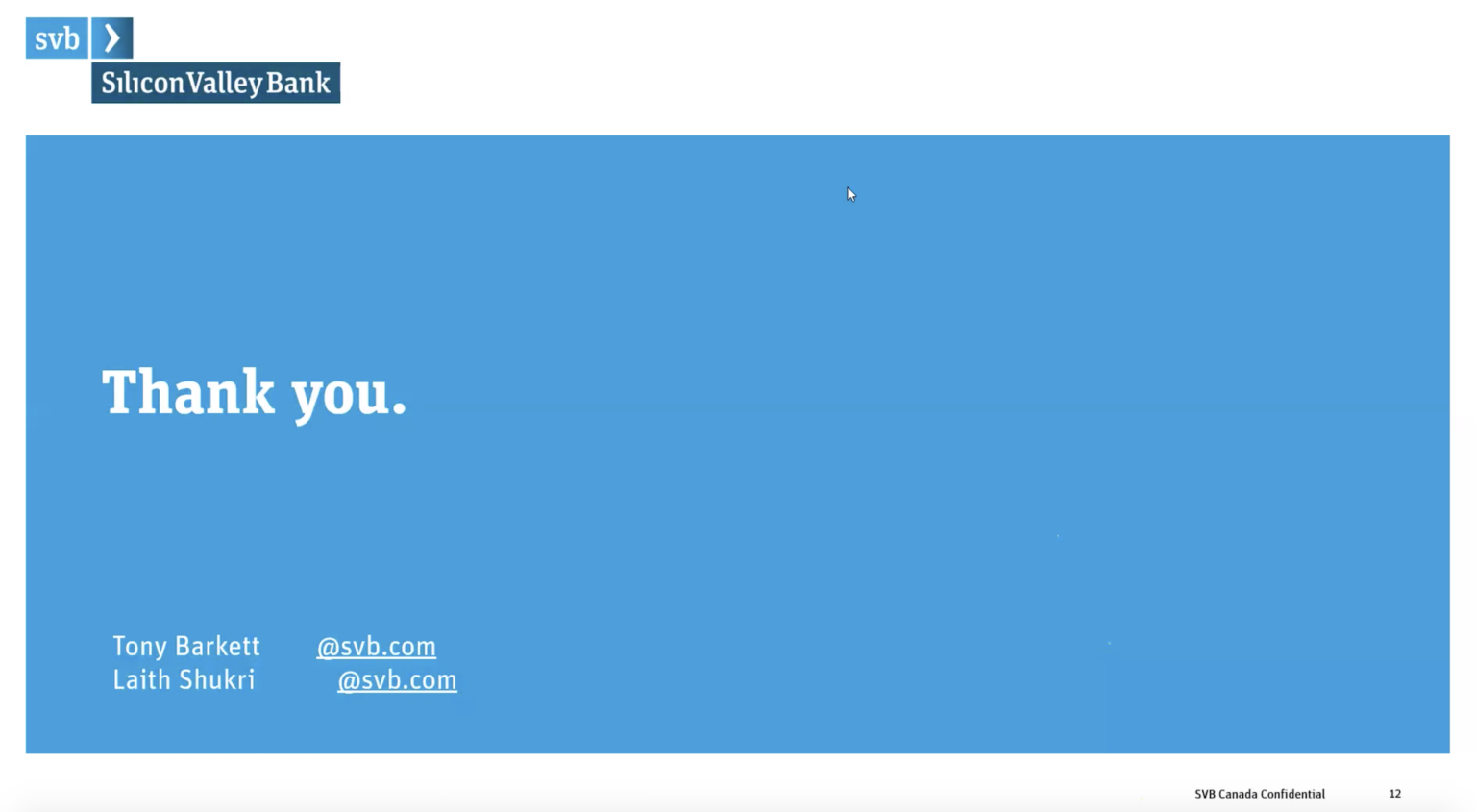 Thank you to Tony Barkett, Laith Shukri, and the rest of the SVB team for sharing your expertise and leading this important discussion
We were thrilled with the turnout, and so glad to see the chat active with questions, feedback, and overall engagement! This is exactly what we were hoping to accomplish for our first virtual edition of this event series, and we definitely hope to see more of them in our future!
Do you have suggestions for topics or would you like to get involved in this event series? Reach out to Community Manager, Natasha Tardioli, at natasha@l-spark.com.