NSQ Recap: Cashflow + Business Resilience with MNP
Each month we host a virtual No Stupid Questions webinar. We spend an hour with a subject matter expert who shares their knowledge and expertise with our audience. Questions are not only welcome, but encouraged!
This month, we were lucky enough to partner with MNP for a NSQ session focused on Cashflow + Business Resilience.
MNP is a leading national accounting, consulting and tax firm in Canada. They proudly provide a comprehensive suite of professional and advisory services to help businesses grow and prosper. Through their international partnership alliance, Praxity, MNP provides their clients with assistance and support wherever business may take them. With partner lead engagements and industry focused professionals, they can assist with SRED claims, risk management, cyber security, technology solutions and more.
Meet our facilitator: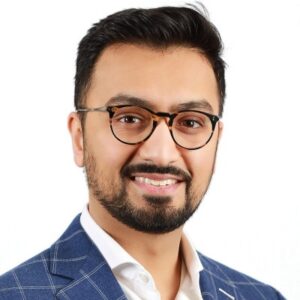 Divyan Panchal
Manager, MNP Consulting
This month's NSQ webinar was facilitated by Divyan Panchal. Divyan specializes in small to medium size owner operated businesses. His services include performance and productivity improvement, cashflow management, forecasting/budgeting, logistics planning, debt financing, M&A advisory and due diligence. He has worked in various industries including transportation, manufacturing, food and beverage processing, hospitality, financial services, staffing, toys and telecom.
Did you miss the live event?
No worries, we've included some of Divyan's key highlights below. We highly suggest keeping an eye on our event calendar for upcoming NSQ events in the future!
Let's dive in: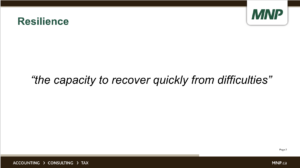 What do we mean by resilience?

 
When COVID hit there was definitely a sense of panic. Generally, panic can lead to decisions that are made based on survival rather than resilience – which is coming back, and possible coming back even stronger.
A lot of quick decisions have been made with survival in mind. When businesses fail to look at the bigger picture, they have a hard time figuring out what decisions actually need to be made.
So, how can we ensure that your business is prepared for the challenges to come?
 As this pandemic disappears and the landscape changes, we want you to be prepared. When it comes to understanding your situation, it really comes down to quantifying the stage that your business is currently at and being as prepared as possible to navigate through the landscape changes that are inevitably coming.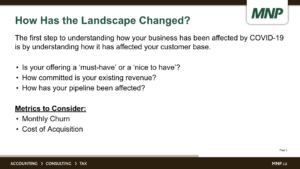 How has your landscape changed? How has it affected your customers?
Understanding how your customers have been affected will tell you how you'll be affected.
When you look at your business or service, do you consider it a must have or a nice to have? Is it something that customers looking to cut costs would keep or could they do without it? Identifying this will help you prepare for this shift that you might see as a result.
For plenty of startup technology businesses, they operate on a subscription model. So while they might have income now, how has it impacted the pipeline? 
How will it look 3 or 6 months from now, and how can we quantify that?
Look at your monthly churn. Look at how many subscriptions you're losing every month, and how many you are gaining every month. Determine what that means for your revenue and cashflow.
Another element to look at is acquisition. Depending on if you're B2B or B2C, this could differ. What does it mean for you? Are you going to have to spend more money to generate new business now? These are all things to take into consideration when you determine how you will be impacted both in the short term and the long term.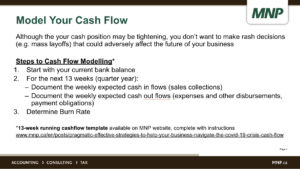 MNP has developed a free 13-week running cashflow template. Find it here!
Often times, companies look to cut staff or eliminate contractors to save money. This might seem like the best step to take to immediately reduce your cash burden, but it can cause problems down the road.
It can put you in a position where you may end up behind once things do begin to bounce back. When things turn around, you won't have the resources to meet demand that might spike. This can immediately put your competitors at an advantage. 
What we always advocate is that, before making any decisions, actually model your cashflow. This can feel very daunting. You are very focused on your core business and what it is that you do best, and you might leave accounting to the side.
In the most basic sense, we recommend taking the time to sit down and look at what's in the bank right now, and what your next 3 months look like. We look at things on a weekly basis. 
How much cash do you expect to collect or save in the next three weeks from your customers, given everything that we've discussed regarding changes going on?

 
Next look at all your obligations and what must you pay no matter what. This will start to give you an idea of what your expenses are and what you might be able to cut. This shows you your runway or your burn rate. It basically tells you how much more time you have before you run out of cash. 
This might be scary at first but it can also be very empowering. From there you can decide if a reduction in staff is even something you need to do. 
Maybe you need to change your service and actually adjust the way you offer whatever it is that you offer?
Figure out your position, and then move on to what decisions you can make. These decisions can vary significantly depending on the company, so unfortunately there is no one right answer or path to follow.
Overall, the idea here is to be prepared and to know your numbers so that you can make informed and educated decisions moving forward. It's always best to be prepared, even more so in times of uncertainty like this.
By understanding how variables can impact your income, you'll be able to prepare yourself for change and remain resilient!
Do you have questions for Divyan? Feel free to reach out to Natasha Tardioli, Community Manager, at natasha@l-spark.com and she'll gladly make the introduction.
Don't forget to keep an eye on our upcoming events to participate in our next NSQ webinar!