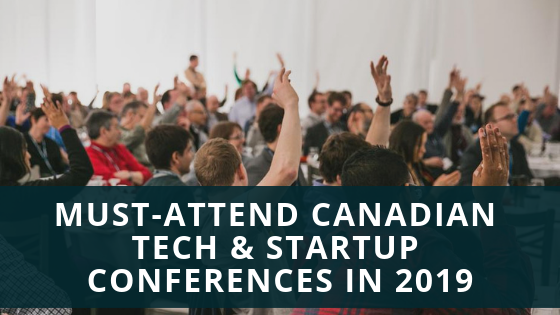 Note: we'll be updating this list as new dates are confirmed with event organizers. Is your event not on the list? We promise it wasn't intentional — simply e-mail L-SPARK's Director of Marketing, Erin Blaskie, and she'll make sure you make it on the list.
January 2019
Cantech Investment Conference | January 29 – 30 | Toronto, ON
The Cantech Investment Conference opened the floodgates of capital to Canada's innovation companies. The Conference has grown every year since its inception in 2013 and has been host to every major player in Canadian technology and finance.
February 2019
Canadian Dream Summit | February 19 | Toronto, ON
Canadian Dream Summit 2019 is a world-class conference focused on building powerful companies with global reach. Join high-calibre thought leaders, alongside an audience of leading voices in business, venture capital and innovation.
Drive Conference | February 20 – 22 | Waterloo, ON
Canada's global conference on scaleup ecosystems.
March 2019
Women in Business Conference | March 6 | Ottawa, ON
Founded by the Eastern Ontario Women in Finance Association and Sandra Tisiot, the Women In Business Conference (WIBC) is a signature event dedicated to bringing women together in the business, private and public sectors and is reaching beyond borders to continuously elevate all women.
DX3 Canada | March 6 – 7 | Toronto, ON
Through interactive installations and provocative content, Dx3 is your one-stop-shop for taking advantage of everything digital marketing has to offer.
#BCTECHSummit | March 11 – 13 | Vancouver, BC
The #BCTECHSummit showcases B.C.'s vibrant technology industry, builds cross-sector and cross-border opportunities for businesses and explores the latest ideas and innovations solving challenges and fueling the global economy. Hosted annually by the BC government and Innovate BC, the #BCTECHSummit brings together technology leaders, industry executives, investors, senior government officials, researchers and students to connect and share insights, experiences and opportunities.
Accelerator Summit | March 19 | Vancouver, BC
This gathering of accelerators, incubators, mentors, and community builders from across the country is an incredible opportunity to plug into the tech accelerator ecosystem.
Legacy Conference | March 29 – 30 | Ottawa, ON
Canada's largest student entrepreneur conference.
April 2019
Discover Technata | April 2 | Kanata, ON
Discover TechNata is a one-day exposition that showcases Kanata North's innovative and vibrant technology ecosystem. A Tech Expo and Talent Hunt that provides the facilities to network with industry professionals, learn about the latest technology, and connect talent with opportunity at some of the hottest tech firms in the region. Hosted annually by the Kanata North Business Association in Canada's largest tech park.
TechExit.io | April 10 | Vancouver, BC
TechExit.io is the go-to event for technology industry players who want to understand the ins and outs of selling – or buying – technology companies. This event is not just for tech companies looking to exit in the near term – it is about being "exit ready" from day one.
World Summit AI | April 10 – 11 | Montreal, QC
The world's leading and largest AI summit will come to Montreal in April, gathering the global AI ecosystem of Enterprise, Big Tech, Startups, Investors and Science and the brightest brains in AI as speakers.
Canadian FinTech 3.0 Summit | April 15 – 17 | Toronto, ON
Fintech is no longer about digitizing existing financial products. It's about integrating financial services into applications and services you use every day. Add in the power of AI and you have a recipe for global success. Discover the latest trends and technologies from the best minds in fintech and AI at the fourth annual Canadian Fintech 3.0 Summit.
TED 2019 | April 15 – 19 | Vancouver, BC
A week of ideas and connections.
Growth Marketing Conference Toronto | April 25 | Toronto, ON
Growth Marketing Conference is the only actionable, hands-on educational event dedicated to the most important business issue today – growth. Join industry-leading Fortune 500 execs, high-growth startup founders, and growth marketing leaders and innovators to learn how to supercharge your company's growth – quickly, cost-effectively, and sustainably in 2019 and beyond.
Social Media Camp | April 25 – 26 | Victoria, BC
Canada's largest social media conference.
Digifest | April 25 – 27 | Toronto, ON
Digifest is a 3-day design & tech festival, as well as a startup event, organized annually by the Digital Media and Gaming Incubator at George Brown College.
May 2019
Uniting the Prairies | May 2 – 3 | Saskatoon, SK
An annual movement that unites the prairie tech communities. Up is where the top VCs & angels + prairie expats & tech leaders come together to share knowledge & experience with startups, elevating our prairie tech community.
Creating Connections 6.0 | May 3 – 4 | Vancouver, BC
Creating Connections 6.0 is a diversity conference presenting cutting edge research, best practices, and workshops for industry professionals. Focused on attracting, engaging, and retaining women and underrepresented groups in Science, Technology, Engineering, and Mathematics (STEM), join us for two days of personal and professional development, networking, and inspiration. Registration is only $160 for industry professionals and we offer childcare and travel bursaries.
IoT613 | May 8 – 9 | Ottawa, ON
IoT613 provides a platform for technology and policy professionals to learn, connect and interact with the IoT community for the advancement of technology and economic development.
OCE Discovery | May 13 – 14 | Toronto, ON
Canada's leading innovation-to-commercialization conference
Collision Conference | May 20 – 23 | Toronto, ON
Collision is the fastest growing tech conference in America.
Impact AI | May 30 | Ottawa, ON
IMPACT AI is Ottawa's first artificial intelligence conference.
June 2019
Gartner IT Symposium/Xpo | June 3 – 6 | Toronto, ON
The World's Most Important Gathering of CIOs and IT Executives™
NACO Summit | June 5 | Calgary, AB
The Summit attracts investors, partners and industry leaders from around the world and is the flagship event for the Canadian Angel Investor community.
Invest Canada | June 4 – 6 | Vancouver, BC
INVEST CANADA '19 is the place to be if you live and breathe venture capital and private equity. The only event of this magnitude for both VC & PE professionals, IC19 brings together the brightest minds and biggest names in the industry for three days of inspiration, conversation and celebration.
AccelerateOTT | June 11 | Ottawa, ON
AccelerateOTT brings together the city's innovators, creators and inventors. Work in tech? Starting a business? Just want to dip your toes in the proverbial entrepreneurial waters? You'll be surrounded by founders, mentors and venture capitalists (some from as far as Silicon Valley) providing strategic and sage advice.
Big Data & AI Toronto | June 12 – 13 | Toronto, ON
From solving your data-driven business challenges to helping you navigate the latest Big Data tools, Big Data Toronto is designed to give you a 360-degree view on the industry.
SocialWest 2019 | June 12 – 14 | Calgary, AB
SocialWest is an exciting multi-day conference developed for those working in communications, marketing and social media professions.
Shopify's Unite | June 18 – 20 | Toronto, ON
At Shopify Unite, partners and developers come together to celebrate shared accomplishments, forge new connections, and ignite the future of commerce technology.
True North | June 19 – 20 | Waterloo, ON
True North 2019 brings 2,500 of the brightest, boldest, carbon-based badasses to Canada's hottest tech community. Join us. Roll up your sleeves. Help make Tech for Good the core of digital life, work and play.
SocialMediaDayHalifax | June 21 | Halifax, NS
SOCIAL MEDIA DAY HALIFAX 2019 is a one-day conference to be held on June 21st, coinciding with Social Media Day events held worldwide during June.
Unbounce CTA | June 25 – 26 | Vancouver, BC
World-class marketing experts will be covering a wide array of topics such as conversion optimization, email marketing, copywriting, landing pages, PPC, analytics, content marketing, and much more. CTAConf is carefully curated to teach you next-level, actionable marketing tactics you can use the very next day.
July 2019
Startupfest | July 9 – 13 | Montreal, QC
More than just world-class content and a global attendee base, Startupfest is known for rethinking the standard event format. Crowned "a music festival for startups" by Reddit Founder Alexis Ohanian, you'll have tangible opportunities to make the connections you need, in one of the world's most iconic festival cities.
August 2019
Traction Conference | August 7 – 8 | Vancouver, BC
Traction Conf brings you actionable strategies and tactics for supercharging your growth, straight from founders and leaders of some of the fastest growing companies like Google, Twentieth Century Fox, Reddit, LinkedIn, Slack, Trello, Github, New Relic, Box, SendGrid, Grammarly, Bumble and much more.
September 2019
Mobile Growth Canada | September 20 | Montreal, QC
The world's largest mobile growth conference.
Elevate: Canada's Tech Festival | September 20 – 26 | Toronto, ON
Best known for Canada's leading tech and innovation festival, our annual gathering attracts the brightest people shaping the world. Hosted in the heart of Toronto from September 20-26, 2019, the festival features world-class speakers, interactive experiences & highly anticipated socials.
October 2019
Waterloo Innovation Summit | October 1 | Waterloo, ON
On October 1, 2019, the Waterloo Innovation Summit returns home after stops in Toronto, Vancouver, and London England. The Summit is an international speaker series where thought-provoking ideas and strategies on disruptive technology are surfaced, shared and discussed. Presented by the University of Waterloo, and sponsored by the Globe and Mail and The Logic, the focus will be on reimagining health with technology. Hosted by Nora Young of the CBC, the day offers access to world-class researchers, Donna Strickland, Nobel laureate in physics 2018, inspired Startup's who are developing promising health technologies for tomorrow and more.
CIX | October 16 – 17 | Toronto, ON
CIX is Canada's largest technology investment conference, attracting global investors and Canada's most innovative early and growth stage startups. Tech leaders, corporates, funders and founders converge to learn, network and do deals.
Deep Learning Summit | October 24 – 25 | Montreal, QC
Bridging the gap between the latest technological research advancements and real-world applications in business and society.
November 2019
CENGN Summit | November, TBD | Ottawa, ON
This annual event is for any business or technical professionals working in the networking technology sector, and any students looking to gain an understanding of how the market is gearing up for the oncoming wave of ultra-high-speed connectivity, smart cities, and the proliferation of IoT and disruptive technology. Join us for this year's CENGN Summit for the latest trends, developments, and direction of Canada's transformative technology industry.
TiECon | November, TBD | Ottawa, ON
TiECon Canada is TiE Ottawa's flagship conference for startups, entrepreneurs, SMEs, industry veterans, investors and other members of the Canadian business community.
#MoveTheDial Summit | November 14 | Toronto, ON
#movethedial Global Summit brings together incredible tech leaders and influencers dedicated to promoting the participation and leadership of all women in tech.
SAAS NORTH | November 26 – 27 | Ottawa, ON
Canada's only SaaS conference for scaling up.