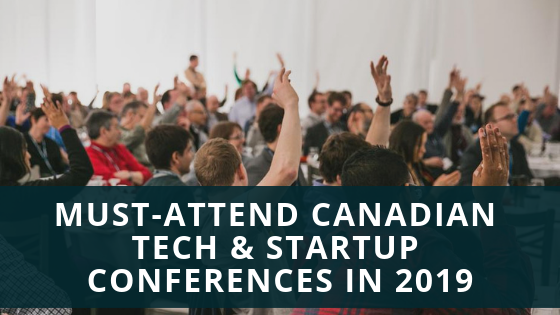 Note: we'll be updating this list as new dates are confirmed with event organizers. Is your event not on the list? We promise it wasn't intentional — simply e-mail L-SPARK's Director of Marketing, Erin Blaskie, and she'll make sure you make it on the list.
February 2019
Canadian Dream Summit | February 19 | Toronto, ON
Canadian Dream Summit 2019 is a world-class conference focused on building powerful companies with global reach. Join high-calibre thought leaders, alongside an audience of leading voices in business, venture capital and innovation.
Drive Conference | February 20 – 22 | Waterloo, ON
Canada's global conference on scaleup ecosystems.
March 2019
DX3 Canada | March 6 – 7 | Toronto, ON
Through interactive installations and provocative content, Dx3 is your one-stop-shop for taking advantage of everything digital marketing has to offer.
Accelerator Summit | March 19 | Vancouver, BC
This gathering of accelerators, incubators, mentors, and community builders from across the country is an incredible opportunity to plug into the tech accelerator ecosystem.
Legacy Conference | March 29 – 30 | Ottawa, ON
Canada's largest student entrepreneur conference.
April 2019
World Summit AI | April 10 – 11 | Montreal, QC
The world's leading and largest AI summit will come to Montreal in April, gathering the global AI ecosystem of Enterprise, Big Tech, Startups, Investors and Science and the brightest brains in AI as speakers.
TED 2019 | April 15 – 19 | Vancouver, BC
A week of ideas and connections.
Social Media Camp | April 25 – 26 | Victoria, BC
Canada's largest social media conference.
Digifest | April 25 – 27 | Toronto, ON
Digifest is a 3-day design & tech festival, as well as a startup event, organized annually by the Digital Media and Gaming Incubator at George Brown College.
May 2019
Impact AI | May, TBD | Ottawa, ON
IMPACT AI is Ottawa's first artificial intelligence conference.
IoT613 | May 8 – 9 | Ottawa, ON
IoT613 provides a platform for technology and policy professionals to learn, connect and interact with the IoT community for the advancement of technology and economic development.
OCE Discovery | May 13 – 14 | Toronto, ON
Canada's leading innovation-to-commercialization conference
Collision Conference | May 20 – 23 | Toronto, ON
Collision is the fastest growing tech conference in America.
June 2019
Gartner IT Symposium/Xpo | June 3 – 6 | Toronto, ON
The World's Most Important Gathering of CIOs and IT Executives™
NACO Summit | June 5 | Calgary, AB
The Summit attracts investors, partners and industry leaders from around the world and is the flagship event for the Canadian Angel Investor community.
Invest Canada | June 4 – 6 | Vancouver, BC
INVEST CANADA '19 is the place to be if you live and breathe venture capital and private equity. The only event of this magnitude for both VC & PE professionals, IC19 brings together the brightest minds and biggest names in the industry for three days of inspiration, conversation and celebration.
Big Data & AI Toronto | June 12 – 13 | Toronto, ON
From solving your data-driven business challenges to helping you navigate the latest Big Data tools, Big Data Toronto is designed to give you a 360-degree view on the industry.
SocialWest 2019 | June 12 – 14 | Calgary, AB
SocialWest is an exciting multi-day conference developed for those working in communications, marketing and social media professions.
Shopify's Unite | June 18 – 20 | Toronto, ON
At Shopify Unite, partners and developers come together to celebrate shared accomplishments, forge new connections, and ignite the future of commerce technology.
True North | June 19 – 20 | Waterloo, ON
True North 2019 brings 2,500 of the brightest, boldest, carbon-based badasses to Canada's hottest tech community. Join us. Roll up your sleeves. Help make Tech for Good the core of digital life, work and play.
SocialMediaDayHalifax | June 21 | Halifax, NS
SOCIAL MEDIA DAY HALIFAX 2019 is a one-day conference to be held on June 21st, coinciding with Social Media Day events held worldwide during June.
Unbounce CTA | June 25 – 26 | Vancouver, BC
World-class marketing experts will be covering a wide array of topics such as conversion optimization, email marketing, copywriting, landing pages, PPC, analytics, content marketing, and much more. CTAConf is carefully curated to teach you next-level, actionable marketing tactics you can use the very next day.
July 2019
Startupfest | July 9 – 13 | Montreal, QC
More than just world-class content and a global attendee base, Startupfest is known for rethinking the standard event format. Crowned "a music festival for startups" by Reddit Founder Alexis Ohanian, you'll have tangible opportunities to make the connections you need, in one of the world's most iconic festival cities.
August 2019
Traction Conference | August 7 – 8 | Vancouver, BC
Traction Conf brings you actionable strategies and tactics for supercharging your growth, straight from founders and leaders of some of the fastest growing companies like Google, Twentieth Century Fox, Reddit, LinkedIn, Slack, Trello, Github, New Relic, Box, SendGrid, Grammarly, Bumble and much more.
September 2019
Mobile Growth Canada | September 20 | Montreal, QC
The world's largest mobile growth conference.
Elevate Conference | September 20 – 26 | Toronto, ON
Best known for Canada's leading tech and innovation festival, Elevate's annual gathering attracts the brightest people shaping the world.
October 2019
CIX | October, TBD | Toronto, ON
CIX is Canada's largest technology investment conference, attracting global investors and Canada's most innovative early and growth stage startups. Tech leaders, corporates, funders and founders converge to learn, network and do deals.
Deep Learning Summit | October 24 – 25 | Montreal, QC
Bridging the gap between the latest technological research advancements and real-world applications in business and society.
November 2019
TiECon | November, TBD | Ottawa, ON
TiECon Canada is TiE Ottawa's flagship conference for startups, entrepreneurs, SMEs, industry veterans, investors and other members of the Canadian business community.
#MoveTheDial Summit | November 14 | Toronto, ON
#movethedial Global Summit brings together incredible tech leaders and influencers dedicated to promoting the participation and leadership of all women in tech.
SAAS NORTH | November 26 – 27 | Ottawa, ON
Canada's only SaaS conference for scaling up.