Freshbooks
:
Marketing Your SaaS Startup :: Insider Secrets from Saul Colt (Freshbooks, Xero and ZipCar)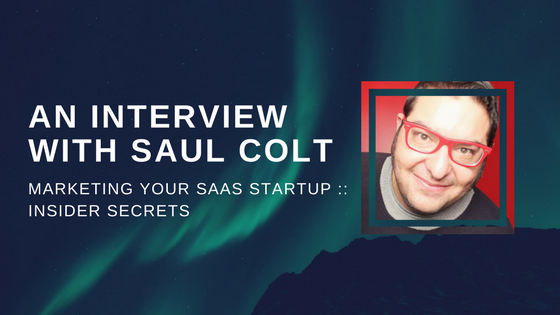 Saul Colt is the Founder and Creative Director at SAUL COLT – The Idea Integration Company. In his career he has been named as one of the iMEDIA 25: Internet Marketing Leaders & Innovators as well as been called one of Canada's best community builders/experiential marketers.
NYT Bestselling author and Internet Pioneer Chris Brogan once referred to Saul as "exactly who you want representing your company" and that message has been echoed by media properties ranging from Inc. to Forbes Magazine.
In a previous life, Saul was the first international employee of Zipcar and the person responsible for launching Zipcar into the Canadian marketplace, was a key person in the growth of FreshBooks.com (The #1 Cloud Accounting service for Small Business Owners) and even knows what it is like to work for a large corporation from his time in a leadership role at Rogers Communications and Xero.com.
On top of all that Saul is also a Professional Speaker and Consultant specializing in Word of Mouth Marketing, Stunt Marketing, Social Media, Customer Experience, and Community Building.
When we decided to run a feature on marketing a SaaS business, we knew that Saul was the perfect person to give us some insider knowledge.
Saul, tell me a little bit about your background – how did you make your way to what you currently do today?
I grew up in the family business. My father had a corrugated box company, which was a very successful company at the time, and I began working there at the age of thirteen. I like to tell people that I went to the greatest business school possible because when you work next to your father, like I did, you really do get the best lessons possible.
My father had a firm belief that you should do every role in a company. He believed that this gave people the perspective needed to fully understand how the company worked and it provided an appreciation across all levels of operation. I started in the company as a janitor and then moved to being a truck driver. I joke that I had the worst childhood imaginable!
I worked in that company for years and saw it go through many ups and downs. I worked my way through every position, landed in a management and leadership role and eventually, sold the business.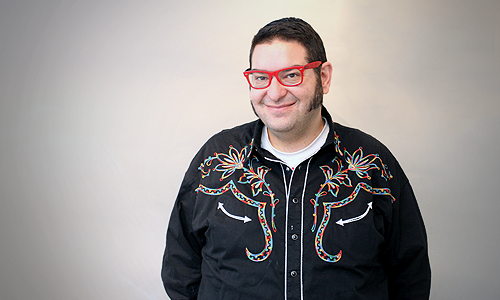 Here's something that I learned that I carry with me today: I wouldn't be where I am today without that deep, foundational experience. The truth is, hardly anyone learns the foundational stuff anymore, which is a bit depressing. Marketing people aren't really marketing people these days because they learn one schtick but the hard reality is, they don't know the foundations – the WHY behind the marketing. The how can be easy but the why, where, when… that's where most people get lost. Tools have a shelf life but the foundation lasts forever.
After selling my dad's company, I decided to launch a comic book publishing company. I really wanted to be a film director as a child but that was a difficult industry to break into. So, I looked at what I really wanted to do and that was tell stories and be creative. Since the family business didn't provide me that outlet, I started to make my own comic books. I pulled in those two desires – creativity and storytelling – and married them with my foundational knowledge to turn my comic book gig into a real business. I sold that business, too.
Exiting companies because stepping stones and learning opportunities for me. The comic book business is where I learned everything I would later need to know about marketing. I always tell people that my style of marketing was formed over that seven to ten-year period. I had two things going for me during that time: desperation (I didn't have a safety net to lean on) and I had zero naysayers in my life. No one was around to say, "You can't do it that way" so I tried everything.
The real success happened when I asked people to try something they didn't know, pay money for it and take a chance on it. When I made the ask and got people to agree to those three steps, I realized that I was doing more than just a business transaction – I was creating an experience for people.
Creating experiences is one of the key things that you need to do in marketing. To do this, you need to find the line of good taste and figure out what people will accept. Then, consider crossing that line by two baby steps. The thing is, everyone is fighting for attention and if you aren't doing anything memorable, you'll be lost in the shuffle.
In the comic book business, we carried the brand promise all the way through the customer experience and we pushed the limits in smart and clever ways. A lot of people want to do the cheap stuff to get attention but we wanted to do the memorable, shareable things that sparked conversation and this was happening even before social media was a thing.
After comics, I was hired as the first International employee of Zipcar to help the company launch in Canada. The Canadian operation consisted of two people – me, the person who handled everything but the cars, and the person who handled the cars. That was it. Our goal was to launch the brand and create a community.
We launched in Toronto and implemented many guerilla marketing tactics. We painted parking spots, put up signs and leveraged other strategies that got people talking. Zipcar saw Toronto become their fastest growing market.
After Zipcar, I headed over to Freshbooks and I've since had a ten-year relationship with them. Freshbooks was a company that I could really get behind because they let me be myself and employ some of the unique marketing methods that I like to use. A lot of companies want to own the Standard Operating Procedures on everything but the real magic happens when you give your team some space to leverage their experiences and expertise.
The best thing that I did at Freshbooks, which is something nobody does well anymore, was get to know thousands of our customers. We made that a huge priority and ensured that wherever we were, wherever we went, we invited our customers along to join us. Whether we were heading to a conference, going out for dinner or sending them swag in the mail, we made sure they were seen and heard and we built a relationship with them.

Here's a great tip for startup founders, especially in the SaaS space: get to know your first 100 customers by name. Why? They will solve so many problems for your company – problems that you didn't even know you had. A lot of companies see their customers simply as a metric but the successful companies see their customers as people with enormous value to give. When you get to know your customers, they'll also be much more willing to forgive mistakes or growing pains and that's key when you're in growth mode.
Loyalty is hard nowadays and people will bail fast so get to know your customers. Be in their face often, ask questions, get their opinions because all of that is really, really important to the success of your company. In SaaS, there's often a belief that you just need to get them in the door and hold onto their monthly recurring revenue as long as possible but the attitude should be, if you want to achieve long-term success, one of life-long retention.
My journey through entrepreneurship, consultancy, public speaking and creating marketing magic for the companies I work with has been nothing short of interesting.
What is the biggest lesson learned during your work with SaaS companies?
You need to know your customer. If I can stress just one point it would be this one. Without the knowledge of who your customer is, you'll struggle to create a brand, tell the stories that matter and get customers excited, active and engaged. You'll also have no idea which content to create or share as you won't understand them. Get to know them and let them be your guide.
Then, figure out what their line is that you can cross. Not your line or the company's line. You need to figure out what they find interesting, shocking, etc. and figure out a way to leverage that to push them just beyond their comfort zone.
Most marketers and founders think it's about them – the company, the messaging, the brand, etc. – and not the customer. This is a critical error in thinking because what the marketer or founder enjoys or cares about may be the polar opposite of what the customer enjoys and cares about. I like to dig deep in this area and figure out who they are as human beings and what motivates them on a daily basis.

When you think of the process of launching a business – you think design, develop and market. But, there are actually four pieces. Before you can do those three pieces, you need to do some customer identification.
The first question to ask is: who is your customer? If you can't answer that, it's where you need to begin. If you don't know who they are, you can't design for them and if you can't do that, you can't develop and market anything. You may even realize, through the exercise of answering this question, that your customer is different than you thought and what you were offering wasn't in alignment.
This helps you pave the way forward for success.
What do you find is the number one most difficult thing SaaS companies struggle with?
There's an underlying belief that CEOs and founders need to have all of the answers. This shows up when there is a struggle to understand who the customer is or understanding if the company has achieved product market fit or even the struggle of asking for help. When you're the CEO of a company, especially one in startup mode, and someone is handing you a $200K investment, you often have to pretend to know what you're doing at all times. The truth is, that's not always a reality.
If you're the CEO, and you have a team that can handle some of the other moving parts of the business, you should stay focused on four things:
Setting the vision for the company
Creating the company culture, including hiring
Making sure there is money in the bank
Dealing with the board
As CEO / founder, you should not be the head of marketing, head of product, etc. Sometimes that is necessary – especially in startup mode – but the CEO / founder really needs to lead with vision. In the early days, before you have a fully developed team, be vulnerable and ask for help. Seek out a mentor and ask for advice to see if they can provide insight for you and your company.
Here's the biggest secret in business: nobody really knows what they are doing but that downside can be lessened by asking for help.

What are some of the ways you've marketed SaaS companies in the past that have had impact?
I've always looked at ways to market non-traditionally. If it doesn't have a banner or click or SEO attached to it, that's where you'll typically find me. When you think of newfangled technology, that's not what I'm about. I like to focus on foundations and allow other people to layer in those other pieces on top of what I'm doing or better yet, watch the customer or audience member grab the message and push it through their own preferred channels.
Here's the truth for all SaaS companies: you need to create memorable moments for your audience and potential customer base. It takes approximately twelve to eighteen touches before you will truly reach a customer and even then, you need great hooks and strong emotions to cut through the noise and matter to an individual.
I've always been a huge fan of leveraging word-of-mouth marketing for the companies I've worked with. The best way to cut through the noise is have your raving customers tell their friends, family members and coworkers about you. Think about it this way: if you have 100 customers, there's a good chance that each customer's network is filled with other people who are just like them and would likely be a good customer for your business, too.
Give your customers the tools they need to share your company effectively – affiliate programs, lecture series, conferences, badges, stickers, etc. – and they'll go out and share your company with others.
There's no one tactic that is going to work for everybody so go out and do lots of things. Do it inexpensively. You'll never know what will reach your customers. The best stuff happened for us when we got out from behind our desk and connected with our customers. Leverage relationship-building in an authentic way and watch what happens.

How can a company, specifically in the SaaS space where there are so many options and a lot of noise, stand out from their competitors?
When you're a SaaS startup, you have to take some crazy risks because nobody knows you exist. Companies fail because of two reasons more often than not: cash flow and nobody knowing who they are.
Another mistake that people often make is that they try to be everything for everybody. Do one thing really, really well. You don't have to have every solution – just offer one thing really well. Do one thing that really solves a problem for people. Don't be half-good at five buckets, just be really good at one bucket and then introduce the others as it's needed by your customer base.
Freshbooks, marketing, marketing SaaS, SaaS marketing, Saul Colt, strategies, tips, Xero