female founder
:
Marie Chevrier, Founder of Sampler, on Going Global & Working with Tier One Customers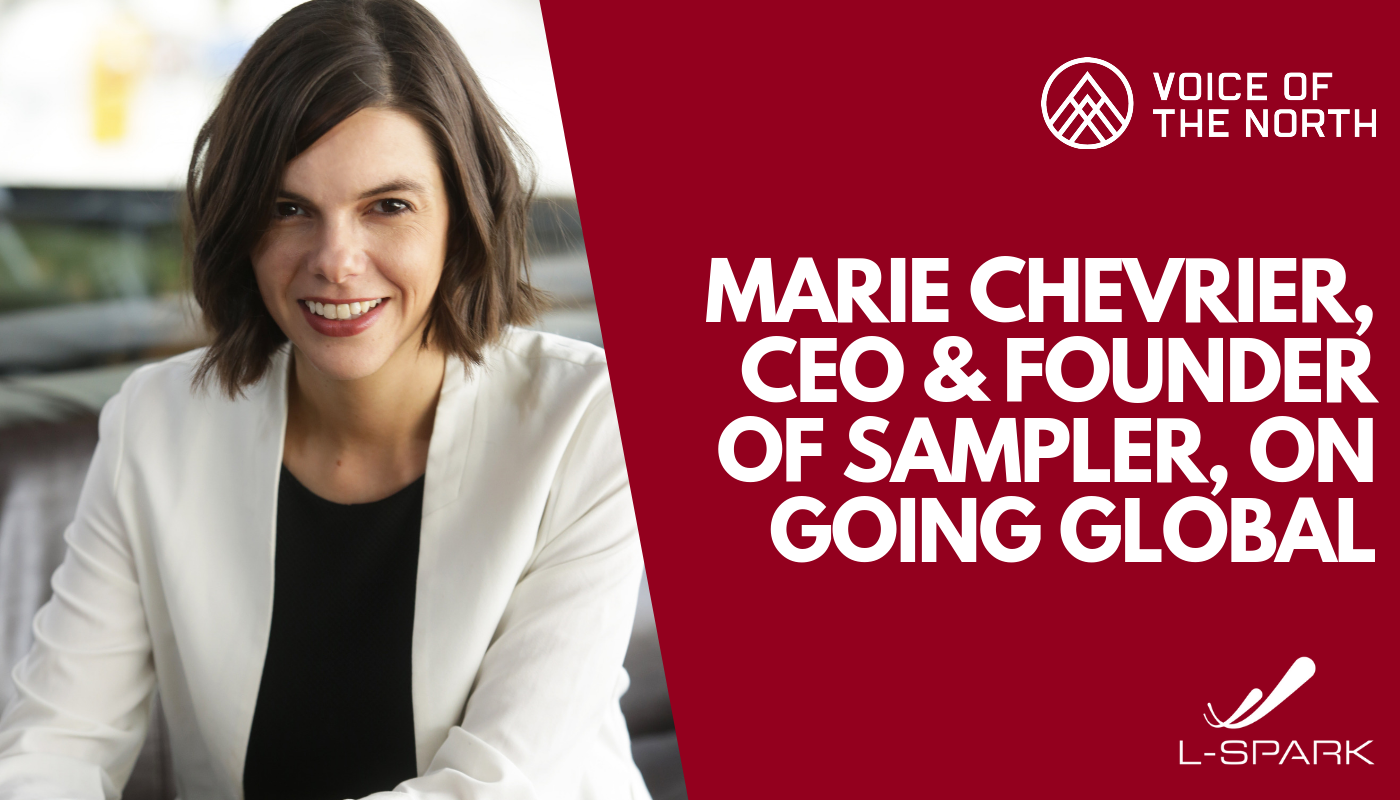 This interview is part of our feature on SAAS NORTH 2018 speakers.
Marie Chevrier is a young entrepreneur originally from Montreal, Canada. Marie started her career in advertising at J. Walter Thompson in Toronto. From there, she had the chance to work at a venture capital firm in New York City. After a few years there, Marie came back to Toronto to merge her passion for marketing and technology.
Marie started Sampler with a vision to transform the way Consumer Packaged Goods companies distribute samples.
We feel fortunate to have had some time with Marie to chat with her about her upcoming SAAS NORTH session and attracting large, well-known clients on the path to grow globally.
L-SPARK: Tell us about yourself and your background
MARIE: I was a brand ambassador for numerous brands early in my career and I felt their pain point early on – consumer good companies were giving samples out without understanding who they were giving samples to or if it converts into a sale.
I went into digital marketing, then into VC, moved to NYC, learned about building tech companies, started my first startup there and when that folded, I moved back to Canada to start Sampler.
L-SPARK: Tell me about Sampler – what's the #1 problem you're solving for folks and what makes the company unique?
MARIE: We help consumers get matched with the right products and brands to get their product into the right hands.
What's cool about product sampling right now is that we're seeing a shift in advertising – advertising is going through another level of change. We're entering a new era, consumers are not paying attention to boring ads anymore – whereas the last era was all about personalization now it's the advertising era of "experience". Consumers want to receive value back from advertising messages and we believe that product sampling will play a major role in delivering that experience.
Digital product sampling helps marketers create an experience that consumers can touch, taste and feel, we feel like we've created a win-win situation whereby consumers are fine giving a bit of info if they are going to get a personalized experience right at home.
L-SPARK: At this year's SAAS NORTH, you'll be talking about Going Global: Key considerations and how to prepare for international growth. Can you tell us about Sampler's journey going global and what challenges and opportunities exist along that path?
MARIE: L'Oreal called us three years ago. It was 3am in San Francisco and when I picked up the call, after seeing it was a call from London, they told me that they wanted to launch a sampling program in 12 countries. Right in that moment, we had to decide if we wanted to go global.
The key considerations for growth are many but a few of the bigger points from my opinion are: legalities, language and resource constraints.
Resources was the big one for me. I knew that in doing 12 countries for one customer, I was going to take resources away from what I was currently doing. We figured it out, went ahead and went global. We learned a lot from it.
This process allowed us to really develop out the self-serve tools our platform needed because you need that when you have different users in different time zones with different needs. It was a perfect way to get different sets of users with different needs on the platform.
L-SPARK: What advice would you have for a startup who is looking to attract a client like L'Oreal?
MARIE: Sampler needed to work with mid-sized brands in order to attract the large companies. You can't expect the Fortune 100s to come and knock on your door without enough proof points. You should work with smaller players first to make your mistakes with smaller customers that will cost you less.
The needs of the small customers, in our company, are similar to the needs of the big customers so it was fine for us to start small and learn a lot about what it meant to provide quality service. Your first customer will be your best reference so it's worth assigning the appropriate amount of resource and ensuring that they are well supported.
L-SPARK: As a company grows globally, what are some of the ways that they can maintain corporate culture, consistency and credibility?
MARIE: Sampler doesn't have operational teams in all of the countries where we have customers. Most of our teams operate in North America.
The hardest thing is to just accept that your culture will change. The team that we had four and a half years ago is not the same as the team we have today. This could be as simple as the average age or average milestones that people are at. Four and a half years ago, no one on our team had families. Today, it's a diverse mix. That changes the dynamics, the conversations or the activities that we do.
It's been an incredible learning curve for us. You want to keep some of the things – for example, we've always loved board games so we still have board game nights. We've always done something on Slack like sending team members tacos for doing good things. It's important to keep it personal.
L-SPARK: As a woman in tech, how do you lead your company and ensure that diversity and inclusion are top of mind?
MARIE: I'm super, super, super passionate about this. I think the best thing that I can personally do is to just be a kickass woman entrepreneur and stay very real. That is the thing that everyone should do. Be vocal and present and trust yourself. My number one piece of advice is to just be yourself and contribute in your own way. Push the movement as one.
I'm very happy to say that we're over 50% gender parity at Sampler and while it hasn't been by design- I know that we'll need to continue to make an effort to keep it this way.
We want women, and anybody who may feel like a minority in tech, to feel welcome to work at Sampler. We're very visual in our employment/career page so that you can feel like you're joining an inclusive place and everyone on the team is just as passionate as I am about this.
female founder, L-SPARK, Marie Chevrier, SaaS North, Sampler