Lucky number 7: say hello to the newest cohort
We're feeling beyond excited about the beginning of the 7th cohort of our SaaS Accelerator. Thinking back to our first cohort back in 2014, it's hard to believe how much has changed – especially just in 2020 alone.
What hasn't changed? We still look for founders + companies that express passion, leadership, coach-ability, determination, focus, commitment, and a healthy dose of perseverance. We look for start ups with either deep tech or SaaS solutions that address real business problems with clear "must have" capabilities.
The founders that make up our 7th cohort have certainly shown us that they possess these qualities, and beyond that, they have continued to drive forward despite the uncertainty that this year has brought. 
Say hello to our 7th cohort!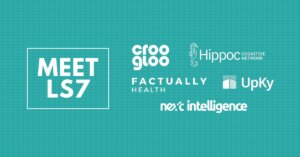 UpKy.io
Meet Uriel Bigot, the co-founder of UpKy.io, a powerful solution for real estate investors looking for a single destination for all the key information needed to make informed, timely investments. With UpKy, investors can quickly assess the financing required, identify the true market value of a property, and plan an exit strategy.
UpKy is changing the game for both real estate investors and real estate agents servicing the investment community.
Follow Uriel's journey on Twitter, LinkedIn, and at UpKy.io.
Hippoc
Meet Jean-Maxime Larouche, the CEO + Co-Founder of Hippoc. 
Visual content is the new king in brand awareness. The average North American is bombarded with over 12,000 ads every day.  How does a brand stand out in all this noise? Hippoc has built a Neuro-AI platform that predicts during the design phase, two key metrics: Instant Brand Attention and Lasting Brand Recall. With Hippoc, time to market is accelerated and effectiveness of all of a brand's visual content is optimized. Designers and marketers are now armed with predictive brand analysis software that was created by a team of neuroscientists (you read that right!)….and it does it in seconds!
Follow along on LinkedIn and at hippoc.ca
Factually Health 
Meet Lina Forcier, CEO + Co-Founder (with a PhD in Epidemiology!), of Factually Health.  
There is no lack of medical information on the web.  But how do you know what is fact and what is fiction?  Factually Health has built an AI platform that analyzes content and provides  a credibility score based on current verified medical evidence for each health related search result. Plus, they organize health information into user-friendly categories (e.g. content from forums, recognized guidelines or commercial bodies). 
With the volume of health information at our fingertips, sifting out the most credible and accurate information has never been so critical and with Factually Health, it has never been so easy!
Follow Factually Health's journey on LinkedIn and at factuallyhealth.com
Croo Gloo
Meet Gad Tisch, the Founder + President of CrooGloo. 
Coogloo is a Film + Television Production Operations Platform that centralizes data across the production supply chain, automating reporting and streamlining operations. 
CrooGloo's digital transformation platform brings script management to a whole new level both preproduction and during production. With CrooGloo, everything is  together in one place to make sure no detail is missed and everyone stays on the same page!
Follow along with CrooGloo's journey on Twitter, LinkedIn, and at croogloo.com .
(We suggest taking a look at some of the studios + productions that they've worked with *ahem* Schitt's Creek *ahem*).
Nexxt Intelligence 
Meet Kathy Cheng, Founder + CEO of Nexxt Intelligence. 
Nexxt Intelligence is your go-to for qualitative consumer market research at scale. Using their product INCA, researchers, marketers and product managers will achieve critical in-depth insights on consumers at-scale. Conventional ways of qualitative market research are no longer effective. Nexxt Intelligence deploys Conversational AI based  and custom Natural Language Processing (NLP) to guide consumers through in-depth research programs, quickly and effectively. INCA can mimic in-person one-on-one interviews and the evolving nature of qualitative research providing a level of insight and volume at a fraction of the cost and time of traditional research methods.
Follow Nexxt Intelligence's journey on Twitter, LinkedIn and at nexxt.in
---
If you'd like to be put in contact with any of these founders or companies, please reach out to L-SPARK's Community + Events Manager, Natasha, at natasha@l-spark.com. We'd love to introduce you!