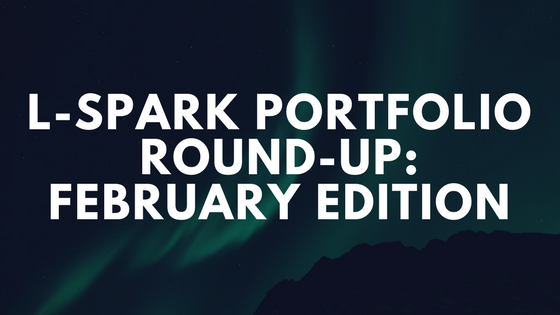 We've rounded up posts, job openings and news updates from across our L-SPARK portfolio — check out what our startups are up to in this February edition.
* * *
CareerJSM: Jeffrey Doucet and team have been sharing regularly over on the CareerJSM blog. We recommend checking out their posts on Working at CareerJSM and Tech Stack: Customer Operations. After you've caught up on your reading, check out their job opening for a Sales and Operations Intern.
Cybeats: although we announced it in January, it's worth noting again that Cybeats raised a round of investment, led by iNovia Capital. Read the full release here.
energyX: the team has been busy supporting their clients roll out their energy audit platform to their customers, which includes Enbridge. See their recent Tweet that highlights how they'll help homeowners earn up to $5000.
EssayJack: CEO Dr. Lindy Ledohowski recently did an interview with BFM 89.9 on the topic of Anxiety no more with EssayJack: TechTalk Interview — add it to your listen list. They also released a new dashboard, check it out here.
Eyesover: the team recently pitched for Capital Angel Network here in Ottawa.
FileFacets: CEO Chris Perram was interviewed on the Intralinks blog on the topic of Embracing Change: A Company's Evolution From IG to AI and the company recently announced their partnership with M-Files Partners to Unlock Information in Key Business Systems.
Hangry: the team at Hangry announced a partnership with Queen's University, which will bring a branded dining app to the students there. They also shared their Corporate Mobile App to Enhance Employee Wellness. On a fun note, the word Hangry was also submitted into the dictionary, which was exciting news for the Hangry team!
Heyday: exciting news for the Heyday team as they announced that they've made the TOP 10 list of global vendors in the AI-powered conversational marketing space (according to Opus Research, a leading San Francisco research firm.) Huge validation for their platform and team.
LevelJump: Daniel Hebert and team have been busy sharing great content on their site. Check out these articles: Building The Bridge For Your Sales Enablement Strategy and How To Help Your SDR Team Ramp Faster and finally, Insights On The Sales Enablement Tech Landscape.
MyDoma: CEO Sarah Daniele was on the Badassery Podcast recently and the team shared a fantastic post on The Importance of a Client Welcome Package.
Optimity: Jane Wang and her team recently hosted a webinar on the subject of How to Save your Company Billions of Dollars by Promoting a Healthy Heart — you can watch the replay here. They also shared a great post on the Future of Health and Wellness that's worth a read.
ProcedureFlow: Daniella Degrace, CEO of ProcedureFlow, and team have shared a couple of solid posts over on the ProcedureFlow blog. The two we'd recommend reading are Reducing Agent Turnover and Combatting Turnover In a Contact Center. ProcedureFlow is also hiring a Web Designer so please spread the word!
PropertySpark: the team over at PropertySpark has recently published an e-book that is perfect for realtors who want to leverage social media — you can download your free copy here. PropertySpark is also hiring two team members in their engineering department — check out those job postings here.
TitanFile: this month, the team at TitanFile released not one but TWO new features on their platform.