Celtic House Venture Partners
:
Here's What VCs Look at Before Investing in Startups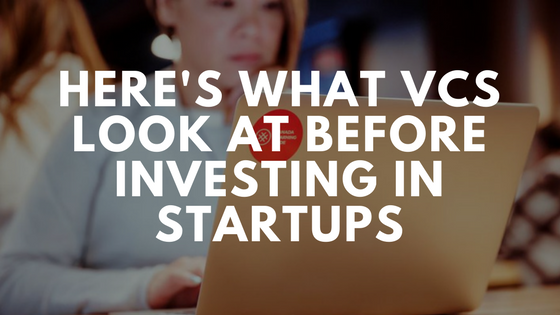 As a startup, the process of fundraising and preparing to raise can be, at times, daunting, especially when you aren't certain of the metrics or characteristics that VCs truly care about.
If you aren't quite sure what to focus on when you are preparing your company to raise, the advice we received from Lance Laking, Senior Investment Director at MaRS IAF, and David Adderley, Partner at Celtic House Venture Partners, should help.
One of the simplest ways to summarize the advice comes from Lance who uses the 4 Ts approach :: Team, Technology, Timing and Traction. And, Lance adds, there have to be no legal skeletons in the closet.
Let's take a closer look at each of the areas that VCs look at before investing so that you can get a better idea of how to line yourself up for success.
* * *
The Team
First and foremost, team seems to be one of the most important pieces and is often the first thing that VCs quote as being a crucial component before they invest in a company.
Here's what David had to say about team:
You'll often hear VCs say, "Bet the jockey not the horse." While this is not entirely true, as a bad business will challenge even the most talented of business managers, team risk is something we try to control as much as possible.
Accordingly, the quality of the founding / management team is one of the main overarching criteria for any investment by Celtic House. We will look at the experience of the team, domain expertise, their track record, their ability to adapt, their tenacity, and integrity. There has to be zero question about the integrity of the individuals that we are investing in.
Also, we want founders / management with relevant domain expertise in the technology / product / market they are going after.
One of the ways we mitigate team risk is by backing teams that include repeat entrepreneurs who have done it before but this is not always a guarantee of success.
One of the challenges is that, as an early stage investor, Celtic House is often investing in pre-revenue opportunities, and sometimes, pre-product. This magnifies the importance of the founding / management team as a criterion for investing.
Lance added:
We, at MaRS IAF, are thorough with our due diligence and depending on the cheque size, stage or nature of the venture, the DD can be quite intense.
The level of due diligence that MaRS IAF engages in is analogous to a Series A investor and is often the deepest scrutiny that a Company has been subjected to if they are the first institutional investor to the table.
For team, we look at corporate structure and corporate history, including the past and current shareholder agreements, the board of directors, the business advisory board, officers of the company, legal counsel and the accountant.
The Product / Technology
The second thing that came up, when we spoke to David and Lance, was the product and technology and the desire for that to be unique and / or compelling.
Lance discusses how MaRS handles a deal with deep IP:
If the venture has deep intellectual property (IP), or is dependent on deep IP to win, then technical due diligence is important to do in addition to our usual DD process.
With deeper tech plays, MaRS looks more closely at things like the technology, patents, etc. and oftentimes, we'll do this ourselves or with co-operating syndicate investors.
Here's David on their product / technology strategy:
Most VCs are looking for a unique and defensible technology or some other aspect of the business that provides a competitive advantage. At Celtic House, as an early stage investor, we prefer more difficult technologies with unique Intellectual Property that provides a barrier of entry for competitors.
Attractive Business Model
Another facet of the business that a VC will look at is the business model itself. VCs are interested in an attractive business model that is both viable and capital efficient.
Here's David on the business model strategy they use:
A viable and capital efficient business model, for Celtic House, means seeing the possibility of growth from, for example, $50K per month to $100K a month, to $500K a month, etc., all within a reasonable time frame and funding runway.
Over the past number of years, Celtic House and other VCs have shifted away from traditional enterprise software licensing models to SaaS delivery / business models and/or focus on transaction revenues. This means avoiding the "we just did $1M of revenue in Q2 but now have to start all over in Q3 at zero" model of building a business.
Our fastest growing companies in Celtic House Fund IV (and one of the fastest growing companies in Canada) is a SaaS company.
Lance leverages financial information to make decisions:
MaRS, as part of their due diligence process, looks at the annual financial information for the previous year as well as the current financials and future projections. They want to see an up-to-date business plan or pitch deck which includes things like:
Financial plan for the next two fiscal years
Revenue by product type, customers and channel
P&L statements
Major growth drivers and prospects
Expectation of and need for external funding
Essentially the full scope of where the business currently sits and where they need to go.
Large Market Opportunity
VCs want to invest in companies where there is a large market opportunity. Smaller markets don't necessarily make for an ideal investment as the ceiling is low and the growth will be limited.
Lance's due diligence process includes:
For MaRS, we take a look at a few different areas of the market but mostly, we focus in on competition — a hard look at the competitive landscape within each market segment — as well as marketing, sales and distribution.
We want to see that the company has a strategy and implementation plan with an eye on the major customers and partners that will help them achieve their goals.
Here's David's insights on market opportunity:
The final criterium, for Celtic House, is whether there is a sizeable market opportunity and what part of this opportunity the company can reasonably address or win. This can be challenging when going after an entirely new market.
I find that many startups overestimate the size of their market opportunity. Being able to demonstrate early customer traction with real (non-related) paying customers will create confidence that there is a viable market opportunity.
* * *
What are your biggest questions or inquiries around preparing to raise? We'd love your questions so feel free to Tweet us @LSPARKGlobal with the hashtag #VOTN. We'll send your questions out to our VC community to get answers!
Celtic House Venture Partners, David Adderley, investing, investment, investor, L-SPARK, Lance Laking, MaRS IAF, preparing to fundraise, preparing to raise, SaaS, software as a service, VC