We are thrilled to be sharing a series here on L-SPARK's blog that features incredible female founders and funders. While we are on the other side of International Women's Day, we believe that women should be celebrated all year so we'll be posting these female founder and funder posts on a regular basis.
* * *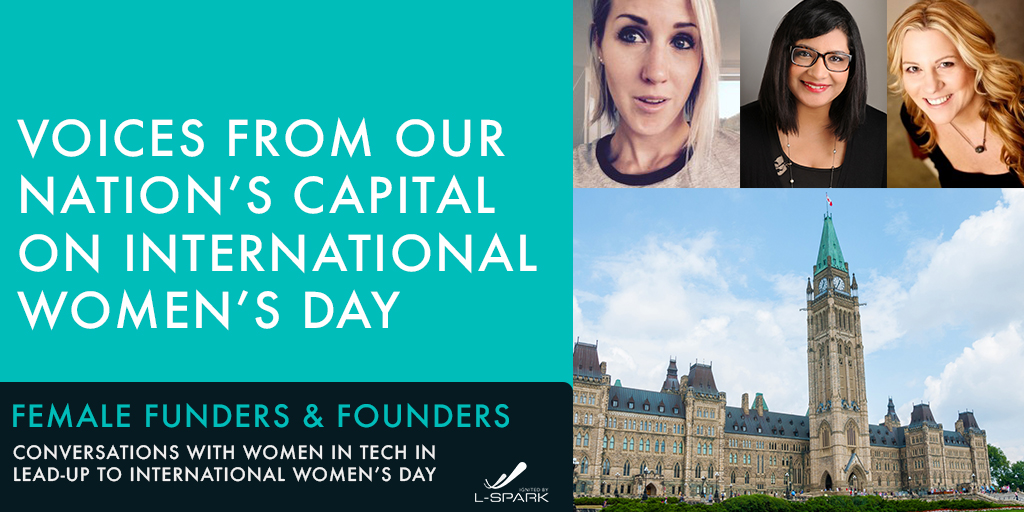 In today's female founders and funders interview, we're featuring three unique voices from our Nation's Capital. These three incredibly talented women each have their own stories to tell and experiences to share.
Joelle Parenteau is the CEO and Founder of XPR — a startup that is bringing unique experiences to people both in Ottawa and Las Vegas.
Dipalli Bhatt is the Marketing Leader at MindBridge Analytics Inc. and is heavily involved in TiECon here in Ottawa.
Anastasia Valentine is the Vice President of Marketing at Versature and has twenty years of experience in marketing and in the product management space.
We spoke to each of them on International Women's Day and we are thrilled to share their insights today. Let's jump into the interview.
Which Canadian women entrepreneur(s) or women business owner(s) inspires you most?
Dipalli Bhatt, Mindbridge AI
I am really intrigued by the success of Kids and Company and its owners Victoria Sopik & Jennifer Nashmi who are based out of Richmond Hill, Ontario and have grown their business to 50 M in revenue. They know the subtle art of balancing life with work.
How does empowering and investing in women entrepreneurs benefit communities & society?
Dipalli Bhatt, Mindbridge AI
Empowering women is absolutely important to have lasting and sustainable growth. Growth requires talent, skills and entrepreneurship and women make up a significant part of the global work-force. To be able to not empower women would mean working with one arm when both could be used effectively.
Joelle Parenteau, XPR
I think it creates more role models for younger girls to look up to.
What's your advice for women looking to start a business, and do not necessarily know where to begin?
Dipalli Bhatt, Mindbridge AI
I would highly encourage women to reach out to the various community groups namely Startup Canada, TiE Ottawa, L-SPARK, Invest Ottawa which provide tons of tools and resources free of cost.
Networking is key as well. I would also suggest identifying some highly networked women and ask for any advice. But before networking, the most important thing to figure out is a robust business plan for your product and the Government of Canada has many free resources which could help women.
Joelle Parenteau, XPR
Don't be afraid to just start. Try, learn, fail, learn.
There is no opportune moment, you have to be ok with not knowing the answers (or what you're doing) and trust that you can learn on the fly along the way. We tend to overly try to plan rather than just start doing.
Anastasia Valentine, Versature
There is never the "perfect" time to start your business. Start with an idea, really understand your business model i.e. how are you going to make money. Know who your customers are and where to find them.
Don't be bashful, this is your business so be PROUD of what you do. People are attracted to the people in the business as much as the products and services they sell. Be visible and accessible.
Most of all, never be afraid to ask for help from a fellow entrepreneur who has been there and done that. The large majority wants to see you succeed and are happy to help you.
Don't cheap out on legal or finance advice ever and keep those legal and finance houses in tip-top shape at all times.
What women-centric entrepreneurship programs or STEM opportunities are available in Canada? How can those in remote communities access them?
Anastasia Valentine, Versature
I have seen some very specific women-centric entrepreneurial steps take in the past two years. I would like to mention one from BDC, which announced special financing options and a commitment of $70 Million in investments towards women entrepreneurs. This is a giant step in the right direction.
Dipalli Bhatt, Mindbridge AI
I don't believe you need to find 'women-centric' programs – just find your opportunities wherever they are, whether it's programs, mentors, or whatever. Find and leverage the best resources you can.
Diversity Matters. What can we do to get more women on boards or for women to gain more leadership roles?
Anastasia Valentine, Versature
We need to put ourselves out there, make the ask, apply for that role, demonstrate leadership and make it happen for ourselves. If you see a board for a company you align with, are excited about or help – contact them about being considered for a board position. If you see an opportunity for diversity and your skill set matches that opportunity – seize it.
Look into other ways to get more visibility beyond your immediate network by putting the word out or using great platforms such as theBoardList to find a great match.
Let's start having these sometimes uncomfortable conversations and go beyond talking about it and take action as individuals, teams, organizations and entire movements.
Access to funding for emerging women entrepreneurs can be scarce. How can we fix this? Where can they go?
Joelle Parenteau, XPR
I actually disagree with this. There are actually now funds entirely dedicated only to women (with more lax criteria) and men who actually prefer investing in and supporting women.
I think we need to stop using this as an excuse and the problem will fix itself. All my investors are men who have been happy to support a woman.