female founders
:
Female Founders & Funders: Jamie Petten on Why We Need Champions & Advocates Early On in Our Careers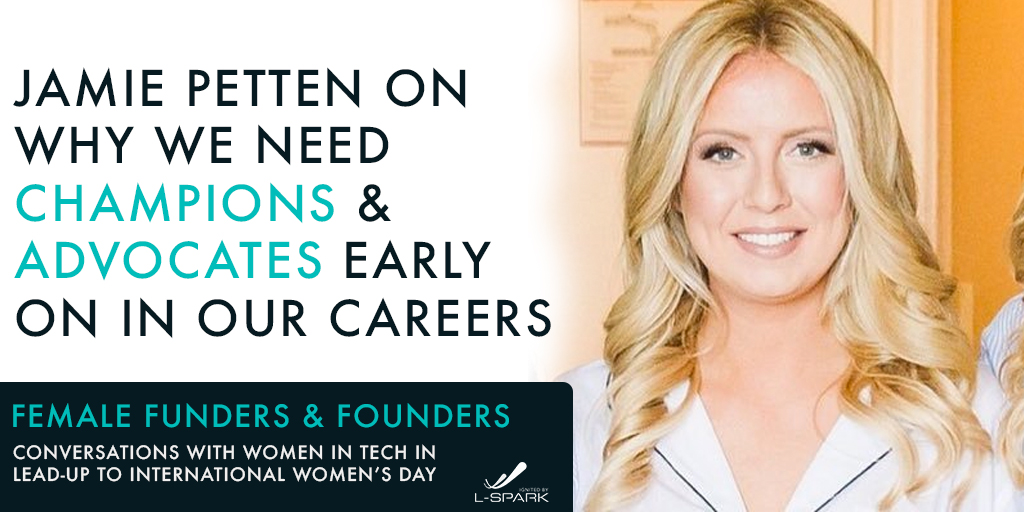 Jamie leads marketing for Canadian SaaS Accelerator, L-SPARK and is most passionate about developing Canada's tribe of SaaS entrepreneurs into globally competitive companies! Jamie launched L-SPARK as a member of the founding team in 2014 and has since supported 36 portfolio companies in raising over $24M in angel and venture capital funding to date.
Most recently Jamie co-founded SAAS NORTH– Canada's first conference designed to connect 1000+ technology founders, investors and executives to learn, network and grow over a 2 day annual event in Ottawa, Canada. The conference boasts a lineup of local and international experts including executives from Microsoft, Salesforce, SurveyMonkey, Hubspot, Hootsuite, Shopify and FreshBooks.
Previous to L-SPARK Jamie was instrumental in the launch of a Canadian owned resort in Negril, Jamaica. During her four year tenure, Jamie grew the business to multi millions in annual revenue and 30 employees. During this time The SPA Retreat Boutique Hotel was recognized by the International Hotel Awards, World Travel Awards and Tripadvisor Awards of Excellence and continues to be ranked the #1 Hotel in Jamaica on Tripadvisor.
Jamie has developed insight into brand building, strategy development, marketing and sales and has been featured in Techcrunch, Entrepreneur, IT Business Canada and earned coverage for the brands she represents in the Financial Post, Globe & Mail, Fortune, CNN Travel, ABC News & more.
An advocate for women in tech, Jamie enjoys mentoring young women through the Technovation program. Every year, Technovation invites teams of girls from all over the world to learn and apply the skills needed to solve real-world problems through technology and is fostering a generation of future leaders in tech.
* * *
Which Canadian women entrepreneur(s) or women business owner(s) inspires you most?
I believe that it starts with recognizing the people we see and work with every day by hoisting them on a platform to cheer on and celebrate! It still shocks me when I hear people speaking of the notion that there "just aren't enough qualified women out there." There is a gross misconception in the industry that there is a shortage of executive talent in our pipeline to solve the gender parity gap at the executive and board levels of our companies.
Perhaps we lack a critical mass of women that have taken a narrow and rigid path in tech. However, competencies can be built over a vast number of experiences. I took a winding path into technology and I'd say growing up I did not imagine that I would land in technology with a role such as the one that I have now. Previous to L-SPARK I was in Jamaica growing and building a $6M boutique hotel and spa. Now I'm in tech. It can work. We just need to be creative with where we source our talent and mentors.
There are women that are qualified and talented in varying industries who could take on the challenge of supporting our tech ecosystem, but the perception of whether or not they "fit" or will be successful I think holds us back. We need to change that perception.
Recently, in Celebration of International Women's Day, I named the top 100 women of influence in my life. These women come from varying backgrounds, experiences and walks of life. They have contributed to shaping me as a leader and the community that I live in on the whole. I am proud to know them and stronger as a leader because of each and every interaction I have had with them. I encourage you to look up the exciting companies, projects and initiatives they are spearheading and if you are so inclined become advocates for their work!
It is ever more important today for a woman who is in a leadership position to have a support system of women and men that are championing her to be successful – it is paramount to her success.
How does empowering and investing in women entrepreneurs benefit communities & society?
I hope we get to the point in our community, culture and society where this question becomes obsolete. The concept of having equal representation of women and people of diverse backgrounds in leadership at every level of government, finance, healthcare, business, arts, etc. – it is fundamental. The ability to have diverse individuals contributing their perspective and unique experiences, it is essential to the growth and more importantly sustainability of our community.
The question should not be how or why is it beneficial to empower and invest in women entrepreneurs but instead how quickly can we eliminate the imbalance of power and investment.
We know that the proportion of SMEs entirely owned by women in Canada is increasing. But not fast enough. How can we speed up the process?
We need to set clear and unwavering standards and hold ourselves as a community accountable towards them.
50% parity within investment firms
50% party on investment decisions
50% parity within company boards
50% parity at the C-level
We must re-work the composition at every level of our companies all way from the top down with a balance within our VC firms, representing positions on boards, and then, at the C level, representing positions either as co-founders, CEOs, CMOs, CTOs, COOs.
Within the same breath, I do believe competencies are essential. But there is no doubt in my mind that we have a critical mass of competent women to take on these challenges.
What's your advice for women looking to start a business, and do not necessarily know where to begin?
Surround yourself with the champions and advocates early on. Find those champions within the internal team, within the board, within the external steering committees that you're on, both male or female, that can support you and advocate with you and for you. Have those champions and advocates as close as possible, on an advisory board for example or as a mentor.
Lean on them for introductions. Lean on them to share your latest news and achievements with the world! Lean on them to go to bat with you in a board meeting. Lean on them for talent referrals and new hires. Lean on them for strategic guidance.
I think it's ever more important for a woman who is in a leadership position to have other women in the room or having even other men in the room that are championing that woman to be successful – it is paramount to their success.
Women-owned biz are growing fast. What systems are being created to help them scale up?
In tech the ability to scale a technology company in today's market, primarily happens through an infusion of capital, venture capital and private capital and once that infusion of capital happens, much of the governance and direction of the company comes from the board. Oftentimes, these board seats are filled with investors who have participated in the most recent funding round.
So, I think the macro of that is that we need to have more women participating as partners within investment firms, making investment decisions. With this effort, we are more likely to see capital going into other women led companies. I also believe this will empower more women to take the leap of faith and found companies. For women who choose to found and grow technology companies and take on capital, I would say one of the limiting factors might be in their matching with potential future board members and the more that we can get women into capital and then subsequently taking seats on boards, the more likely we'll start to see women succeeding as founders.
Diversity Matters. What can we do to get more women on boards or for women to gain more leadership roles? 
I think in order to get women into tech, we need to see a higher number of female CEO's step in to the spotlight as examples of what success looks like. More role models being celebrated in the media for their achievements. A greater number of women sharing their stories of how they've journeyed to the top and the adversity they have faced along the way.
But once a woman has decided to go into tech and has opted to grow her career in tech, I think that it is equally as important for her to connect with both male and female champions and mentors. The reality is, over the last 30 to 40 years, the industry has been dominated by men. There are a greater majority of men with history, track record and experience behind them. I've been fortunate to learn from Leo Lax, who has what seems like an infinite number of years of experiences in tech. I wouldn't have the know-how and the knowledge of the industry, ecosystem and Canadian tech network without having worked with him and having had him mentor me.
Men in our industry need to step up to the plate and vocalize both publicly in the media and privately behind the closed board room doors, their support of women at the C-level.
I also believe that if we create more opportunities for women who have been successful in tech to mentor those who are coming up the ranks they will again be ideal role models for those who are coming up that success is possible.
I think surrounding yourself with people who have had experiences regardless of whether they are men or women, from tech or not from tech, once you're on the executive track, it's really important.
Access to funding for emerging women entrepreneurs can be scarce. Where can they go? 
Female funds:
Female Funders
BDC Women in Tech Fund
Female Founders Fund
Cowboy Ventures
Merian Ventures
See this list
Specific Female Funders:
Closing Comments
I think we're at a point in our tech industry where these conversations have now kind of been busted wide open and there's not a single media publication or an event that you go to without hearing the conversation of diversity and women in tech.
What I've learned from Leo is that it's great to have conversations, it's great to have big ideas, but none of it matters unless it evolves into actions and results. We need to define success from the top down of what it is as an industry, as a country, that we'd like to see in terms of embracing diversity or even, leveraging diversity as a competitive advantage in our country and is that a 50/50 balance, is that more women on boards, more women in investment?
All of these strategies are now being put forward, it's about actioning them and ensuring that there are results in three to five years.

female founders, female funders, Jamie Petten, L-SPARK, LSPARK, marketing, SaaS, VOTN