accelerator
:
Female Founders & Funders: Invest Ottawa's Sonya Shorey & Kara Eusebio on Why Women Need Community
We are thrilled to be sharing a series here on L-SPARK's blog that features incredible female founders and funders. While we are leading up to International Women's Day, we believe that women should be celebrated all year so we'll be posting these female founder and funder posts on a regular basis.
* * *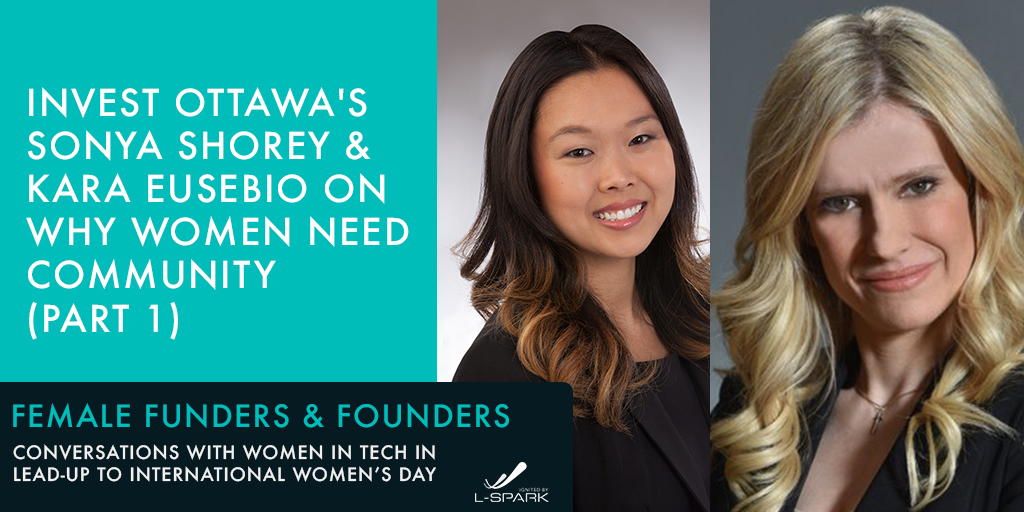 Today's female founders and funders features two incredibly successful women from Invest Ottawa and Bayview Yards. Sonya Shorey is the Vice President of Marketing & Communications and Kara Eusebio is the Manager, Partnerships.
Sonya and Kara had SO much great advice to share that we've split their interview into two parts. We'll release the second part in a couple of weeks (we'll be posting these female founders and funders features regularly!) so watch for part two to be posted soon.
Which Canadian women entrepreneur(s) or women business owner(s) inspires you most?
Sonya Shorey – Invest Ottawa
I am very fortunate to come from a family of strong women who have inspired and encouraged me consistently throughout my career and my life. My mother demonstrated leadership in the healthcare industry, and encouraged me to pursue my dreams from the time I was young. My sister has consistently pursued every personal and professional goal she has ever established, and serves as a Vice President at Viacom in Manhattan. They are my greatest source of inspiration.
Every time I walk into Bayview Yards, I am inspired by the passion, courage and tenacity of the female founders and entrepreneurs in the incubator at Invest Ottawa. For example, Elizabeth Audette-Bourdeau at Welbi, who just won Founder of the Year at the Bootstrap Awards last evening, consistently brings these attributes to bear when growing her healthcare business.
There are so many talented women in our ecosystem who are moving the needle forward and bootstrapping to build successful businesses in global markets. Other great role models for female entrepreneurs include Terri Storey, Founder and CEO of SnapClarity, which provides an online platform for mental health assessments and an actionable treatment plan; and Alida Burke, Co-Founder of The Growcer, a social enterprise with the potential to address global food challenges. These are just a few of the incredible entrepreneurs we support.
There are also many great women who are supporting entrepreneurs, and lifting them up wherever possible. A perfect example of this is my friend and colleague Dipalli Bhatt, who leads marketing at MindBridge Ai, one of the fastest growing Ottawa start-ups attracting global business and investment in the FinTech space. And we have 28 talented women who work at Invest Ottawa and Bayview Yards to accelerate the growth and success of entrepreneurs and firms. They comprise 68 percent of our team.
On a Canadian scale, Vicki Saunders, Founder of SheEO, is demonstrating incredible leadership by transforming how we fund, celebrate and empower women in business. She is a driving force of positive momentum and constructive action and is not only going at this on a national scale but a global scale as well. I had the privilege of working with Vicki as our keynote speaker at TiECon Canada in 2015, and served as an activator for SheEO through TiE Ottawa that year.
Kara Eusebio – Bayview Yards
A couple of months ago, I heard Amber Stratton (Co-Founder and Co-Owner of PureYoga and PureKitchen) speak on a female CEO panel. I thought it was great to hear her perspective because the message was this: people will tell you what it takes to be a successful entrepreneur but really, what it comes down to is that you need to have a great idea and be willing to champion that idea.
Amber has been realistic about the challenges she's faced as the business has grown and has encouraged younger women, who are pursuing this path, to go down the road, too, and she's supported them tremendously.
How does empowering and investing in women entrepreneurs benefit communities & society?
Sonya Shorey – Invest Ottawa
We are stronger together than we are in isolation. I have been privileged to have many incredible men and women empower and support me throughout my career, offering mentorship and creating opportunities I could never have imagined. Without them, I would not be where I am today. It is often said, it takes a community to build a successful business, and it is true. We must harness the power of our entire community to catalyze the growth and success of more entrepreneurs and firms.
By channelling the right energy, commitment and action as an integrated community, we can eliminate barriers, and change behaviours that inhibit all entrepreneurs, female and male. The greater the collective action, the stronger our community, industry and economy will be.
There are so many benefits to an entrepreneurial ecosystem with a broad array of founders with diverse backgrounds, experience and expertise. Diverse perspectives are invaluable – they can open-up new opportunities, drive discovery, innovation and new business models that propel us forward.
And today, there are many opportunities to equip and empower female founders and entrepreneurs in new ways. This includes formal and informal mentorship and business networks, new investments/funding opportunities and high-profile leaders who are championing the right action.
We need to leverage our collective strengths as a community with critical mass to move the dial. It takes men and women working in collaboration with the right constructive mindset and approach to help build more successful female-led businesses. Together, we can create an even stronger ecosystem with greater mentorship, support, resource sharing, and opportunity for these firms. Invest Ottawa is committed to help drive action on these objectives for the benefit of all entrepreneurs and our community.
Today, we are addressing important opportunities to better support female founders. At Invest Ottawa, we are exploring new ways to better serve entrepreneurs with many different attributes, needs, experiences and backgrounds. By working together as a community, and offering integrated programs that bring together entrepreneurs from all walks of life, we can learn from each other in new ways. This makes us all stronger.
We know that the proportion of SMEs entirely owned by women in Canada is increasing. But not fast enough. How can we speed up the process?
Sonya Shorey – Invest Ottawa
There are many strategic actions we can take to help grow the number of Canadian-owned SMEs – and they span different stages of development.
It is important to invest in K-12 education and work together with young girls at an early age to inspire and excite them about career opportunities in entrepreneurship and STEM fields (Science, Technology, Engineering and Math).
At Bayview Yards, school children can come and participate in a program called the Growing Futures Initiative, which enables children to grow fresh vegetables right at our innovation hub; 'harvest them'; and sell them with the proceeds going to the Parkdale Food Centre and the charity of the children's choice. It is an opportunity to contribute to a social enterprise that gives back to our community. It's a valuable and empowering program that has taken lift across the city.
That's just one example of how we can excite our children about a future career in entrepreneurship. There are many technology-driven student programs and initiatives that are inspiring more young girls to pursue a career in STEM fields as well – we need to find new ways to fuel their growth to create a strong pipeline of future leaders for our industry and community.
I applaud our post-secondary institutions for creating new opportunities for experiential, hands-on learning and entrepreneurship-driven programming for all students, with an increasing focus on future female entrepreneurs.
This provides students with the opportunity to experience the world of entrepreneurship as part of their curricula. There are many programs offered by Carleton University, the University of Ottawa, Algonquin College, La Cite and Willis College (many of which benefit from strong female leadership) that enable students to launch their own businesses, access resources and work collaboratively with mentors and companies.
Many of these programs are integrated with, or feed into, those we offer at Invest Ottawa. This enables us to collectively create more opportunity for female and male student entrepreneurs – many of whom are working together to create successful businesses. The Growcer, which emerged from Start-up Garage at the University of Ottawa and is now housed at Invest Ottawa, is an excellent example.
We must consistently invest in the development of a strong and cohesive entrepreneurial ecosystem that brings all our strengths to bear for the entrepreneurs we serve.
I am personally very passionate about attracting as much investment into our ecosystem as possible to consistently create new opportunities for our entrepreneurs, innovators and companies. By pooling our expertise, experience and resources, we can equip all entrepreneurs in greater ways. There is huge momentum and opportunity today, particularly with the release of the new federal budget and investment for innovation and female entrepreneurs. We must come together – all players across our ecosystem from industry, academia, government and the investment community – to capitalize on this opportunity, and gain the greatest benefit for our entrepreneurs.
Kara Eusebio – Bayview Yards
A few of the programs I love are Canada Learning Code and Girls Learning Code. These events aren't restrictive and are offered all across the country. It's not an intimidating program – it simply opens up a space where girls can learn how to code.
I believe that young entrepreneurs, and especially girls, need to learn these skills at a young age so there's not a huge skill gap when they get older. It will also create the mindset shift for young women entrepreneurs that girls can do anything boys can do.
---
Watch for part two of this interview to be posted soon.
accelerator, Bayview Yards, International Women's Day, Invest Ottawa, Kara Eusebio, L-SPARK, Ontario, Ottawa, SaaS, Sonya Shorey, Women's Day