L-SPARK
:
A Failed SaaS Startup, Lessons Learned + The Great Canadian Tech Experiment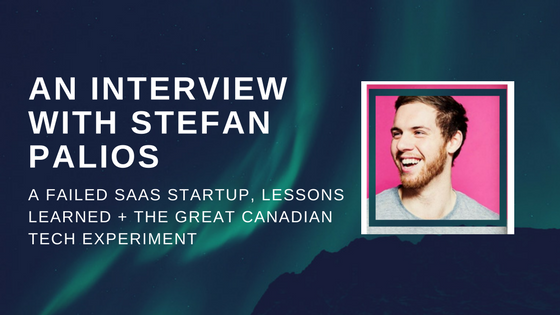 We sat down with Stefan Palios this week to chat about his origin story, his SaaS startup (and its failure) as well as what he's up to now with the recent launch of an experiment that is shining light on Canadian SaaS and the tech scene as a whole.
Stefan is a 25-year-old small-town Canadian, LGBT activist and social entrepreneur. He is a contributor to BetaKit and is on the advisory teams of both HackerNest and Venture for Canada. He is also the co-founder of Venture Out, Canada's first LGBT-focused tech and entrepreneurship summit.
After graduating from Yale, where Stefan attended as a recruit to the Yale University varsity track and field team, he moved to Toronto and joined a research-consulting firm that focused on people and culture issues. It was through this work that he founded his first SaaS company, Ziversity.
Ziversity was a recruiting-tech platform that helped companies source diverse talent from across the spectrum of experiences and identities. It was a graduate company of both Founder Institute Incubator and StartupNext Accelerator by Techstars. Unfortunately, Ziversity folded in February of 2017. That hasn't deterred Stefan, however.
Q: Stefan – can you tell us a little bit about your origin story? What led you to launching your own SaaS company?
I was a stubborn child and I didn't like how certain things were done. I always thought there was a better, easier way to do things so I would look for those ways often. I remember my teachers back then saying things like, "If he would only spend just a bit more time focused on one thing, he'd do so well!"
I was really good at pointing out problems, too. My parents got sick of hearing me complain and gave me this mantra: stop complaining, come up with a solution, take ownership and make it better.
When I was sixteen, I began volunteering at the Breakfast Club – a program where we provided meals for kids who maybe didn't have that support at home – and we were just two volunteers in the beginning. I saw the problems that the program was addressing and I saw how I could make it better so I grew it to a team of eleven and we served over fifty people per day.
After high school, I went to Yale University through a track and field scholarship. At Yale, I joined a young startup that helped International students navigate the process to doing their undergrad in the United States. I could relate to this directly because of my own experiences as a Canadian studying abroad. Being involved in this startup allowed me to learn a lot about starting a business.
Q: Where did you get the idea for Ziversity?
When I came back to Toronto, after graduating from Yale, I worked for an IT / HR consultancy, which meant that I got to see both the people side of the business and the tech side. The meshing of those two pieces really excited me and I wanted to leverage technology as a truly empowering force.
With this experience that I had at the IT / HR consultancy, combined with my LGBT activism that I was involved in during my undergrad, I realized that diversity recruiting could use an overhaul as a lot of companies were navigating it poorly. Candidates were often dealing with issues like tokenization in a company's hiring practices so I wanted to build something that would help solve that problem and disrupt the industry.
Q: Why did Ziversity fail and what were your big takeaways from the experience?
Ziversity tried to be too many things for too many people. Instead of streamlining our offer and making a clear promise, we tried on too many different options – consultancy, tech, a bit of this and a bit of that – and in the end, we couldn't sell anything. Investors also couldn't really figure out who we were as a company. The issue wasn't just being clear in the sales process but who we were as a whole and where we wanted to take the company.
Lacking a clear, actionable step for the consumer and a clear value proposition for both the customer and the investor eventually led to our company's demise.
Outside of the lack of clarity, we were having an issue with the team structure. The team itself was filled with brilliant people who wanted to tackle this problem, but I was not a strong enough leader to bring everyone together and find common ground. We all started to see different ways of building the company, which led to disagreements and stalling in the business. It was a tough lesson to learn but one that is invaluable and has fundamentally changed how I will approach team building and leadership moving forward.
One of the toughest parts about being a leader, especially in a smaller startup, is being able to be vulnerable, transparent and honest. I needed to learn that it was okay to look to my team for answers rather than feeling like I personally needed to know it all. As I grow teams in the future, I will be much more discerning and I will be more cognizant of where I'm at and where I'm at in the growth stage.
Q: What happened after Ziversity closed its doors?
What I'm focused on the most right now is getting to know the people in tech but more specifically, Canadian tech (I've attended over 150 tech events since the beginning of 2016!) I've been doing a lot of interviews, and speaking to some pretty incredible founders, lately and the common thread amongst all of these conversations is that it's "Canada's time to shine" in the tech space. The general sentiment really has been that Canadian tech will take over and while I could see the perspective, I also wanted to go a bit deeper to answer the question: is the Canadian landscape supporting Canadian businesses?
It was through this question that The Great Canadian Tech Experiment was created.
Q: Tell us a bit more about The Great Canadian Tech Experiment.
The experiment was designed to answer one question: "Can I build a profitable business using only Canadian technology?"
While a lot of people seem interested in the experiment, which launched on July 25, 2017, and in the Canadian ecosystem, I've realized that even though we may have these conversations about what's important and how we can become a much more prosperous country by keeping business here, I wanted to see if we really are supporting all Canadians who want to build a business that starts – and stays – Canadian.
My goal is to shed light on what it means and introduce some of the companies, all Canadian-based, who play in this tech and SaaS space, so that future founders can consider starting a company that supports Canadian businesses.
—
Follow along The Great Canadian Tech Experiment by searching the hashtag #CDNTechExperiment on Twitter. You can also submit your favourite tech companies to a master list that Stefan is building here.
L-SPARK, SaaS, SaaS failure, SaaS startup, startup, startups, Stefan Palios, The Great Canadian Tech Experiment