Secure IoT Accelerator Demo Day

(

December 10, 2019

)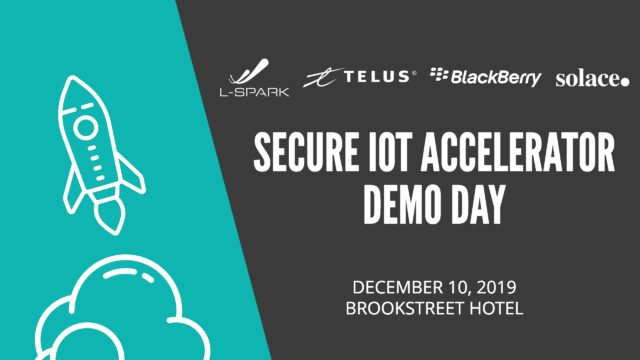 The Secure IoT Accelerator Demo Day is a by-invitation-only event where members of government, industry professionals and the TELUS, L-SPARK, BlackBerry and Solace communities can come together to learn more about why secure IoT matters and how the technology being leveraged will set the tone for future regulation and standards.
The four companies will demonstrate their unique capabilities, as part of a pitch program, and attendees will also be able to connect with each of the companies before and after the formal program to learn more about what they've built. On-stage, each of the partners will also deliver a panel discussion about their involvement, their key contributions and the future of secure IoT.
In the networking area, attendees can also connect with each of the partners — TELUS, L-SPARK, BlackBerry and Solace — to learn more about the role they played in the accelerator program.
Finally, attendees will receive exclusive information on the evolution of the program and where the Secure IoT Accelerator is headed next.
Interested in this event? Reach out to L-SPARK's Director of Marketing, Erin Blaskie, for more info at erin (at) l-spark.com.