August 31, 2020 @ 1:00 pm

-

2:00 pm
:
No Stupid Questions: Conversion Copywriting with Sarah Stockdale
The copy on your landing pages, in your ads, and in your emails are directly tied to sales. If you're a pro, or you're new to copywriting, this webinar will give you the tools to feel confident writing copy that converts.
We'll focus on two key areas
Finding your Unique Value Proposition
This is the most important bit of copy for your company— so let's break down how to write and test yours.
You'll learn a repeatable framework for writing copy that converts, a step by step guide to take the guesswork out of landing pages.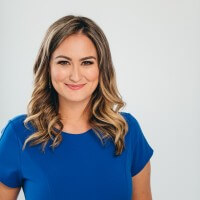 About your Host:
Sarah is the Founder and CEO of Growclass, an online growth marketing training program for founders, professional marketers, and entrepreneurs. She is a guest tech expert for The CBC, and CTV, and a TEDx speaker.
Sarah is the author of We Need To Talk About This, a popular blog and newsletter for millennial women. She is a frequent speaker at universities, events, and conferences internationally. She has spent her career working on early-stage technology startup, most recently leading the International Community Growth team at the San Francisco payments startup, Tilt, which was acquired by Airbnb in 2017.