Ed Bryant
:
Ed Bryant, Sampford Advisors, On Mergers & Acquisitions in the Startup Ecosystem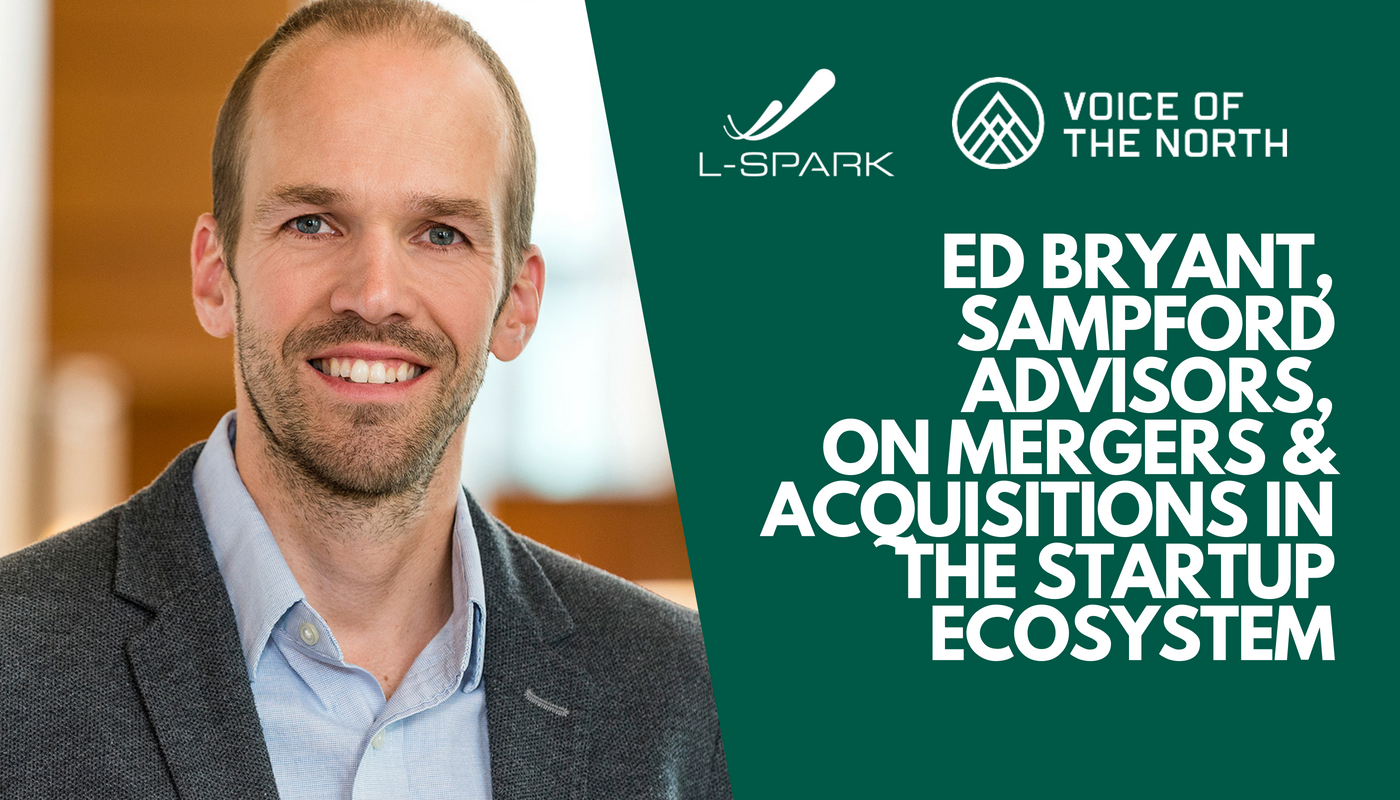 This interview is part of our feature on SAAS NORTH 2018 speakers.
Ed Bryant is the President and CEO of Sampford Advisors.
Ed started Sampford because he wanted to provide world-class Mergers and Acquisitions Advisory that large companies have been accustomed to, to small and medium-sized technology businesses.
Ed has over 20 years of experience including over 16 years in Investment Banking with Deutsche Bank and Morgan Stanley in Hong Kong, Singapore and New York. In that time, Ed raised in excess of $20 billion in equity and debt capital and completed over $10 billion in M&A transactions.
Prior to founding Sampford, Ed held the CFO and VP of Corporate Development positions for three years at Conversant. Ed holds a Bachelor of Arts in Business Studies from Sheffield University in England.
We spoke to Ed, in lead-up to his talk at SAAS NORTH, about mergers and acquisitions and the advice he has for startups who are thinking about moving toward an M&A scenario.
L-SPARK: What are some of the signs that a startup is ready to engage in a conversation around M&A activity?
ED: The most obvious sign is when they get a phone call from a likely buyer. With how quickly tech is changing, they may wake up one day and get a phone call from someone saying, "We want to buy your business." Then, they call us to figure out how to move through that process.
More experienced executives start talking to us early because quite often, the moves you make early in the business can actually change the trajectory of your future path. We talk to a lot of execs around the trends we're seeing, the messaging in the market, etc. Sometimes they'll approach us and say, "Yes, I want to exit so let's figure that out" but otherwise, people have their heads down in their business.
A lot of people pour a lot of blood, sweat and tears into their business, so they reach a point where they can make enough in an exit and take some chips off the table. Or, sometimes they take the company to the point that they can but they need someone else to come in and take it over and take it to the next level.
L-SPARK: What are some of the mistakes startups and their founders make when preparing to raise funds and/or engage in a merger or acquisition?
ED: Leaving it too long – people fall in love with their business / idea and they don't see some of the warning signs. Increased competition in the market, a fundamental shift in the market… and they leave it too long and therefore leave money on the table. It's easy to get left behind. It's never too early to start talking to advisors about this stuff so you have awareness of where the market is and you don't miss the timing.
It doesn't always have to be a sale. Clients like Martello, for example, are buying other companies. Not enough companies look at acquiring companies as a growth strategy. You need to ask yourself, "If we merged with someone else, could we go faster together?". Ego sometimes gets in the way but in reality, some companies are better off if they merge with someone else rather than try to grow organically on their own.
L-SPARK: How can a startup prepare for an M&A scenario?
ED: From the start of the business – be organized about stuff. By the time we get involved, a lot of times companies aren't organized. Their reporting isn't in order, they aren't budgeting or forecasting. This needs to be in place so that you look organized to the buyer and really articulate the path the business is on. Your paperwork needs to be appropriately archived and organized. We spend a lot of time looking for documentation or legal paperwork so step one, be organized.
Be able to articulate to the buyer what the strategy is, the roadmap, etc. With small companies, they are often dealing with the day-to-day, so this stuff can be difficult to focus on but it sends a strong message to the buyer that you are selling a real business when you can demonstrate a plan and vision of where you are going. It shows a level of maturity to the buyer.
L-SPARK: At SAAS NORTH, you're speaking on the topic of "Corporate Venture: Strategies for positioning your SaaS company for acquisition or venture capital funding" – what can attendees expect from that session?
ED: Here are a few of the things I'll be covering during the talk:
Financial metrics matter – a lot of people in the Canadian tech ecosystem are very focused on technology but your KPIs and financial metrics are just important as the tech as it is critical to be able to position the business successfully. Some of the metrics to pay attention to:

CAC
Churn
Revenue growth
A pathway to profitability

Focus – we see the difference in value in the founders that are really, really focused on their key metrics and tracking them on a regular basis and watching for change and then asking questions about those changes… these reports tell you when something is wrong or when you need to pivot or change your direction.
I'm looking forward to diving deeper into this topic at SAAS NORTH!
Ed Bryant, SaaS North, Sampford Advisors