Download the full CVCA report here.
It's been a fantastic quarter as the Canadian VC landscape experienced a billion-dollar quarter and private equity YTD investment eclipsed 2016's $13.8B. Q3 saw $980M invested over 149 deals, which represented a 43% increase compared to the $683M in Q3 2016. In 2017 thus far, $2.6B has been invested across 431 deals.
It likely comes as no surprise that the majority of VC investment went into information and communication technologies (ICT) at a whopping 69% of total dollars invested ($1.8B over 271 deals). $1B, or about 40%, of those dollars went into Ontario-based companies.
Canadian private equity experienced another breakout quarter with $7.1B invested over 160 deals. Investment levels were lower compared to the $8.8B invested in Q2 2017 but an exceptional 133% higher than Q3 2016.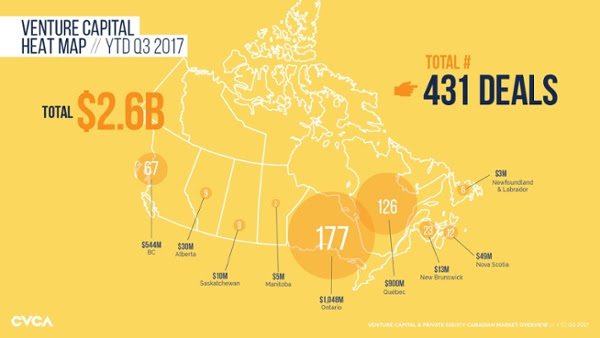 So, what does this mean for SaaS specifically?
From the top 10 VC deals, which accounted for 53% of the total dollars disbursed in Q3, the following deals happened in SaaS-based companies:
Borrowell, Inc. closed a $57M round, which included White Star Capital
Ritual closed a $53M round, which included Golden Venture Partners
Tulip.io Inc. closed a $50M series B round from US investors
Freshbooks closed a $57M round, which included Georgian Partners Inc.
Element AI closed a $141M round, which included BDC Capital, Microsoft Ventures, Real Ventures & more
2017 also saw the Real Matters IPO, which was a significant move for the company and fantastic news for the industry as a whole.