accelerator
:
Closing the Investment Gap for Women :: Erin Bury Shares Her Advice
We are thrilled to be sharing a series here on L-SPARK's blog that features incredible female founders and funders. While we are leading up to International Women's Day, we believe that women should be celebrated all year so we'll be posting these female founder and funder posts on a regular basis.
* * *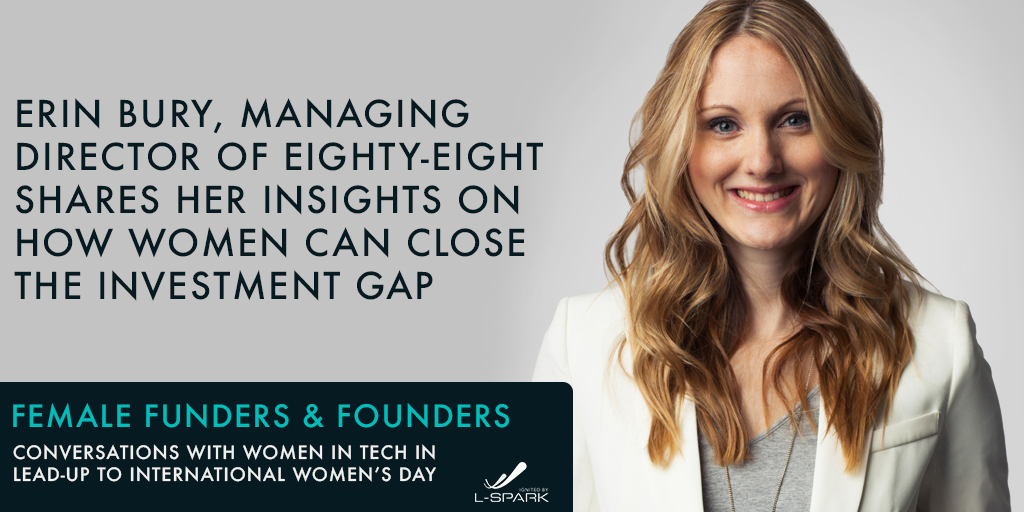 Erin Bury previously held senior communications & editorial roles at Betakit and Sprouter, which was acquired by Postmedia. Erin is a Financial Post columnist CTV tech commentator, and a frequent speaker with the National Speakers Bureau. She has appeared in publications including The New York Times, Inc. Magazine, CNN, & Canadian Business, and was named one of Marketing Magazine's top 30 Under 30 marketers in 2012. Her claim to fame is being retweeted by Oprah – twice.
We asked Erin a series of questions around women in tech / business as well as the challenges that exist for women entrepreneurs, founders and funders.
Which Canadian women entrepreneur(s) or women business owner(s) inspires you most?
My mentor and former boss Sarah Prevette inspires me the most. She's been a lifelong entrepreneur, and her business, Future Design School, is teaching kids across Canada about design thinking. She's educating and inspiring the next generation of entrepreneurs, and working with educators to teach more entrepreneurship and innovation curriculum in schools.
How does empowering and investing in women entrepreneurs benefit communities & society?
Empowering and investing in ANY entrepreneur benefits society through job creation, wealth creation, and positive impact on the economy. Investing in more female entrepreneurs means we close the gap between the number of male-led businesses that receive funding (and therefore have a better chance of survival), and the number of female-led businesses that receive funding.
What's your advice for women looking to start a business, and do not necessarily know where to begin?
Find a problem you know you can solve in a unique way. Validate that it's a problem lots of people have. Test your idea with people in your target market. And then figure out the small steps you need to make it a reality – from registering the business, to opening a bank account, to building a prototype or website, to creating a marketing plan. Launching a business seems intimidating, but it's just a series of small steps that add up to a big payoff.
Also, listen to the NPR podcast, How I Built This. It interviews successful entrepreneurs about their journey, and it's educational and inspiring. The episodes on the female founders of Drybar, Spanx, and Barre3 are especially inspiring for any aspiring female founders!
Diversity Matters. What can we do to get more women on boards or for women to gain more leadership roles?
Getting more women on boards means educating women about why they want to be on boards and making the process easy. Sites like theBoardlist are curating a list of women who are great board candidates, but I think it starts earlier. I'm 32 and I should be well-versed on what purpose boards serve, what it takes to sit on one, and why I'd want to sit on one – but I'm not.
Access to funding for emerging women entrepreneurs can be scarce. How can we fix this? Where can they go?
In my opinion the answer to more funding for female entrepreneurs is more female-led funds, and more female investors. I can't think of any female-led funds in Canada (I know Arlene Dickinson was talking about starting one, but not sure if that happened), and the number of female venture partners is quite abysmal – people like Janet Bannister are leading the way there.
It's not that women only invest in women, but often women-led businesses are tackling problems that male investors don't understand. For example imagine pitching the Diva Cup (an invention by a Canadian entrepreneur) to a room full of men, or Sheerly Genius, the new indestructible pantyhose launched by serial entrepreneur Katherine Homuth. She turned to Kickstarter for funding – yes it makes sense for a product business that takes pre-orders, but I would also guess she'd have a difficult time pitching a room full of male investors – that is until they went home and explained the product to their wives, daughters, and female friends.
We also need more female angel investors – tools like Female Funders are teaching women how to make their first angel investment (I made my first two in 2016!) and there's a huge knowledge gap around how to invest. Solving that means more women investing in women.
The other answer to the female funding problem is accelerator programs that get women to the point where they can confidently walk into a room full of VCs. I would also encourage female founders to look at government grants for hiring and technology, or to raise an initial round of friends & family funding to kickstart their business.
What women-centric entrepreneurship programs or STEM opportunities are available in Canada? How can those in remote communities access them?
I know of several programs, including Canada Learning Code and HackerYou, both of which aren't only for women, but have predominantly female participants. Future Design School teaches design thinking and is available to young women in certain markets.
In terms of remote communities, I would turn to online courses through sites like Udemy and lynda.com – they're affordable and accessible to anyone with an internet connection. Also, check out HTML500, an annual event held by Lighthouse Labs in cities and towns across Canada that helps people learn to code over one afternoon.
In terms of women-centric entrepreneurship programs, check out Female Funders at Communitech and the new women-only accelerator program at Ryerson.
accelerator, eighty-eight, Erin Bury, L-SPARK, startup, women entrepreneurs, women in business, women in tech