building a team
:
Why Building a High Performing Team is Key to Your SaaS Startup Success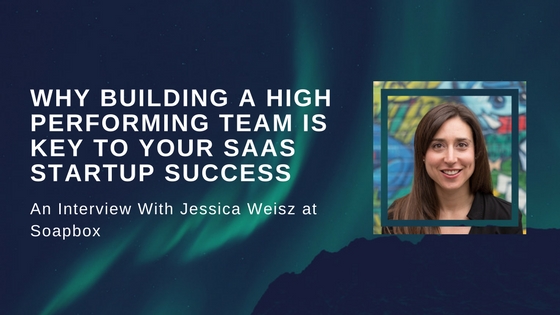 When Jessica Weisz, Chief Client Officer at SoapBox, told us a little bit about her upcoming presentation at SaaS North, we knew we had to chat with her more about creating a team. Her summary?
"My session is about making workplaces more human and higher performing. Having the conversations that need to happen because the absence of said conversations is killing the team. And finally, how to have the necessary conversations."
With that said, let's dive into our conversation where we chat SoapBox's origin story, lessons learned and what it means to have a high performing team.
Can you tell me a little bit about Soapbox's origin story?
Ooh, this is a good story.
Brennan (CEO of SoapBox) was doing his undergrad at Ryerson and realized that a lot of things at the university weren't operating as well as they could be. So, he sent an e-mail to the President of Ryerson. He was surprised to get a response to come meet Sheldon to discuss how the university could improve.
As they were going through Brennan's notes and suggestions, they realized there was a voice that was not being captured on campus – the student's / constitutes voice. The President had never experienced first-hand what it was like to be a student where gaps in communication and process existed. They decided to create an overarching business plan called HitSend – Ryerson's student voice platform.
In 2013, I joined the team and the first iteration of SoapBox came to life. It evolved from student voice to employee ideas. Employees have all of these insights that aren't being captured and it really impacts the bottom line. Coke and BMO came on in the early days to figure out the value of employee ideas and the company grew from there.
To where we are today. Ultimately, we learnt that it's not just ideas – but all kinds of input from employees that's critical. Questions, suggestions, best-practices. The benefit we learnt is from opening up communication across hierarchical levels. So we're now very focused on fixing this for the organizations we work with.
What problem does SoapBox solve?
The largest problem that SoapBox solves is: how do you get companies to be high-performing?
We started with the notion that there were so many great ideas within in an organization that could make it perform better. What we learnt is that this isn't really where our customers got the most value. In fact, it didn't always work that well. Often, ideas weren't great and finding the resources to get all the ideas implemented wasn't easy. Where a subset of our customers were getting great value was just opening up communication between managers and employees.
We realized:
The manager is the most important variable in an employee's engagement – employees tend to leave managers, not companies or jobs.
Managers operate in an iceberg of ignorance – they only see the tip of the iceberg whereas an employee sees so much more of the business.
If we know all of this to be true, it's really about creating habit – it's in the day-to-day, in the habits and practices that are embedded that truly shift culture and engagement.
We looked at the stats and this is something that isn't just occurring today, it's been happening for over sixteen years. We wanted to solve the problem of making the workplace more human and higher performing.
Specifically, we created the platform to reinforce the habit for managers and employees to have conversations about the things that matter most to improve performance. This is typically done through:
Team meetings
One-on-one meetings
Larger group discussions
We at SoapBox make these moments of opportunity absolutely awesome.
Coke and BMO, those are some pretty fantastic clients! How did you attract those big names to SoapBox?
Pure hustle! Tactically speaking, we leveraged an outbound model. We reached out to say, "Hey, does this intrigue you?" A lot of people agree that employee voices and capturing those insights is really beneficial so it's truly a matter of showing them that you have the platform to help them achieve their goals.
We're in a really exciting place as a business right now. We're attracting new big names to the table like Pepsi, big health insurance companies, etc. all through pure hustle and building a platform that works on an enterprise level.
What do you see as some of the biggest challenges that a SaaS company faces when trying to get their new service off the ground?
The challenges are often plentiful in the early days but here are a few that I think would be most useful to talk about.
Product-market fit
Everybody talks about the elusive product-market fit and one of the biggest challenges for us was figuring out, "What is the value that we offer?"
For us, it was a neat evolution. We shifted our focus from the people who bought SoapBox to the people who actually used SoapBox and got value from it. They weren't the same. Ultimately, we decided that to have a healthy business we wanted the person who was buying the product, was the person using the product and receiving value from the product. That's what sparked the idea for us to focus on the manager/employee rather than the employer. Customer success is super important – because we work day in and day out with customers, we're able to gather these important insights. It's so critical to success.
Agility
Once we figured out what we should be solving for, the next challenge was agility. We needed to be agile, creative, take risks and comfortable with failing in order to evolve the company and the product. That's why we started building a new platform from the ground up to create a use case / workflow / etc. to deliver the value we knew the product could.
We shifted the business side and asked questions like: how are we marketing to customers? How are we supporting them? And, truth be told, that wasn't easy.
On-Going and Ever-Present Challenges
The biggest things that we always faced (and will continue to): guiding a group of people through the constantly evolving vision and direction. The ideal is that everyone is on the boat and rowing in the same direction and at the same pace. But in a startup, people want to weave back and forth and go check out islands and that can be annoying if you are trying to go in a straight direction.
Guiding employees to be awesome and help them achieve their career goals is tough and as leadership, you have to make the tough calls.
You have, what seems to be, a great team and you put an importance on workplace culture. Can you tell me a bit more about that?
The lifeblood and key differentiator of SoapBox is building a great team. It's a place where we love to work and I personally feel like I leave happier at the end of the day than when I arrived. We celebrate together – anniversaries, birthdays, etc. – and everyone gets along. Work should be fun and enjoyable. Yes, it's called work and not play but I'd like to think it doesn't need to be grueling. We spend a lot of time getting in touch with our team.
SoapBox uses SoapBox. We are all about putting the human back in resource. Of course we still make mistakes and stumble through sometimes but we put forth a lot of effort in this area. In some ways, we need to be exporting our culture to our own clients. This is our lab and we ask often, "How can we get people to be more productive and provide more value?" and then we try to package this up into our app.
SoapBox is big on values and that's something that everyone knows and can list them off.
building a team, entrepreneurship, founder, founders, L-SPARK, SaaS, SaaS North, startup