Alexandra Skey
:
Alexandra Skey of Bambora on Customer Experience and Conversions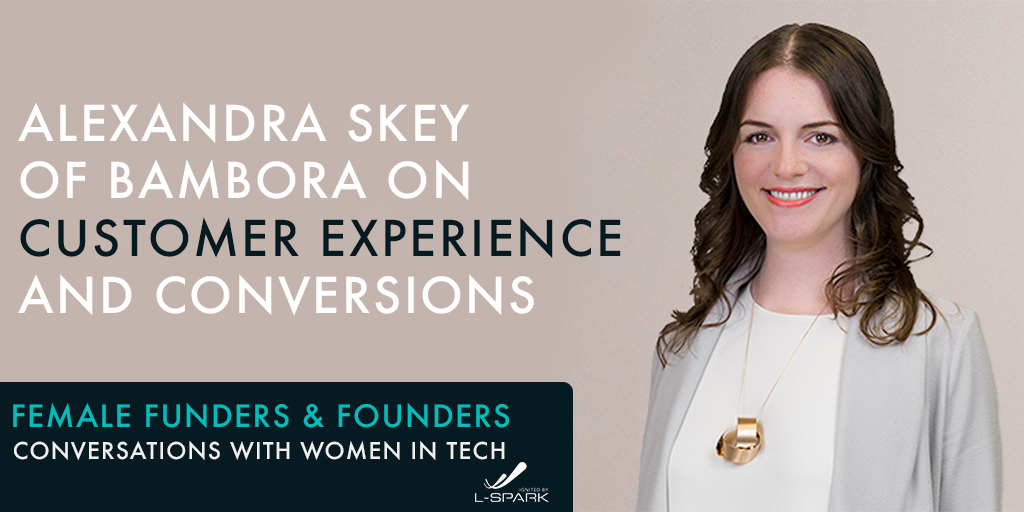 Alexandra Skey is a Canadian entrepreneur. She spent the last decade building four tech companies that were focused on delivering remarkable experiences in the retail, healthcare, and fintech. Building companies taught Alexandra what's most important is the team you surround yourself with, and that's what guides her decisions.
Back in 2012, Alexandra was looking to build a marketing automation platform to fill the gap HubSpot left. At the time, it was difficult to take advantage of marketing automation platforms (like HubSpot) if you had less than one full time marketing person on your staff. The company, Spokal, built a platform that was remarkable in all the wrong ways. An 86% churn rate month-over-month drove home the fact that something wasn't working.
The company was supporting itself through programs like IRAP and SR&ED, and feeling discouraged. They took a look at their runway and realized that they needed to figure out the business or wind it down. So, they decided to move to the Caribbean to save on operational costs while exploring how they could solve this challenge. That summer, Alexandra and her team learned to kitesurf while they rebuilt the entire company from the bottom up. Six years later, Spokal is supporting thousands of businesses around the world, and is growing organically by her co-founder and a remote team.
Alexandra then joined the TechStars Healthcare accelerator in 2016, where she worked on building a company called Ella. Ella looked at reducing the cost of healthcare in the USA using mindfulness programs. Their business proposition was simple: move successful in-person programs online, while partnering with recognized entities like Cedars-Sinai. Within 60 days, they built the framework, and over 100 doctors were subscribing it to 250 patients.
After completing the TechStars Healthcare accelerator, Alexandra decided to come back to Canada to recharge her batteries. Five months later, Alexandra made the decision to plant her roots here in Canada and find an exciting startup to work with. When she found Bambora, she knew she had made the right decision.
We sat down with Alexandra Skey, Head of Customer Experience at Bambora North America, to chat with her about her experience at TechStars and the advice she has for other SaaS companies around customer experience and conversions. Here is that interview.
On July 20th, you announced on social that Bambora got acquired. What has that meant for the company and what does life look like today as a result of the acquisition?
It's been so exciting! When we found out, we were thrilled as we didn't realize we were that far along and we were honoured to be part of the acquisition. The journey has been really interesting, personally, as I came back to Victoria and four months later I found myself involved in one of the biggest deals in the industry.
The acquisition has set our team up incredibly – we now have access to build out a true omni-channel payment solution. Right now, Bambora North America does a killer job online, yet we don't do in-store whereas the acquiring company does. The company we've merged with has 90% of the market so to call them an industry leader is an understatement.
Before joining Bambora, you were the CEO and Co-Founder of Ella, which was part of Techstars. Can you tell me a little about what it was like to grow a company in a healthcare accelerator and what key lessons you learned during your time there?
The biggest lessons learned, during my time at Techstars, had nothing to do with technology.
We learned a lot about how to lead teams and communicate better. A company is truly all about the people in the team and Techstars was great at teaching us tactical ways to work with our team. Things like "othering" were often talked about, which is not excluding certain teams in your vocabulary and communications. For example, saying "our sales team" vs. "the sales team."
I also learned a hard lesson about burnout. I found myself in a place of massive burnout and it led me to resign from Ella. I had to tell our investors that I was going home to spend time with family and practice self-care. I learned a lot about the value in communicating what you're feeling with those around you. It's easy to think, when you look at the numerous successes of others, that it should be that manageable for you too. It's not that simple and sometimes it's really difficult.
You are very passionate about customer experience – can you tell me a bit more about why that is and why SaaS founders should be equally as invested in that?
I remember the first time I heard the definition of remarkable from Seth Godin. The idea is that you ask yourself, "Is this something worth making a remark about?" If you carry that through into your work and what you're creating, you open up the door to create remarkable experiences for your customer base.
I don't know if everyone needs to be as obsessed about creating remarkable experiences as I am. You do need to be obsessed with what you're doing. You need to truly love it because of the toll it can take and the amount of time you invest into your company.
At SAAS North, you were on a panel that talked about how to convert customers from freemium to a paid model – what is your #1 piece of advice for SaaS companies looking to make that happen?
It's really about building the value you want to provide to your customers and then charging for it. One of the things I opened up with at the panel is about giving away free ice cream and why that's easy to get people to line up around the block for it. The reality is, you're not learning how to sell the ice cream. You need to learn more about selling and figure out what works. Spend time with your customers, collect data, and look at the value proposition.
At Bambora, we introduced a minimum $10/month payment plan for customers because we had a group of customers who were rarely transacting. This was costing the company money every month. By introducing the $10/month, it encouraged people to leave if it wasn't the right fit or have them say, "How can I use this better / more?"
Companies sometimes get afraid that if they charge more they'll lose customers but that isn't the point. More customers isn't the goal, getting the right customers is. If you're not creating value, you need to go through an exercise on how to create value and make that your primary focus.
What is your biggest piece of advice to any entrepreneur looking to get into SaaS?
Just do it! You can't learn kitesurfing from a book. In business school, looking at cash management is easy and until you're in it in the real world, you'll never really get it. So, do it and learn.
Finally, make sure you know what you're bow out line is. If you have a family and you need to cover mortgage and food, figure out how to do that before jumping into entrepreneurship. If you can get clear on those elements before you start, it will reduce your stress.

Alexandra Skey, Bambora, customer experience, customer success, entrepreneurial burnout, L-SPARK, lessons learned in customer success, scaling, TechStars