The PwC MoneyTree Canada Report is out and it contains updates on the Canadian venture capital and high-growth startups ecosystem. We've pulled some of the highlights out to give you an idea of what's trending and where investment dollars are headed for the remainder of 2017.
Investment Activity Softens
Year over year from 2012 on, total Canadian deal and dollar funding investment has steadily marched upward. 2017 investment numbers in Canada are on pace to land closer to 2014 figures.
Chris Dulny, National Technology Industry Leader at PwC Canada, says, "While deal volume is down slightly this quarter, we're encouraged by consistently higher average deal sizes indicating Canadian companies are attracting larger investment from top VCs increasingly focused on the Canadian tech sector."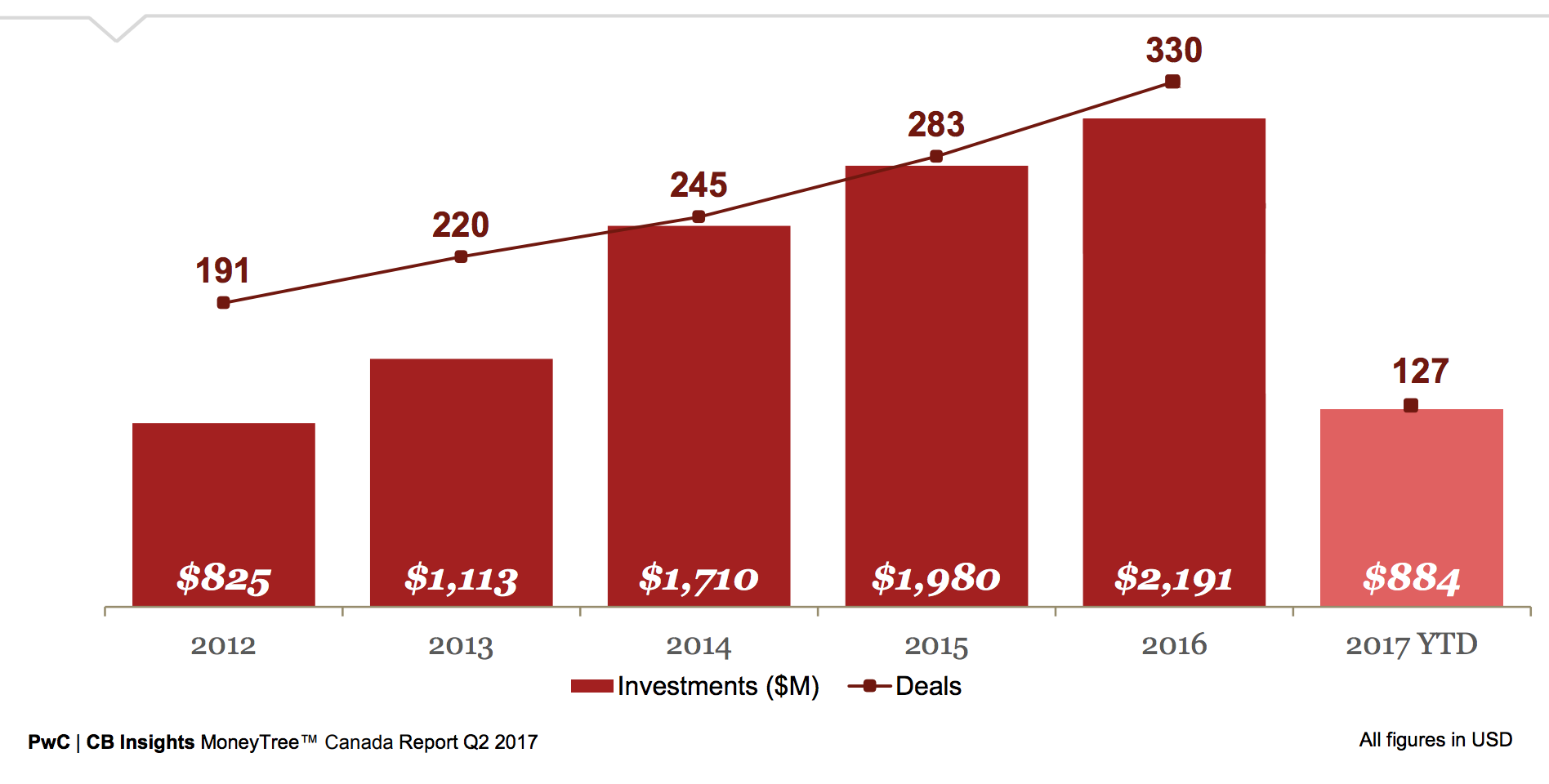 After spending two quarters of seed activity under 40% of the quarterly deal totals, Q2 saw seed deal share jump back to 45%. Shivalika Handa, Corporate Finance Director at PwC Canada, said, "This quarter's growth in seed stage investments is indicative of the next wave of high potential technology companies coming through, and it's also predictive of a fresh cycle of M&A and exit activity in late 2018 and beyond."
Q2 saw 32 deals in the Internet sector, totaling $96M invested (US), 6 deals in mobile and telecom ($26M invested) and 5 deals in software ($22M invested.) Rounds to Canadian Internet companies accounted for over half of the deal flow in Q2 as healthcare and mobile and telecom, the usual second and third place sectors, saw a drop-off in activity.
AI in Canada Accelerates
$162M US has already been deployed to Canadian VC-backed artificial intelligence companies across 12 deals through H1'17. These figures have already hit an annual high and deal activity is also on pace to eclipse last year's high of 16.
Element AI has helped boost numbers considerably in the AI space with their $102M raise in Q2 but we're also seeing investments made with many other companies across the country.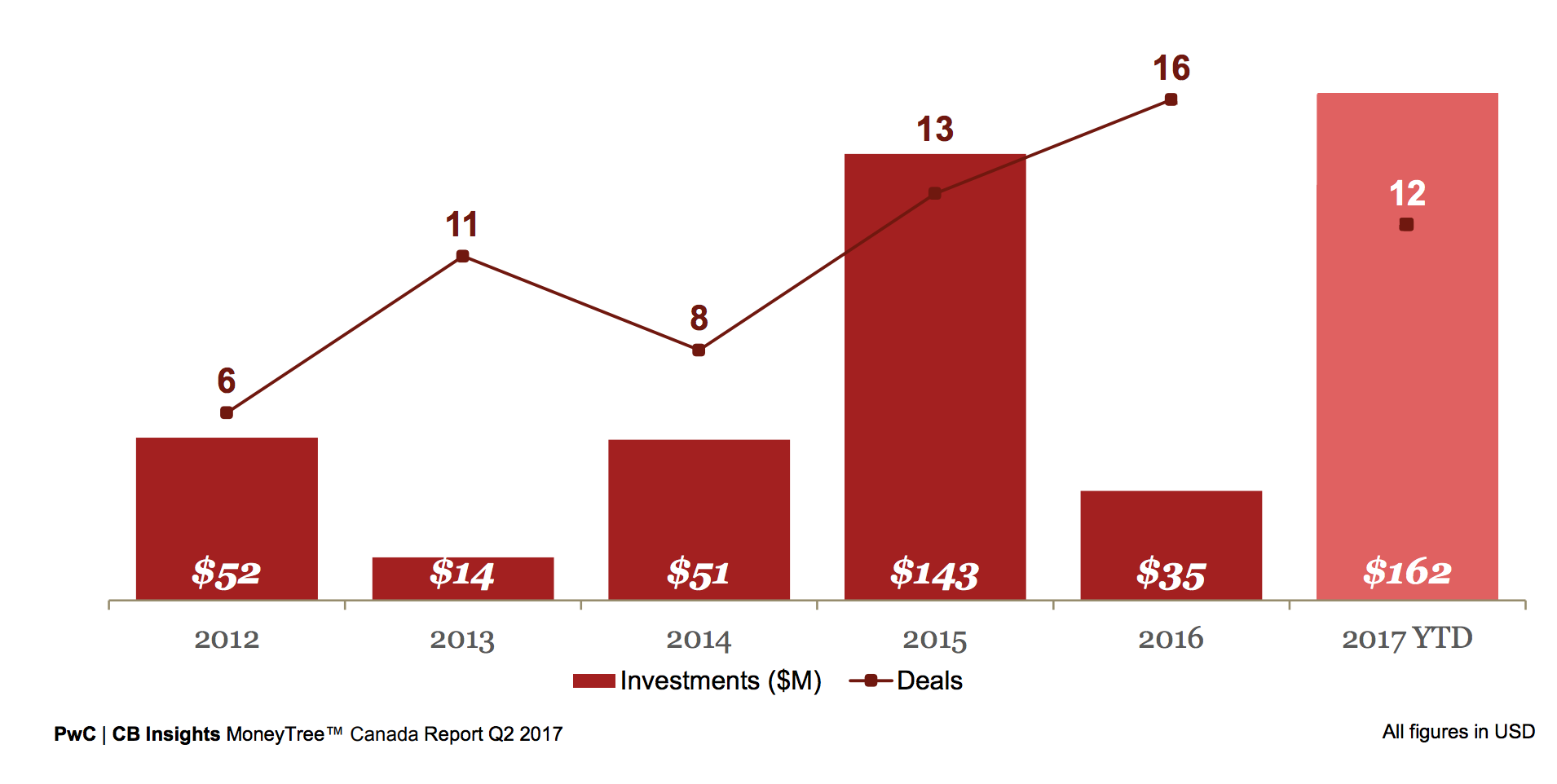 Corporate Participation Hits High
Even though Canadian funding is seeing a slower moving environment across the board, corporations and corporate venture arms are continuing to be a bright spot. In Q2, 26% of all deals to Canadian companies featured at least one corporate or corporate venture capital investor.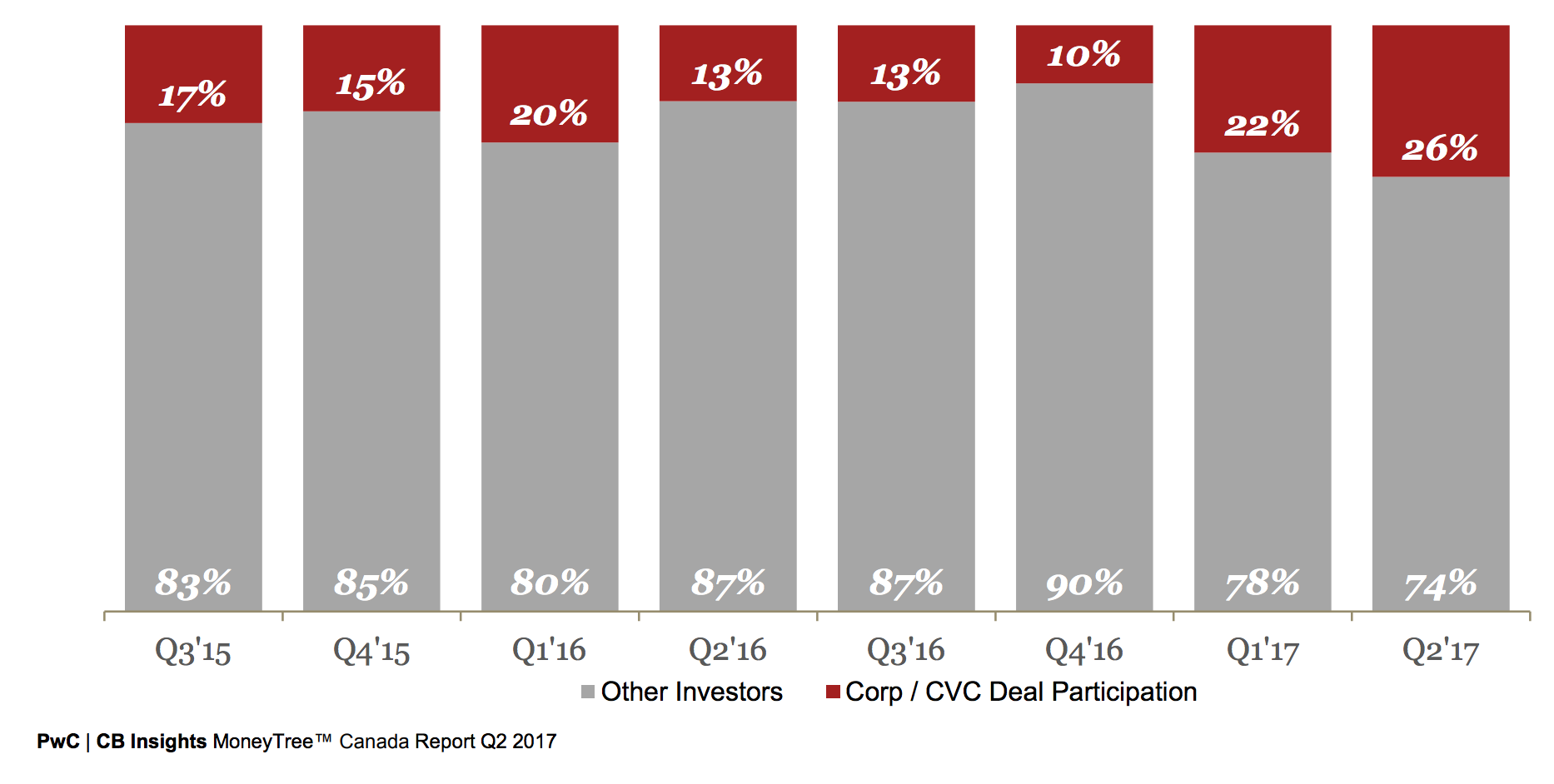 Michael Dingle, National Deals Technology Leader at PwC Canada, said, "Canadian technology companies continue to see strong interest from corporate investors. This quarter's corporate participation trend was driven by Element AI's Series A mega-round, attracting heavy interest from several corporate investors and underscoring Canada's opportunity to be a global leader in AI."
Largest Deals of Q2
Element AI, Montreal-based AI company, takes the lead in largest deals of Q2 but Repare Therapeutics, D-Wave Systems, Wave Financial and Resolver are all up there as well.
Disclosed investors in these companies include Intel Capital, BDC Venture Capital, Microsoft Ventures, Real Ventures, Versant Ventures, Celgene, Public Sector Pension Investment Board, Social Capital, HarbourVest Partners and Klass Capital.
As far as investors and Canadian company deals go, BDC is currently leading the charge with 12 deals (including Wave Financial, Zoom.ai, Alert Labs), 500 Startups has 6 (Fluent.AI, Local Logic, Attendease) and Real Ventures has 5 (Automat.ai, Element AI, Bus.com). A select group of investors have all tied for the fourth place spot with 3 deals a piece.
Download the Report
If you want to read the report in full detail, be sure to download a copy here.