accelerator
:
A Quick Pre-Scale Marketing Audit for SaaS Startups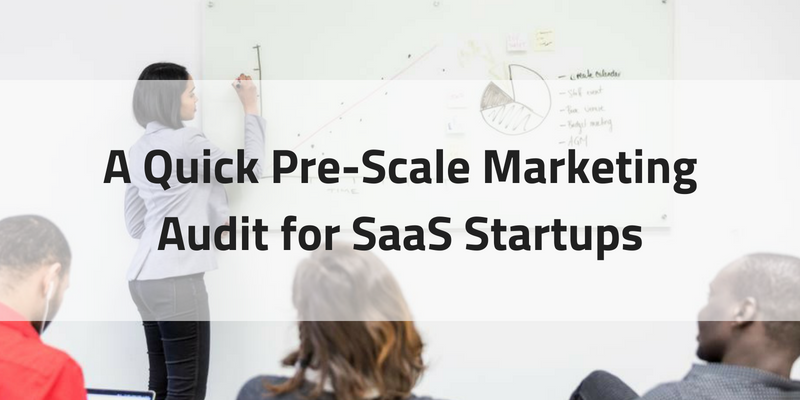 A human being has to learn how to walk before they learn how to run, right? In a SaaS company, strengthening your business' foundation is critical before you pour time, effort and resource into marketing. There's no point in generating a lot of noise and hype if you're sending prospects to a website that hasn't been optimized to capture them and begin the relationship-building process.
Before you look to scale rapidly, here are a few things that we recommend you take a look at.
1. The Website
While we could write an entire series on optimizing your website, we're going to focus on a few pieces that should be in place before you push heavy traffic to it. The first should be a compelling and easy way to opt-in to your e-mail marketing list. A website visitor is a bit of a loss if you aren't capturing them through an opt-in box, a free trial or through a demo, so take a look at your website and ensure that this is prominent and frictionless.
Freshbooks' website is a great example of this as they have the "Enter Your Email" option right on the homepage, above the fold, and they have a "Try It Free" green button in the menu, which appears on every page of the website. Both of these call-to-action (CTA) elements will encourage people to become part of the Freshbooks' ecosystem and will therefore be able to be marketed to on an on-going basis.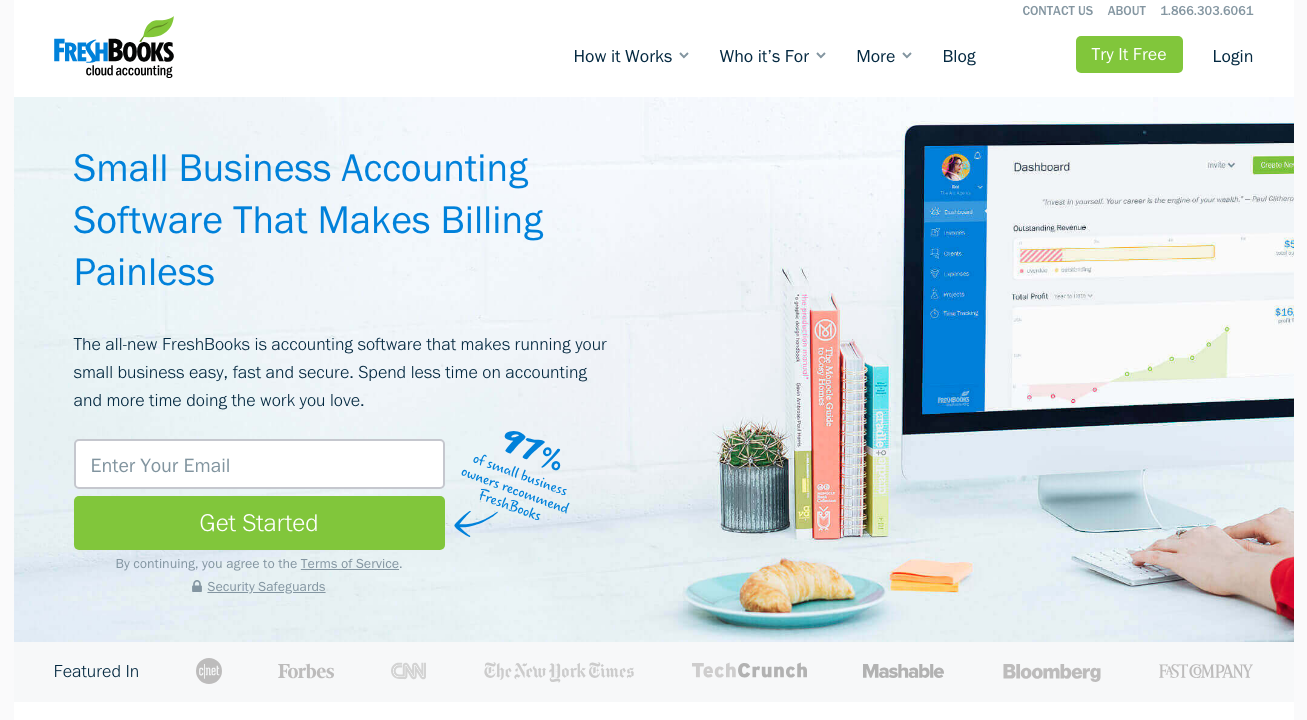 The second piece on the website should be ensuring that the copy used to describe the product clearly demonstrates the benefits to the customer and the pain point the software is solving. You should solve the vision or big change to your prospects and not the product itself.
Here's a great example from Intercom's website, "Catch, convert and keep more customers":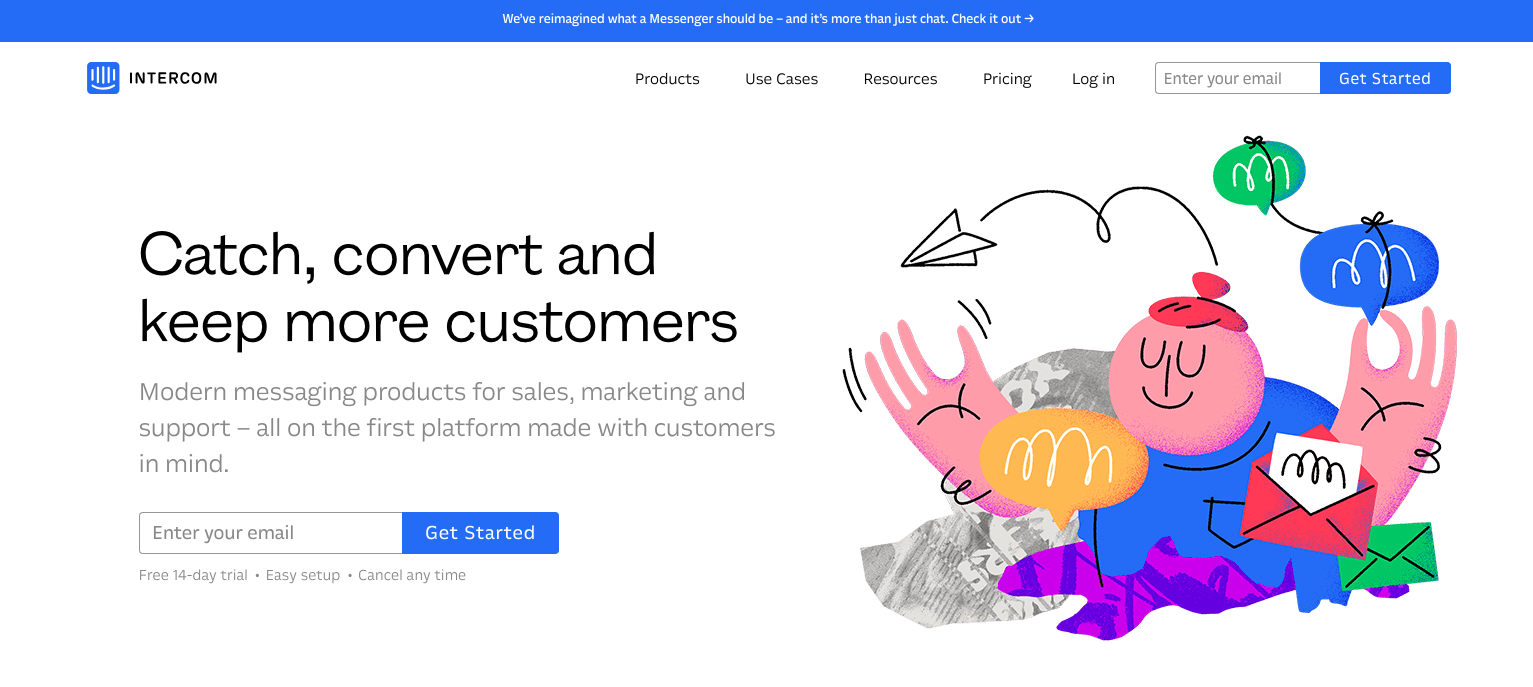 As mentioned, there are a number of additional ways that you can improve your website but these two will, at the very least, ensure that your prospects know what you do when they land on your website and know what you want them to do.
2. E-mail Marketing and The Prospect's Journey
Once you've improved your website, turn your attention to your marketing funnel and the prospect's journey. What does the very first e-mail they receive from you say? How are you using that opportunity to turn a prospect into a raving fan?
All too often we see companies put a funnel in place just to have a funnel in place, which often means e-mails that are slapped together quickly and without much effort or thought. Or, we see funnels that are too sales focused and don't spend enough time providing value to the prospect. Prospects don't like to feel sold to so take a critical look at what you're sending them and see where you can infuse value and substance into the mix.
Here's a fantastic e-mail from Shopify that they send out as soon as you sign up for a free trial: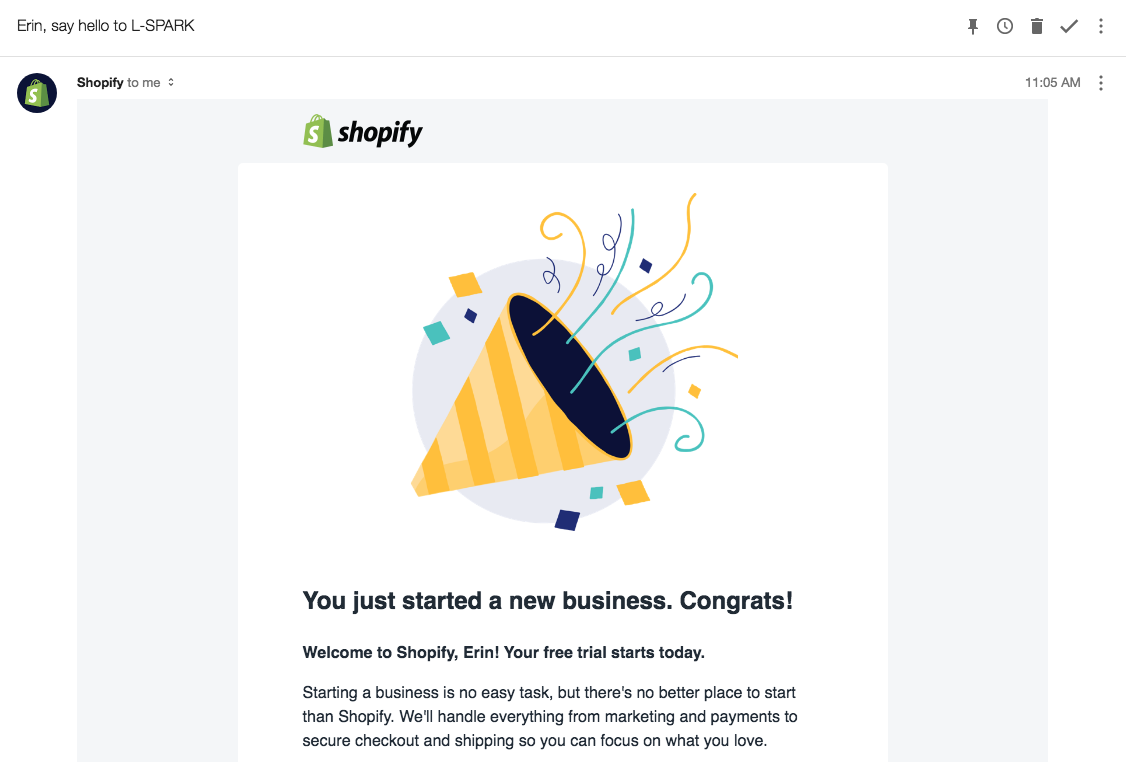 I love the cheerleading theme and the fact that they lead with "You just started a new business" is in-line with the idea that Shopify is helping to create entrepreneurs.
The other thing to consider is The Prospect's Journey. Ask yourself: where are my prospects coming from? Where will they go once they click on a link or enter a URL? How many touch points do I want to have with that customer? Will I create unique and individual landing pages for each offer or just send everyone to the home page and hope for the best?
Once you've asked yourself these questions, turn a critical idea to what you have in place and ask yourself, is it effective? WealthSimple has an incredibly effective landing page that it uses to close prospects and it's easy to see why it works. When you land there, your next step (as the prospect) is incredibly easy to understand.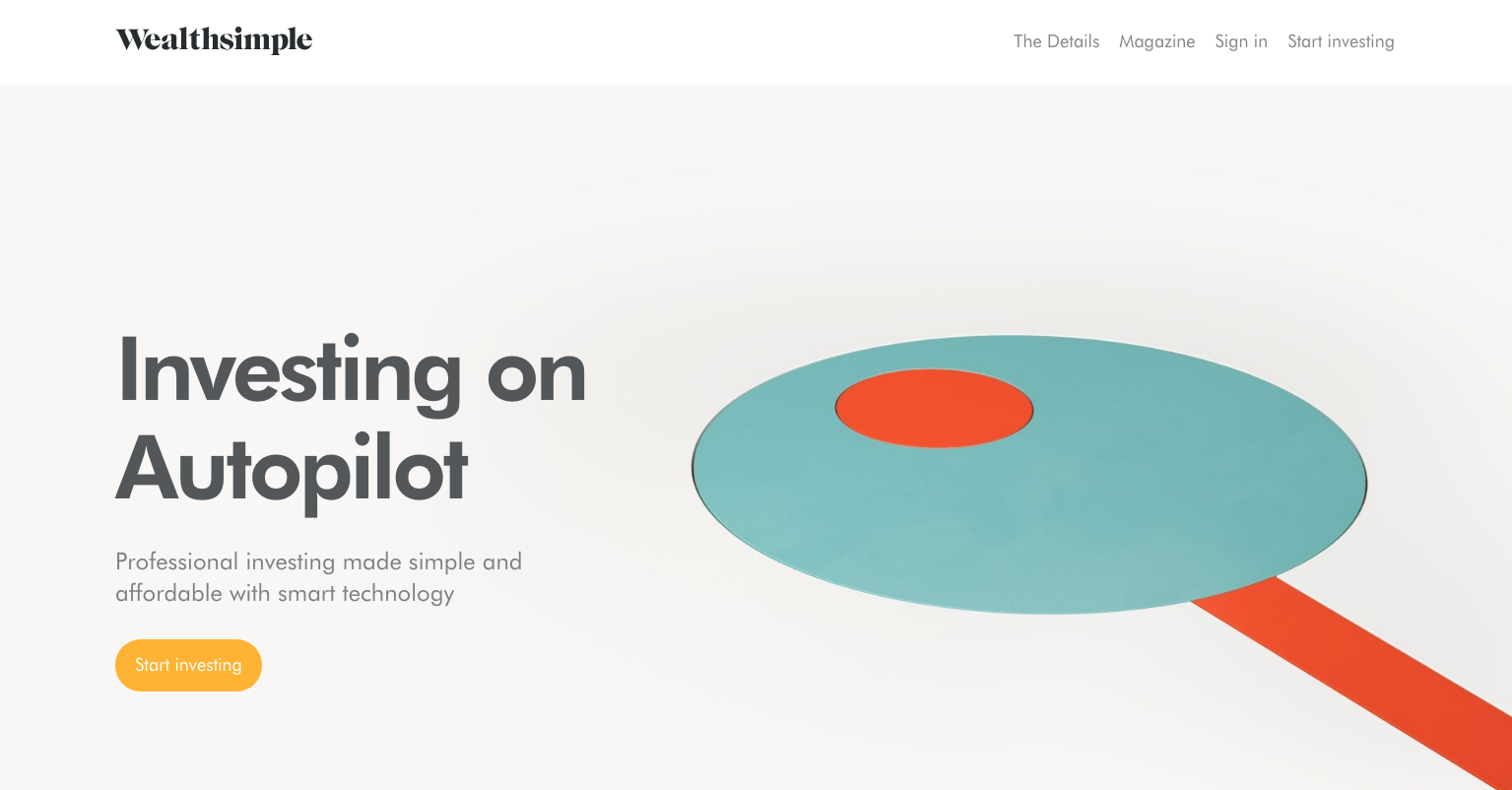 3. A Focus on Retention and The Loyalty Loop
We've talked about the e-mail marketing funnel and the prospect's journey but an important piece of the e-mail marketing puzzle is focusing on retaining your existing customers and building in a loyalty loop. Many startups put a lot of emphasis on converting prospects and in getting new subscribers to their list but given the sometimes high cost of acquisition of a customer, it's worth putting some serious time and effort on retention.
Spend a bit of time looking through the communications you have in place for your existing customers. Are you walking them through the features and benefits of your software / platform? If not, you may want to do so. While we often lead with a lot of that information — features and benefits — it's more often than not the customer who needs that information the most. They will want to know how to make the most out of your platform and the different ways that your tool can help them save time, money, resource, etc.
Consider also building in some form of loyalty loop to reward your best customers and turn them into raving fans.
4. Content Marketing to Establish Thought Leadership
If you're a platform that focuses on solving a unique problem for your customers, it's a good idea to showcase your expertise around that very problem. For example, if you're WealthSimple, you may want to educate your customers on Investing 101, like they do on their website: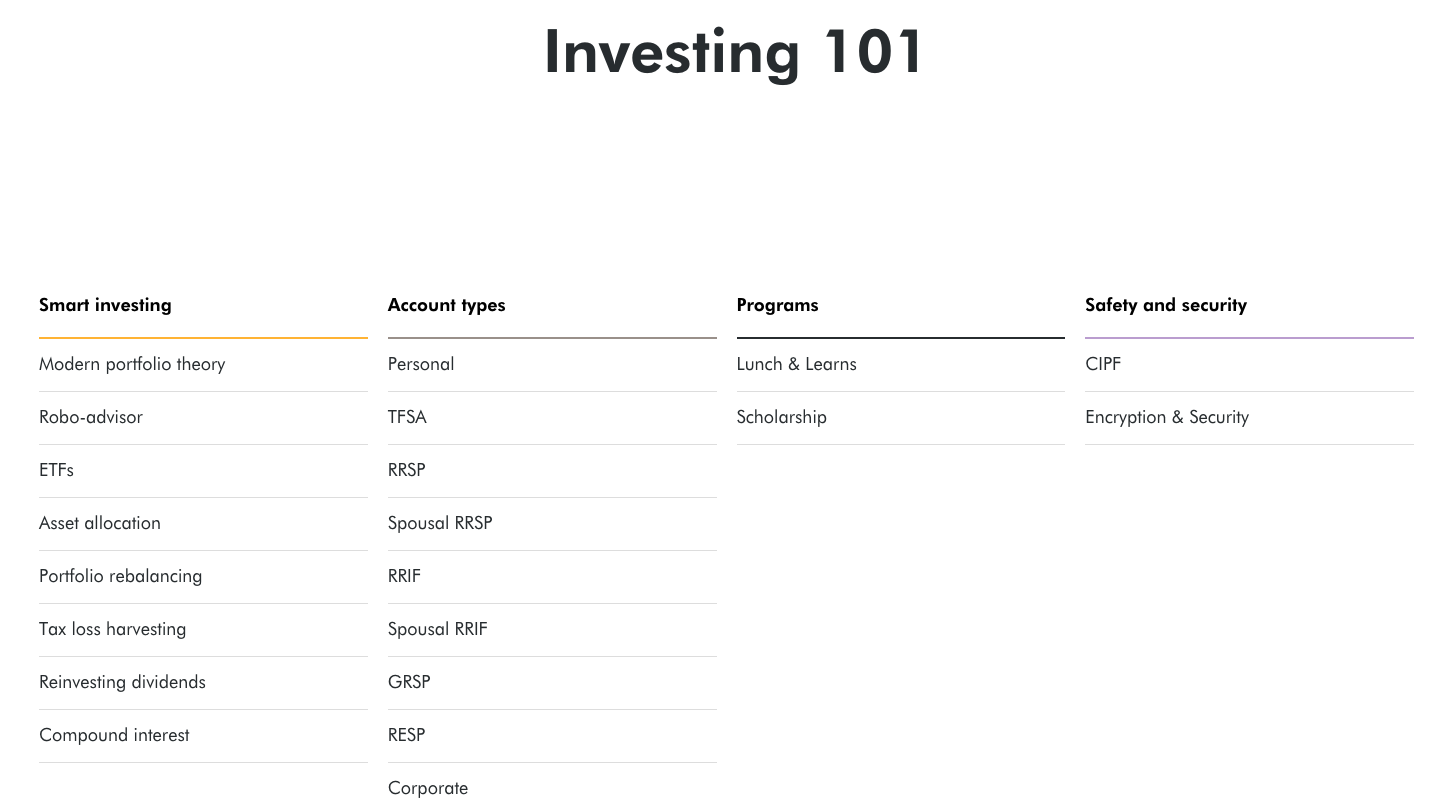 By providing valuable information around your platform's area of expertise, you'll let your prospects know that you are knowledgeable in that space, which shortens the know, like and trust timeline. So, turn to your own website and see if there are any areas of opportunity for you to show the world that you're the go-to expert in that field and that you truly understand the pain points and challenges of your target market.
Another way to establish thought leadership is to help your prospects and customers solve problems through value-added resources and content. For example, let's say that you are a CRM (customer relationship management) platform but you know that many of your customers are using your platform to help with their sales process. Creating a sales playbook, for example, would then allow you to do lead generation that attracts salespeople to your list through a value offering and not a direct sales request.
Both of these tactics tell your customer that you understand them really, really well so it's worth putting some time and effort here.
* * *
What would you add? Tell us over on social by hashtagging your responses with #LSPARK.
accelerator, before you scale, digital marketing, L-SPARK, LSPARK, marketing, marketing audit, marketing checklist, pre-scale