conference
:
6 Ways to Get the Most Out of Attending a Conference
How Hockeystick Made the Most of Their Time at SaaS North
The SAAS NORTH conference provides a unique and singular opportunity to accelerate your business. It's a chance to get your name out to the community, network with fellow SaaS companies, introduce your business to prospective investors, glean best practices from industry thought leaders, and maybe even close a sale.
When Hockeystick attended SAAS NORTH last year, we had three goals for the trade show: build brand awareness, develop relationships, and generate leads. I'm happy to say that we were able to achieve all of that, and much more.
It was at SAAS NORTH where we first met Wilfrid Laurier University's Lazaridis Institute, now one of our valued partners and customers.
Our relationship with the Lazaridis Institute represents the culmination of a lot of work, but it all started on SAAS NORTH's trade show floor.
So, to make sure that your experience is as fruitful as ours, we encourage you to follow these 6 exhibitor tips that we employed at last year's conference:
1. Stay active on social media throughout the conference
To integrate your business in the SAAS NORTH ecosystem, and to generate buzz, you and your team should be posting to social media throughout the conference, using both your designated hashtag as well as the conference's — #SAASNORTH.
But, don't stop there! To ensure greater foot traffic and stronger engagement, you'll need to connect with fellow attendees — post about free swag, a fun giveaway and especially a limited-time offer.
More often than not, attendees who like what you're offering will do the same.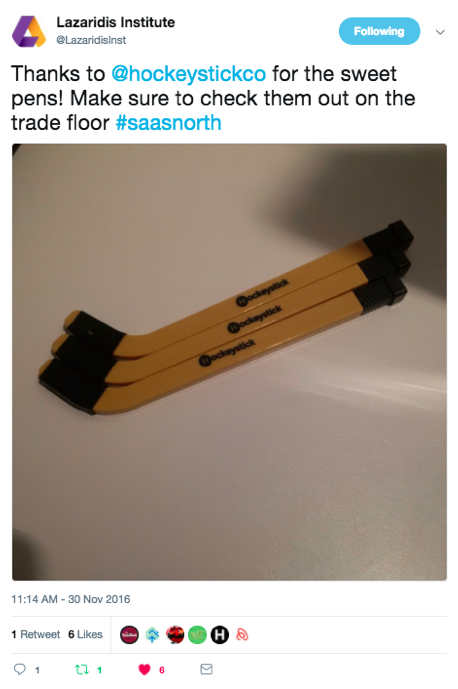 2. Extend your reach
Highly visible promotional giveaways are another excellent way to extend your booth's reach.
Hand out large stickers, wearables, t-shirts, light up gadgets, etc. They're effective because when more people are seen wearing and carrying your swag, it encourages others to connect with your company so they can get their own. They're also great conversation starters for attendees that will incorporate your brand and booth into the discussion.
3. Arm yourself with great people
Put your best people on the floor.
Make sure that all trade show staff are well-trained before attending SAAS NORTH. Confirm that they are aware of the company's strategy going in and know how to utilize the resources provided.
For example, before I hit the SAAS NORTH floor last year, I reviewed my pitch with Hockeystick's founder.
In the end, your people are the most important representation of your brand. So, investing time into helping them succeed in these situations is crucial.
4. Stop selling and start gelling
Leading off of my last point, great people aren't just the ones who can speak well about the company, they're also the ones who know how to connect with other people. They understand that the best way to generate interest is by showing interest in others first.
How do you do that?
Ask questions about their company and where they came from first. Almost every time, they will follow-up by asking you the same. It's much more natural than introducing your brand after you've introduced yourself.
Trust me, this works!
5. Follow up, FAST!
Follow up with leads soon after the conference. The longer you wait, the longer they have to forget who you are and what you discussed.
I recommend waiting one day after the show before following up with potential prospects, as waiting too long will dilute the connection.
Here's a great example of a follow-up I received a couple weeks ago: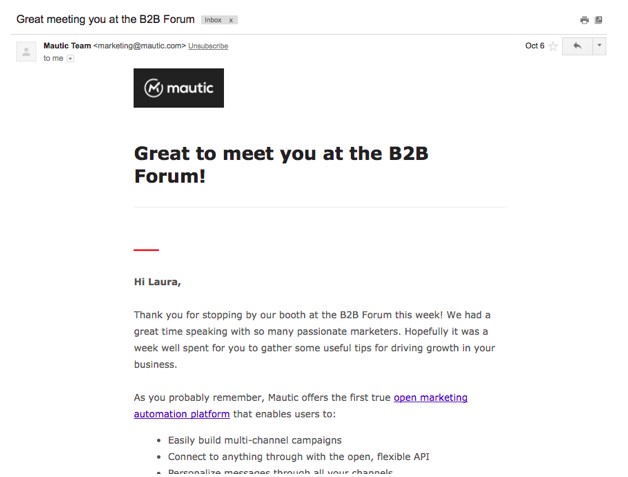 Your follow-up should include:
A personalized message
A review of how you met the individual
A brief overview of what your company offers
6. Get out from behind your booth
There will be downtime during the conference and you can either spend that time on your phone/computer or you can leverage those extra minutes by engaging with the people and exhibitors around you.
You never know who you're going to meet or which opportunities will appear during these unexpected moments.
The Lazaridis Institute's booth was directly across from ours last year and both organizations made the effort to engage with one another when we had a moment.
That's why you have to put yourself out there and try!
Final thoughts
Unique ideas get the most buzz, but only if the strategy harmonizes with the brand and the industry.
Give it your all.
Take plenty of time to prepare.
Trade shows are a big investment.
So, make them worth it!
If you're a fellow SAAS NORTH exhibitor, I'll see you on the trade floor! If you're an attendee, be sure to catch Raymond Luk's, Hockeystick's founder and CEO, presentation on "SaaSenomics" on Nov 29 at 11:05am.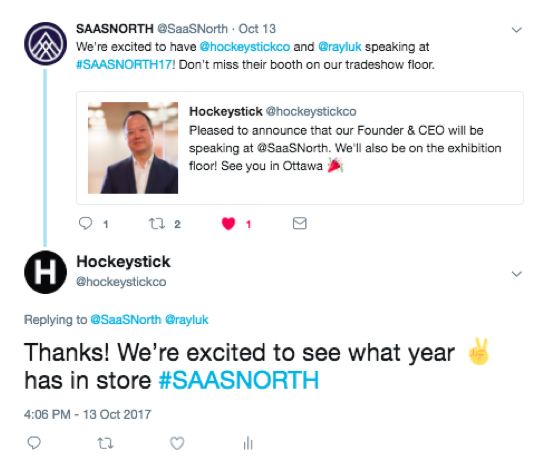 conference, getting the most out of a conference, Hockeystick, Laura Curk, SaaS North, SAASNORTH