4 Partnership Hacks for SaaS Growth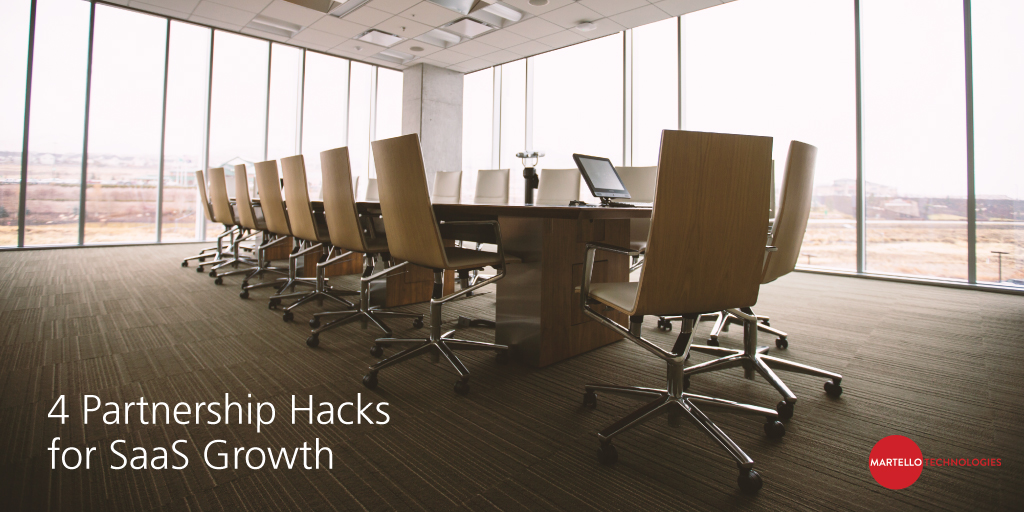 SaaS startups live and breathe growth hacking: pushing the bounds of traditional approaches to find those that yield growth. Among potential paths to take is the idea of partnering with a larger and more established player. However, it's an approach that is lacking a playbook: how can you develop and leverage a strategic partnership to drive growth for your SaaS company?
As a SaaS startup partnered closely with a leading telecom company, we've lived this challenge at Martello. Having achieved triple digit sales growth with more than 5,000 customers around the world, we've put together some of our best 'partnership hacks' to help SaaS startups achieve success.
Hack #1 – Fix the right problem
Successful SaaS companies have found a customer problem that they can solve in an innovative way. When seeking to partner strategically with a large player in your industry, look at the core problems they are solving for their customers. If you can solve a secondary problem with well-designed and cost-effective SaaS, you may have just found your sweet spot for success. For example, Mitel is helping its customers connect and collaborate with advanced business communications solutions. Martello recognized that as customers moved to cloud-hosted voice, there was growing demand for a solution that would improve service quality and the way network performance problems were managed.
Engaging a SaaS startup as a third-party development team can offer benefits to large companies. Often, this comes about because there isn't a good business case for the company to develop a software solution themselves. Either it's not core to the company's product strategy, they lack the required expertise, or it represents a relatively small line of business. This creates an opportunity for a SaaS startup.
Hack #2 – Think big – but leverage the strength of being small
Established players bring well-tested processes for bringing products to market, as well as established commercial models and sales channels. SaaS startups are typically quite agile and can make things happen quickly.  Making the most of these inherent strengths is good business. However, to execute successfully on a partnership with a larger player, SaaS startups need to also think and act big.
Here's what we mean: you need to demonstrate that you can be trusted to uphold the standards and reputation a larger player has established when it comes to delivering top notch products, selling and marketing, and supporting customers. A great example of this is in product management and marketing. As our product became increasingly integrated within Mitel's portfolio, we demonstrated to our partner that we could be trusted to execute successfully on product launches and Mitel-branded marketing.
Hack #3 – Build incremental value for the customer AND your partner
From the outside looking in, it seems a SaaS startup's dream to be 'baked in' to the offerings of a larger partner through a successful strategic relationship. Absolutely – but like any success, complacency is your worst enemy. To maintain and grow business with your strategic partner you need to continue to deliver value to your joint customers, keeping them sticky to your software – much like any SaaS company would do to reduce churn and grow MRR.
However, with a SaaS startup dedicating a significant portion of its resources to the larger partner, the stakes are higher. The partnership and the product must be viewed as valuable not only by the SaaS user (the customer), but also by your partner. Continual engagement with users of our software and our partner is key to success. This valuable feedback becomes part of our product development cycle, and with feedback from Mitel, we can move rapidly to help them address new markets as a result of acquisitions or other developments.
Hack #4 – Think outside the box when it comes to relationship building
Educating and building relationships between partners is important – the more integrated and engaged our teams can be, the greater the combined success. That's why when we found office space right between the Mitel offices and the campus cafeteria, we got to thinking: how can we take advantage of the good fortune of our proximity to our strategic partner?
Today, two TVs mounted along the well-travelled path towards our office share product news and information, along with jokes, weather forecasts and sports scores. On two Wednesdays each month, we kick it up a notch with 'Mitel Appreciation Days.' Whether we offer hot chocolate on a cold day or an 'office survival kit' of treats, our objective is to start conversations and show our appreciation for the fantastic partnership we've nurtured together. While proximity may not be possible for you, think about any other advantages you have and work to maximize them.
Can you organize lunch and learn sessions at your partner's offices? Join them at customer events? Facilitating these interactions can go a long way to accelerating relationships.
A strategic partnership with a large player has its benefits for SaaS startups primed for growth. Taking a smart approach will drive a successful partnership that delivers value to your joint customers.